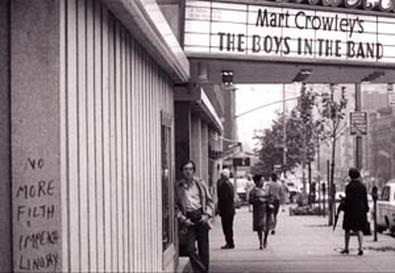 Though there have always been detractors who believe Mart Crowley's 1968 play "The Boys in the Band" and its faithful 1970 film adaptation are less than flattering to gay men, many pundits disagree, insisting that it was a groundbreaker in sensitively portraying gay characters.
Director-producer Crayton Robey's riveting documentary offers a behind-the-scenes look at the making of the play and film. Yet his exploration goes further, examining the evolution of the place of homosexuals in American society.
This documentary views Crowley's work as a serendipitous sign of its turbulent social times and a catalyst for change. In including ruminations on the way this work affected the author's life and career, as well as those of the cast members, Robey's piece becomes even richer.
"Boys" followed the well-made paradigm of such Crowley predecessors as Arthur Miller and Lillian Hellman. Set at a Manhattan birthday party among a group of gay friends, the seriocomic work explores foibles and strengths, warmth and cattiness, resilience and self-destructiveness among the men. Its truth games that lead to a shattering catharsis have justifiably been compared to Edward Albee's "Who's Afraid of Virginia Woolf?"
Ironically, Albee—who with his business partner, Richard Barr, was involved in producing the play's early workshop—continues to suggest that the work did not positively impact gay acceptance. In the film, he says the piece did "serious damage" to the cause.
Robey's film is enhanced with choice footage of the 1960s and '70s, showing gays coming out of the closet in a big way. In home-movie scenes of beach parties at Roddy McDowall's Malibu home, guests such as Crowley, Natalie Wood, Julie Andrews, Judy Garland, and Rock Hudson mingle with the revelers. Crowley offers touching remembrances of his close friendship with Wood, who brought him with her to Hollywood as her personal assistant as she filmed "West Side Story," opening career doors for him as a television writer and producer.
There are candid comments from Crowley about his problems with severe depression when trying to make career inroads. The film explains how portraying gay characters at that point in history damaged the careers of some "Boys" actors, such as Peter White.
There was severe psychological fallout for Cliff Gorman, who played the mincing Emory and felt his career never got on track afterward, and Robert La Tourneaux, the play's "midnight cowboy" who subsequently turned to hustling and drug addiction. The film points out that though "Boys" came out more than a decade before the outbreak of the AIDS virus, several cast members eventually contracted and died of the disease.
There are many fascinating tidbits, including a clip from an unsold sitcom pilot written by Crowley that was to star Bette Davis, in which the producers forced Crowley to change a gay sidekick role designed for Paul Lynde to one for veteran character actor Mary Wickes.
William Friedkin remarks that he loved the "Boys in the Band" film, in which he directed the entire original stage cast. "It's one of my few films that I can still watch," he says. Here's betting that Friedkin—and many others—will be enjoying "Making the Boys" for decades to come.
Genre: Documentary.
Directed and produced by: Crayton Robey.
Featuring commentary by: Mart Crowley, Edward Albee, William Friedkin, Dominick Dunne, Cheyenne Jackson, Larry Kramer, Terrence McNally, Tony Kushner, Paul Rudnick, Robert Wagner, Laurence Luckinbill.