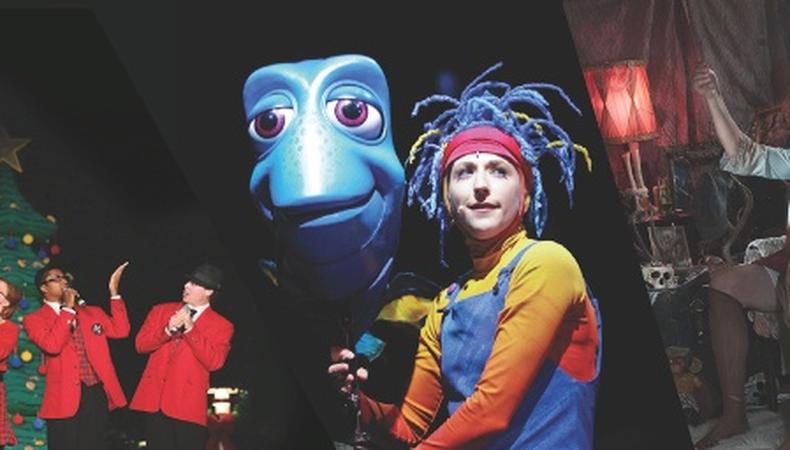 Autumn brings with it singular seasonal acting opportunities at theme parks and haunted houses. Typically, auditions for these jobs are held several months in advance, so Halloween performers should be on the lookout in July and August, while Christmas performers often audition in September and October.
Haunted houses provide many employment opportunities: Nightmare's haunted house alone hires 30 to 50 actors and 35 lobby performers each season in New York. "After doing a performance every two minutes in front of hundreds of rowdy audiences each night, it will take a pretty hard-core film shoot or audition situation to faze you," says Nightmare co-director John Harlacher. While haunted houses may require special skills, such as puppetry, movement arts, accent work, or acrobatic skills, Harlacher says, "The thing we need from every performer…is a deep love of scaring people and the toughness to deal with chaos for hours on end." Actors courageous enough to audition should be prepared for anything.
"Be ready to have many strange situations and requests thrown at you. The actors who bravely jump in are the ones we consider," says Harlacher.
Auditioning for theme parks is fairly similar to a standard audition and can take a few weeks or longer if the park is already well-staffed. "Theme park jobs, especially at Walt Disney World, are extremely comfortable for professional performers, [so] folks don't want to leave their positions," says Cory Warren, the development director for the Garden Theatre in Florida and previously in casting and production at Disney World and Universal Studios. "[Theme park casting directors] want you to be a good fit for the show but also, and more importantly, for the park," says Warren. Shawn Greiner, entertainment supervisor for Legoland, says, "For acting auditions, we look for diversity—usually requesting two different monologues that show strong contrasting characters. This gives us the ability to cast one performer in multiple productions. We are looking for highly animated individuals who can capture the attention of children." For Christmas performances, singers, both pop and classically trained, are in high demand at theme parks. Greiner says Legoland hires between six and 40 seasonal performers in addition to the 20 year-round performers.
Most theme parks support their performers (full- and part-time) in their pursuit of other acting opportunities. "When full-time theme park performers do outside performances at local theater companies, it is respected by the park, and the parks will often work with them to help make it happen," says Warren. Greiner says that Legoland typically casts each role three deep so performers have flexibility with their schedules, adding that "most of our performers use this as their day job while performing in other theater companies as well." Other perks include free access to the park, advance notice on job postings, and an inside look at how the company operates. For example, while Disney is Equity, Universal is not.
Warren notes, "Universal is a wonderful place to work.… 'Halloween Horror Nights' is probably one of the gigs that is the most fun to work on. The camaraderie around that event is wonderful."
Seasonal work is also a great way to gain experience and achieve stability and job security. "We are a solid steppingstone for new performers to gain experience and for seasoned performers to make some money between other shows," says Greiner. Jennifer Warren, who plays Dory in "Finding Nemo: The Musical" at Walt Disney World, says, "Where else in the acting world do you get full-year contracts? I've been able to have a family and continue performing because of this great stability. And I honestly feel like the work is so important. We get to expose families to live theater—something many of them would otherwise never be exposed to."
Inspired by this post? Check out our audition listings!