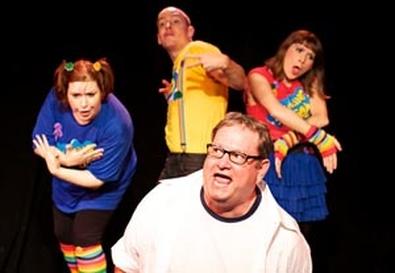 Right on the irreverent heels of "The Book of Mormon" comes "Making God." But rather than aiming at simply one religion, this compact musical tosses its satiric barbs at religion generally, organized and otherwise, and the basic tenet of an omnipotent supernatural power. The book, music, and lyrics are all by Rodney Dickerman. The program tells us that he's an Arizona standup comic and musician, with a B.A. in music education from Oral Roberts University. His show, the program further states, is "a thinly guised semi-autobiographical satire of the evangelical world in which he was raised."
Whatever your religious beliefs, it's a provocative and witty script, telling of the picaresque and cartoonlike journey of a character named Jordan in search of true religion and how he finally decides he's got the right stuff himself to become God—at least for a limited time. When his reign is overthrown, he joins a support group for former gods, until he realizes that true contentment can come with human love.
Dickerman also portrays Jordan, and therein lies the problem. He writes much funnier than he performs. Bespectacled and big-framed, he may remind you of a frustrated accountant or lawyer nervously trying out his questionable comic chops at open-mic night at the neighborhood comedy club. His muted, uninflected delivery might work with a microphone to cling to, but on a fairly bare stage—with only a couple of boxes to sit or climb on—it dilutes one laugh line after another.
Luckily, Dickerman shares the stage with a trio of uninhibited cutups playing a variety of roles, and their singing, gyrations, and comic bits, under the capable if sometimes overly busy direction of Coco Cohn, contribute much-needed verve. They are the brassy Angela Shultz, the frantic Wayne Petro, and the winsome Cara Noel Antosca, whose lovely head voice brings a welcome sweetness to the show's closing ballad. For the most part, the show's 10 or so songs, with prerecorded piano tracks for accompaniment, are quite proficient, utilizing an assortment of pop styles, from bluesy and hip-hop to jaunty takes on praise music.
On balance, this work could register as a smart and sassy little musical if the author were willing to stop playing God. He may be multitalented, but he's not omnitalented. Not everyone can be Noel Coward.
Presented by Small Pond Enterprises as part of the Midtown International Theatre Festival
at the Jewel Box Theatre, 312 W. 36th St., 4th floor, NYC. July 23–31. Remaining performances: Tue., July 26, 6:15 p.m.; Wed., July 27, 8 p.m.; Fri., July 29, 6:15 p.m.; Sun., July 31, 2:30 p.m. (212) 352-3101, (866) 811-4111, or www.midtownfestival.org.