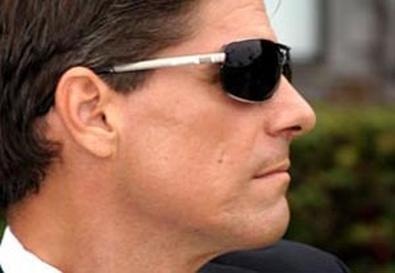 Last week, we discussed how important it is for actors to take charge when it's time for new pictures. Headshots are still one of your most important marketing tools. The right one can make a huge difference in your career, and a bad one will get you nowhere fast. That's why you have to be extremely selective about who you choose to take your pictures.

So don't be lazy. Do your homework. Check out the shots your actor friends are using. Do you like them? Do they capture the subject's look and personality? Did your friend enjoy the session? If the answer is yes to all three questions, then add that photographer's name to your hit list. Once you have three possible choices, it's time to meet those people in person.

And that's the key, folks. You can't just hire someone over the phone or web. It's not like you're ordering a pizza. The relationship between photographer and subject is an intimate one, so you have to meet in person. Forget about anyone who doesn't have time to do this.

When you're finally face-to-face, do a comfort check. Ask yourself, how do I feel about this person? Am I relaxed? Are my questions being answered? You're going to be spending quality time together, so don't hire anyone who ignores your concerns or makes you feel uncomfortable.

Now here's a step most actors never take. Try bringing your old headshots to the meeting. That way, you can get the photographer's opinion about them. You don't want to hire anyone who says, "They suck. I can do better in my sleep." What you're looking for is specific feedback. What's wrong with the old pictures? Why aren't they working? What can be done differently? Make sure you're on the same page about this.

You should also agree on where the pictures will be taken. The choices are indoors or out. Shooting inside usually means a studio. Outside can be anywhere. So make sure you're clear on what you prefer. And if you're not, get the photographer's advice -- but the decision is always yours. Walk away from anyone who tries to change your mind.

If the two of you agree to shoot outdoors, then you need to get more specifics. Where exactly does the photographer want to go? How public is the location? Will there be a lot of people around? You need to consider these questions carefully so there are no surprises on the big day. The last thing you want is a gang of hooting teenagers when you're trying to focus on being your sexy self.

Another consideration is what time of day you'd like to take your headshots. Some people love mornings, and others are zombies before noon. So figure out what's best for you; then share that information with the photographer.

As you enter the final stretch, there are a few business issues that need to be addressed. Most photographers require a deposit to hold your appointment, so make sure you're clear on the dollar amount. You should also ask about the photographer's policy regarding cancellations and reshoots. Forty-eight hours' notice to reschedule your shoot is standard, and most reshoot requests have to be made within seven days of the original shoot date. But everyone's different, so always double-check this stuff.

And that's about it. You should pat yourself on the back for putting so much work into your career. The next step is to take a few days off, so you can process everything you've heard. Talk it out with a good friend. Then, when you feel confident about your final decision, pull the trigger and make the call.

Congratulations! You just hired yourself a photographer.