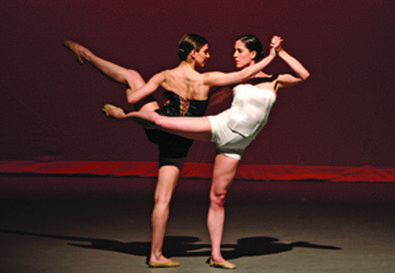 To the newcomer, the New York dance scene can be an intimidating milieu, and establishing yourself within its enormous community of outstanding artists can be a daunting task. The key is to find a home base, a place that will embrace your talents and support your work, so you don't feel like a stranger in a foreign land.

I spoke recently with three artists who moved to New York to pursue dance work. Each explained how she became affiliated with a large dance institution—of which there are many in New York—and how central that association was to the evolution of her professional career.

Taking Steps

Originally from New Hampshire, Chantelle Vienneau came to New York this summer from Princeton, N.J., where she is a musical theater major at Westminster Choir College. Looking to immerse herself in intensive dance studies, she set out to take advantage of the rich offerings at Steps on Broadway, one of New York's leading commercial megastudios, a perfect one-stop-shopping place for dance classes of all varieties. To be able to pay for the many classes she wanted to take, she planned to participate in the studio's work-study program, but she discovered that it accepted only intermediate and advanced dancers, which she, primarily a singer, was not.

When Vienneau explained her plight to her college dance instructor, who also teaches in New York, she learned an important lesson about the New York dance community. "It's a very small world, everyone knows everyone, and you have to use whatever contacts you have," she says. It just so happened that her college instructor was well-acquainted with Steps' work-study manager, with whom he spoke on Vienneau's behalf. When he personally vouched for her "tremendous work ethic," an exception was made and Vienneau got into the program.

In exchange for working at Steps 10 hours a week, which she does as a salesperson in the studio's retail boutique, Vienneau is permitted to take an unlimited number of dance classes for the hugely discounted price of $3.50 each. (The average single class price is $17.) "Being able to study at Steps has been so beneficial. I've made lots of career connections, and my dancing has really improved," she says. "It's been a great introduction to the city, and it's made living here so much fun."

It Takes Two

Argentine tango dancer Karina Romero relocated to New York in 2000 from her native Argentina. Within two days of her arrival, she landed a teaching job at the Sandra Cameron Dance Center. One of the city's major ballroom-dance studios, it not only employed Romero for eight years but it also served as her visa sponsor, helped her learn English, and provided a springboard from which she and her husband, Dardo Galletto (who arrived the following year), founded a professional tango/modern dance fusion company in 2003, as well as their own studio earlier this year. Sandra Cameron also ushered Romero into teaching positions at the Ailey School and the 92nd Street Y.

Romero's all-important affiliation with the Cameron studio began when, on her first night in New York, she and a friend decided to attend the studio's Guest Night. When the studio's owners saw Romero tango, they immediately asked her to teach for them. As she spoke virtually no English at the time, she found dancers at the studio to barter with, exchanging private tango instruction for English lessons. When Galletto arrived, the studio granted him rehearsal space, and students helped with costumes, ticket sales, and publicity when the couple formed their company.

"The whole community there worked to help us," says Romero, noting that the owners also groomed her for eventually running her own studio. "They are very special people there, and it is because of them that I always moved forward."

Tapdown

In 2005, at age 16, tapper Tamii Sakurai moved to New York by herself from Japan and started to take classes at Broadway Dance Center, a megastudio that, like Steps, boasts a wide array of dance class offerings. Sakurai's decision to study there—which she made solely upon a suggestion from her mother, who had taken classes there many years ago—proved fortuitous. One of the studio's tap teachers, Barbara Duffy, encouraged Sakurai to audition for the Tap City Youth Ensemble, a performance troupe supported by the American Tap Dance Foundation, New York's largest tap organization.

"I danced with the Youth Ensemble for five years," Sakurai says, "and I believe that being in that company is the only reason why I am still tapping today. It was there that I was really able to find my place in the tap scene."

Not only did her affiliation with the foundation jump-start Sakurai's performing career; it also allowed her to connect with the larger tap community, giving her multiple opportunities to mingle with dancers from all over the world at the Tap City festival, which the foundation sponsors annually in New York. It also permitted her to earn money working at odd jobs around the foundation's studio and to acquire teaching skills as an assistant instructor and as the company's dance captain. Currently a member of Brenda Bufalino's New American Tap Dance Orchestra, the 5-foot-tall Sakurai has also founded her own tap dance company, Five Foot Under, featuring the talents of "petite" tappers.