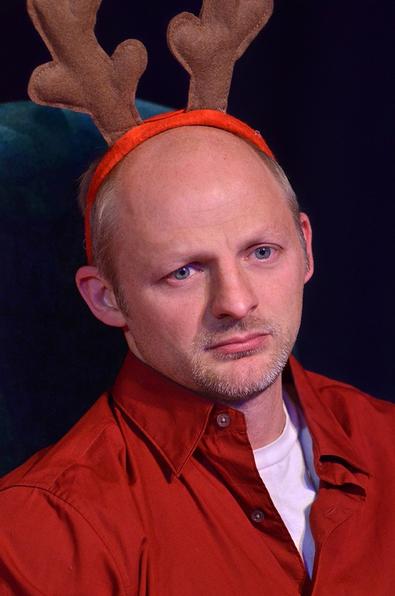 Theatrical revivals get a bad name. How often have we heard the word revival being preceded by "tired" and "old"?
As artists and creators, we are naturally excited by the new and the ground-breaking. Bands are always proudest of their latest song, and authors are always proudest of their latest novel. As a playwright, I feel the same. The play I've just finished is always the best thing I've ever written. Except at Christmas. My play "The Christmas Present" was first performed in the UK 11 Christmases ago. I am currently directing it for the sixth time. I don't think I will ever get tired of it.
Actors understand the discipline of doing something over and over again and making it feel fresh. It's a good skill for directors too. The Christmas theatrical window is pretty limited, five or six weeks at most. If a show is successful then a repeat outing is far more likely than an extension into spring, as nobody wants to listen to stuff about snow and Santa in March.
So, revivals of this type of show are inevitable. Thankfully, "The Christmas Present" really has turned out to be a gift that keeps on giving. Each cast I have been lucky enough to work with has illuminated the play in new and interesting ways.
We held the U.S. premiere last holiday season, so it magically became "English-y," as it was performed abroad all those times before. I got to direct American actors for the first time, and their questions and insights took us down paths that I previously hadn't unexplored. American audiences respond differently too. My festive story of a divorced businessman, a hooker, and a hotel room seems darker in sunny L.A. Surefire laughs in the UK might just get uncomfortable sniggers here, and sometimes there are laughs where I wouldn't have thought possible. But it evens out, it's billed as "a dark comedy" so it will always be one or the other, and if we're lucky, both.
Christmas itself is wrapped up in repeated rituals: family meals, opening presents, sitting round the TV. It's all about the cozy and familiar. Mounting this show has become one of those rituals for me. As a Brit in exile, it also gives me a flavor of home just when I'm most likely to be missing family and friends.
This year, I'm particularly delighted to have entirely the same cast as last year, as Sacred Fools Theater Company wanted the production again. So we all have the same job: To make it a bit better. Don't do something a particular way just because that's how it was before. You must re-examine, make new choices, and re-create. We should all be a year better, not just a year older.
Last year the British accents arrived by degrees during rehearsal, often via South Africa. This time they were pitch-perfect at the read-through. A wonderful new set necessitated some re-blocking, which in turn colored the dialogue. New elements are absorbed, and the tone subtly changes. All of a sudden it's a new and better show.
The actors know that it worked last year; they're not getting into a plane that's never flown before. It gives them the confidence and courage to explore and to try that idea they'd thought of before but were too stressed with line-learning to mention.
When something is billed as a "world premiere," it just means it's never been done before. Very often, it will l never be done again. Plays that start out in a ninety-nine seat theater need second and third productions if they are to eventually make it into print and posterity.
New and ground-breaking is great. It's why I'm a member of Sacred Fools Theater company. I hope to be doing something new and ground-breaking very soon. But not right now, Christmas is coming, and you know what that means.