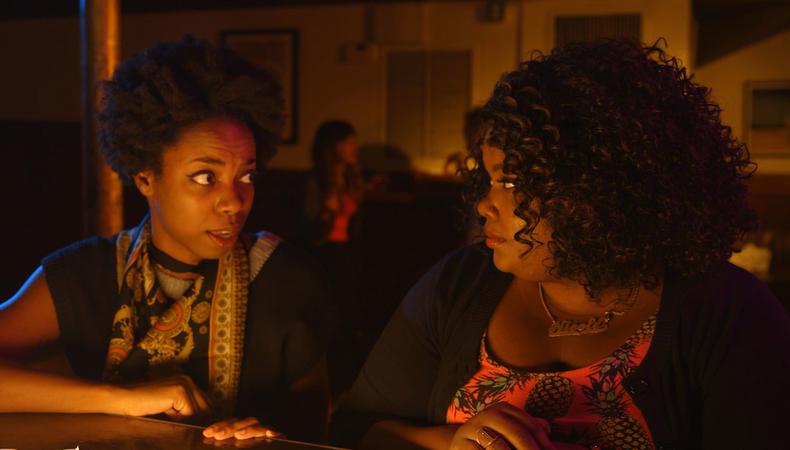 Before she was on "Saturday Night Live," Sasheer Zamata had developed a major crush on Nicole Byer. This crush was not of the romantic variety, but the comedic kind while they were both at Upright Citizens Brigade. Like romantic love, though, the duo was meant to be. Their partnership led to "Pursuit of Sexiness," which premiered its second season on Above Average.
Since Season 1 debuted in 2013, both Zamata and Byer have achieved success in their own respects. Zamata with "Saturday Night Live," while Byer gained recognition on MTV's "Girl Code" as one of the talking heads discussing the secrets of the feminine world. Yet they returned to each other for round two of "Pursuit of Sexiness." They had already written ideas for Season 2 before their separate successes, and Zamata says it would have sucked if no one got to see their work. They even have ideas for a third go-round.
As in the previous season, the show focuses on outsize versions of "Sasheer" and "Nicole" as they live out their lives as young, romantically challenged women living in New York City. While they may not have consistent men in their lives, Zamata and Byer are much like the best female comedic duos on TV today (i.e., Abbi and Ilana from Comedy Central's "Broad City" or Jessica St. Clair and Lennon Parham from USA's "Playing House"). They may ostensibly be looking for a guy, but who needs one when you have your best friend? "Female friendships are the best relationships to watch. They're based on support, and it's so nice to watch women have love and adventure without romance," Zamata says.
The biggest difference between the first and second seasons—the former was hosted by UCB's YouTube channel, while Above Average hosts the latter—is that the production seems slicker, and the two are even more assured in their roles. They both see "Pursuit of Sexiness" as a means to share their voices. "You get to do you. There's no middleman. Sure, Above Average didn't want too much cursing, but that's fine," says Byer. "No one was censoring our voice, our idea."
Both Byer and Zamata, in separate interviews, agreed that they gel because of their opposing energies. "I'm a little wild and Sasheer is not, but she's pretty game for going on and having adventures," Byer says. "She's also my voice of reason."
Byer and Zamata see Web series as important to their careers for different reasons. For Byer, it helped her continue to work and hone her ideas. For Zamata, it was the perfect exposure tool for a young comedian. "I've gotten a lot of work because I can write for myself. And putting my work online is an easy way to show people that I'm funny. People still talk to me about the 'Flasher' video I made with Chioke Nassor, and that was years ago," Zamata says. "The first season of 'Pursuit of Sexiness' was also years ago, but people still remember it and watch it because it still lives online and we're still working."
Like this story? See more of our Now Streaming articles here!