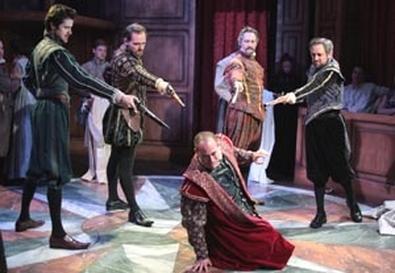 John Marston's 1604 play gets a rare airing in this double-cast production that evidences some of the finest theater-making in Los Angeles. In it, the overthrown Duke Altofront of Genoa assumes the disguising persona of Malevole the malcontent, a professional cynic. This gives Altofront the opportunity, and freedom, to do and say anything necessary while remaining remarkably witty, to verbally manipulate those wrongfully in power until they implode and fall. Frankly, we'd rather watch him continue his linguistic barrage than see him return to power as the duke, but the Genoese need him back.
Elizabeth Swain takes the helm, panning through the impenetrable-on-the-page language to ensure all the actors—and the audience—understand every word and enjoy them. She creates a world simultaneously Jacobean and modern. Her stage pictures are sumptuous tales in themselves. She has the help of Tom Buderwitz's scenic design—reportedly based on the play's original theater, the Blackfriars—which is a welcoming space of honey-hued wood and a marbleized floor that expands the theater's tiny dimensions yet encompasses an onstage audience of eight whom the actors play to and with. A. Jeffrey Schoenberg's costumes are a treasure chest of alliance-defining dusky colors, fashioned in hefty velvets, filmy silks, and gold ornamentation.
As the title character, JD Cullum acts with body and soul, creating a character familiar and yet mesmerizing. His delivery ranges from languorous to quippy, making Marston's poetry and wordplay comprehensible, amusing, and pointed. Bo Foxworth seems to give Altofront more strength—mental and physical—and more menace, as if the duke's years of frustration could readily, and understandably, manifest themselves in choking the life out of his enemies. When the malcontent takes off his disguise and reveals himself solely to the audience, Cullum's transformation is more theatrically startling, Foxworth's more reflective of how easily his duke duped those around him.
Playing the archvillain Mendoza, Adrian LaTourelle plies realism tinged with humor; Ramón De Ocampo toys with commedia physicality. As the usurping Duke Pietro, Mark Doerr and Bill Brochtrup have delved into the stateliness and normalcy that make Pietro's realizations arc beautifully as he is humbled and changed. Paul Willson and John Achorn create the two-faced old marshal with practiced ease. Occasional standouts—including the hilarious Lynn Milgrim as the local madam and John Allee as a persnickety courtier—make the tertiary characters of the "Cuckolds" cast the stronger of the two.
Presented by the Antaeus Company at Deaf West Theatre, 5112 Lankershim Blvd., North Hollywood. May 8–June 19. Thu.–Sat., 8 p.m.; Sun. 2:30 p.m. (818) 506-1983. www.antaeus.org.