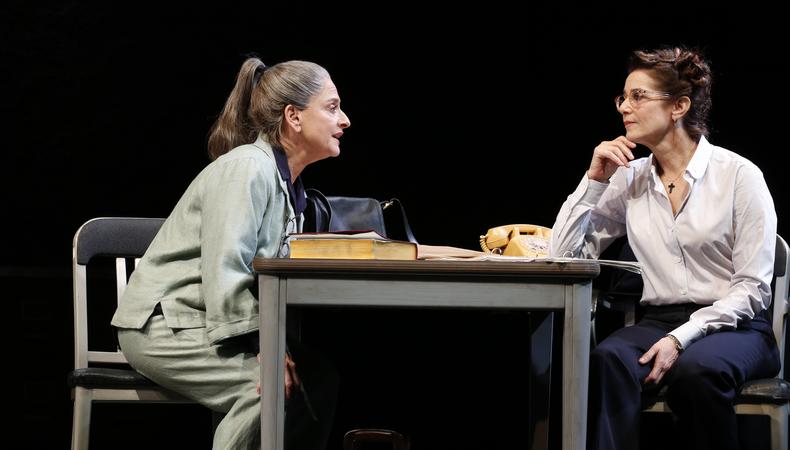 There's the deadly whiff of self-congratulatory pretension hovering in the air at the Golden Theatre, where David Mamet's latest play, "The Anarchist," is occupying the stage. Inert and pedantic, more studied than any sentence Henry James ever wrote, this two-hander about the parole hearing of a political dissident jailed for 35 years for the murder of two police officers lasts for 60 interminable minutes (the production, no doubt worried about bang for the buck, claims 70 minutes, but that's because it starts 10 minutes late). Mamet takes a potentially juicy situation and drains it of all humanity and drama. "The Anarchist" is a droning, pompous essay brought to unnatural life.
Jewish Cathy is convinced that she's finally got a shot at being freed because she's found Christ and written a book about it. Avenging Ann, however, is skeptical, particularly as she suspects Cathy of being in touch with her lover and partner in crime, Althea, who remains on the lam. After a lot of blather about the foolishness of youth, the supposed inability of people to change, and the redemption that purportedly comes from submission to faith, the taciturn Ann conflates Cathy's former political beliefs with her current religious obsessions, saying they prove that Cathy still considers herself superior to others, granting her license to behave as she wishes. Naturally, Ann prompts an outburst that reveals the depths of Cathy's perfidy, then sends the prisoner back to lifetime confinement while righteously trumpeting her belief "in punishment."
Mamet certainly believes in punishing his audience. His airless, leaden dialogue smothers whatever dramatic action there is (the printed script is so populated with periods that it could stop the earth from spinning). No one has ever spoken this way in real life, but if the intent is stylization, the effect is sterilization. In addition, the deck is stacked, as we are never given enough information about what Cathy did—and why—to draw our own conclusions.
The author's direction only makes things worse. Patti LuPone, a longtime Mamet collaborator, and film star Debra Winger, in her Broadway debut, deliver the text with scarily reverential devotion. LuPone, being LuPone, can't help intimating a life for her character, but Winger, though confident, gives "colorless" a whole new dimension.
The regular top ticket price for "The Anarchist" is $134.50, which means that audiences are paying $2.25 per minute for this mind-numbing experience. Ambien may not be more effective, but it's a lot cheaper.
Presented by Jeffrey Richards, Jerry Frankel, Howard and Janet Kagan, Catherine Schreiber, Jam Theatricals, Luigi and Rose Caiola, Gutterman Chernoff MXKC, Kit Seidel, Broadway Across America, Amy and Phil Mickelson, James Fuld Jr., Carlos Arana/Bard Theatricals, and Will Trice at the Golden Theatre, 252 W. 45th St., NYC. Dec. 2–Feb. 17. (212) 239-6200, (800) 432-7250, or www.telecharge.com. Casting by Telsey + Company/William Cantler and Sharon Bilay and Sherry Thomas.
Critic's Score: F