Even though it's a cloudless summer's afternoon in Midtown Manhattan—the kind of perfect day New Yorkers await all year—Mamie Gummer can't stop talking about winter.
"I think weather is how stories start," she says, seated at a table in the Hotel Americano's lush backyard. "It's, like, the rains come, you've got to make a choice. You've got to find shelter. It activates. There's conflict, and the group comes together. My favorite thing ever is the beginning of spring, when everyone sort of collectively emerges from this hibernation of 'That was rough, huh? But we made it through.' "
Gummer glances at a neighboring table where a woman is sipping her drink in the sun. "Look at you, having a cocktail," she mutters. "Good for you, diva."
The conversation has wandered considerably from the topic at hand: the upcoming family dramedy "Ricki and the Flash," in which Gummer plays the title character's estranged daughter opposite her actual mother, Meryl Streep. As written by Diablo Cody and directed by Jonathan Demme, the role is a fantastic demonstration of the actor's range; although her Oscar-laden co-star plays an aging rock star, wailing on electric guitars or in poignant scenes full of streaming eye makeup, it's Gummer's woman in crisis who gives the film its heart.
But right now she's enmeshed in the symbology of the changing seasons. Brutal East Coast winters, she explains, don't bother her. "I have a good coat. And I like the camaraderie that's bred in the face of that, even though it's a low level of adversity. I like walking into a crowded, warm restaurant and everyone's in there seeking the same warmth and consolation. I dig that."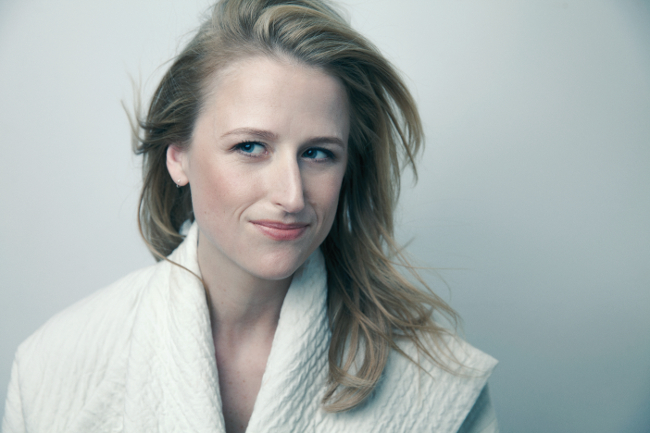 That's partly why Gummer prefers New York to Los Angeles. She quotes Mark Twain—"Go to heaven for the climate, hell for the company"—in comparing the two cities. "I'd rather be in hell and in good company," she says, adding that Hollywood's high society is unbearable for similar reasons. "It's homogenous. It's the sameness that starts to feel stultifying and stagnating, like everyone's running on empty. It's like SoulCycle, a whole city of SoulCycling. Spinning, spinning, spinning, going nowhere."
To be fair, Gummer associates L.A. with a particularly tough moment in her life. She moved there for a change of scene, she says, after her marriage to actor Benjamin Walker ended, and suddenly she "just couldn't get a job. I didn't work, really, for over a year. And it wasn't for lack of trying." It's a mystery to which all working actors can relate, even those who have plenty of challenging roles and critical praise under their belts; Gummer's work in "The Ward," CBS' "The Good Wife," and "Emily Owens M.D.," the 2012 CW series in which she starred, is wonderful. But sometimes the work just dries up.
"So I started really doing that thing that everybody tells you to do," she says. "Just treat an audition like an opportunity. This is your chance to just try stuff, try something. Have fun. That's what got me out the door."
It's a narrative with a somewhat apt resemblance to her character's arc in "Ricki." Recently and abruptly abandoned by her husband, Julie has become a recluse in the home of her father (Kevin Kline) and stepmother (Audra McDonald). When her father describes her as "absolutely unhinged," it still doesn't prepare the audience for Julie's ferocious first entrance: clad in grungy pajamas, with a mane of hair so matted you can practically smell her despair, she screeches obscenities at the mother who has returned at long last, looking positively feral.
"That was fun," Gummer remembers with a laugh. "But it was hard to come down so furiously on the person that I actually love the most in the world." She and Streep would communicate wordlessly, as only parents and children can, keeping each other's performances truthful between takes of particularly fraught scenes. "It was a mirror thing, like, 'You weren't buying that, were you? Me neither.' She's one of the very few people who knows when I'm lying."

From the first reading of the script, it was Gummer who elected to crank Julie's desperation to the max. "Mamie brought not only considerable talent and creativity, she brought courage to this part," says Demme, who goes on to describe the actor's appearance in the early scenes as if "she'd wandered in from 'The Walking Dead,' or Linda Blair in 'The Exorcist.' As challenging as it was, we had to make Mamie look really bad up front.... It requires a complete ego abandonment on her part. She did that."
During moments of stillness, Demme adds, he marveled at Gummer's greatest weapon. "This actor can stand there without moving a muscle and tell extraordinary scenarios just going on in her eyes."
James Ponsoldt, who directed Gummer in a small role in the Sundance hit "The End of the Tour," was similarly wowed. "In a single beat she can convey so much complicated, conflicting emotion," he says. "When I'm on set looking through the camera, I'm watching as an audience member. And I want to be moved, I want to be surprised, and I want to believe what I'm seeing. I felt that endlessly with her on set and then months later when I was editing the footage. I'm such a huge fan of hers."
That ineffable quality is on display in one of the film's last scenes, at the wedding reception of Julie's brother Josh (Sebastian Stan). Forced to walk down the aisle as a bridesmaid, Julie falters, paralyzed by old wounds. As Gummer's eyes fill with tears, the entire film teeters toward either tragedy or redemption. The question arises: Does this story have a happy ending?
"I kind of keyed into a real primal kind of panic and fear," says Gummer of that moment. "I just felt it, that feeling of being...flooded. That's what it felt like. Just drowning in air."
If there's anything she's learned from inhabiting Julie, she adds, it's that acting—and the countless rejections and inevitable dry spells that come with the job—demands that same choice between conviction and doubt, perseverance and defeat. "You could fall flat on your face, but so you fall flat on your face. And the next time you try and do something new and you think, What if I fall on my face? You think, Well, I've already done that."
What makes "Ricki and the Flash" so resonant is that spirit of, as Gummer puts it, "getting up and singing anyway. We're all going to do the best we can. We're going to try." It's a mentality struggling actors can live by, a mentality Gummer will be taking with her into rehearsals for the world premiere of Lindsey Ferrentino's "Ugly Lies the Bone" at Roundabout Theatre this fall. "Be kind—to yourself," she says with a shrug. "Be curious. Be kind, be curious, be kind, be curious. I still say that to myself."
As she stands up, ready to wander back to her Midtown apartment on this perfect summer day, Gummer paraphrases something said to her by the late, great actor Roger Rees. "Actors are not like dancers at the barre every day or singers practicing their scales. They're serious sometimes, and sometimes not. They drink a little and try and live the most they can. Which I think is right! You've got to get hurt. You've got to experience joy. And just be really fucking open to the elements."
Want to read more? Check out our Backstage covers here!