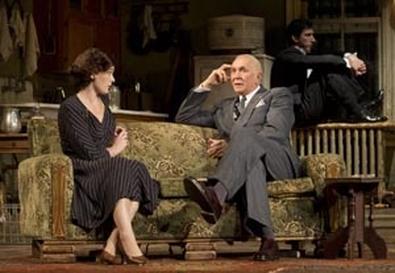 With financial crises erupting in world headlines on a daily basis, a crackling melodrama about a brilliantly devious tycoon expanding his empire with no thought to the cost to others would seem like a natural. And if that tycoon is to be played by a commanding talent like Frank Langella, such a production would appear to be a sure bet. To be sure, Roundabout Theatre Company's revival of Terence Rattigan's "Man and Boy" has many attractive features, but weaknesses in the play itself cause the venture to come up slightly short of landing in the black.
Premiering in 1963 and set in 1934, during the height of the Depression, the play centers on Gregor Antonescu (Langella, firing on all cylinders), a Romanian-born international financier who can pick up a telephone and cause world markets to rise or fall. A low-level accountant (the amusingly flustered Brian Hutchison) has discovered Antonescu's cooked books, which endangers an important merger with an electronics company. To avoid bad publicity and save the deal, the millionaire commandeers the Greenwich Village apartment of his estranged son Vassily (an earnest Adam Driver), who has eschewed his father's ill-gotten wealth, changed his name to Basil Anthony, taken up with a struggling actress (the sparkling Virginia Kull), and found work as a cocktail pianist.
The first act is well-constructed and exciting, with Antonescu subtly manipulating Mark Herries (the deliciously oily Zach Grenier), the closeted gay president of the electronics firm he wishes to acquire. He does so by leading Herries to believe that Vassily is Antonescu's male lover and that the younger man would not be above becoming "friends" with Herries. The entire sequence is a tightly wound set piece, staged with a maximum of suspense and tension by Maria Aitken, who also directed a West End production of the play in 2005. The action also allows Rattigan to explore the seamy side of international finance and the rampant homophobia of both the 1930s and the 1960s.
However, the second act introduces a completely different dramatic conflict: Antonescu's entire empire is suddenly on the verge of collapse and, rather than flee the country or face imprisonment, he contemplates suicide. This leads to a settling of accounts with his trophy wife (the tart and tangy Francesca Faridany), his loyal right-hand man (the stalwart Michael Siberry), and Vassily, who still worships his dad despite the many economic and emotional crimes Antonescu has committed. The core of the play is the father-son dynamic, but Rattigan stuffs in so many other plotlines, this theme is weakly developed. We hear that Vassily tried to shoot his father and that the boy drinks too much, but the reasons are never fully fleshed out, so their final big emotional confrontation feels forced.
In spite of the confused second act, this "Man and Boy" has a strong balance sheet, thanks mostly to Langella. As he did in "Frost/Nixon," Langella creates an irresistibly strong leader who draws us to him despite his despicable actions. Watch how Antonescu twirls a telephone cord while stalling for time or subtly maneuvers an opponent out of the chair with the most advantageous position in the room. You have to admire this robber baron for his skill and cunning despite his ruthlessness. Langella makes the game of international finance a fun one.
Aiken keeps the pace up after the intermission but cannot overcome the deficiencies of that second half. Kudos to set designer Derek McLane and costume designer Martin Pakledinaz for evoking the 1930s with style and accuracy.
Presented by Roundabout Theatre Company at the American Airlines Theatre, 227 W. 42nd St., NYC. Oct. 9-Nov. 27. Tue.-Sat., 8 p.m.; Wed., Sat., and Sun., 2 p.m. (212) 719-1300 or www.roundabouttheatre.org. Casting by Jim Carnahan and Kate Boka.