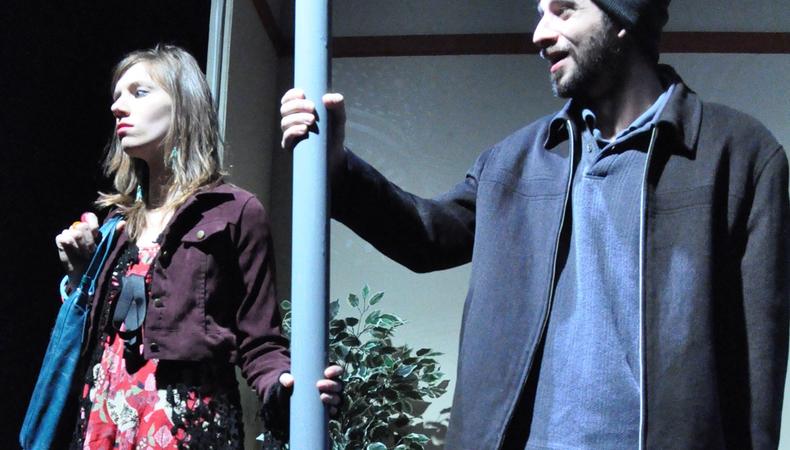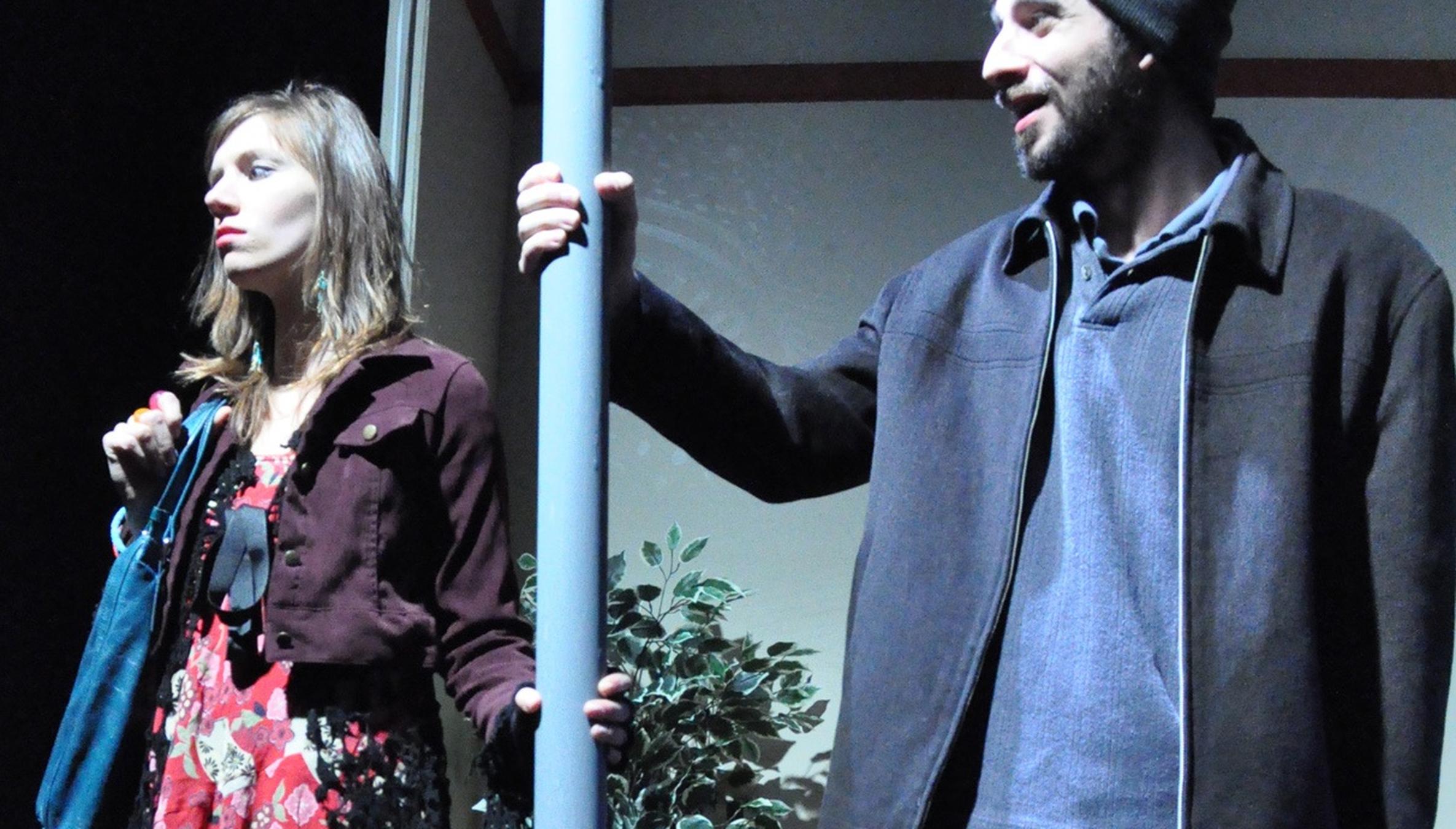 Six years ago Wesley Autrey was one of the most talked-about men in New York, although few knew him by name. He was better known as the "Subway Superman," the city hero who saved a passenger who had fallen on the tracks, holding him down in the space between the rails and allowing the train to pass overhead. But despite paying homage to this act of daring, "The Man Under," in its world premiere from Athena Theatre at 59E59 Theaters, is as conventional and unadventurous as they come. What happened?
Maybe it's Paul Bomba's script, the first offender in this parade of the bland. Its two parallel love stories are numbingly familiar. Jennifer (Veronique Ory) is an "always the bridesmaid" type. Martin (Curran Connor) is a "giver" who wants to do something for himself for a change. Jeff (Bomba) is a man tortured by the tragic end of a past relationship. The only wild card is Lisa (Briana Pozner), a nymphomaniac with a lack of social skills but an abundance of knowledge of the subway. But even Lisa's craziness is couched in familiar terms. "You're dead to me. Dead to me," she screams at Jeff, echoing cheesy breakups through history without a trace of irony.
Is it the performances, almost uniformly flat? Ory and Connor add little soul to their clichéd characters; their defining characteristic is a mutual love of the Yankees. Pozner's Lisa is plenty eccentric, entering Jeff's life like a flash of lightning (and with a hearty slap on the face), but her unpredictability makes her little more than a cipher, and a revelation toward the play's end does little to fill in the gaps. Bomba's Jeff is the emotional core of the show, his nervous energy propelling the entire production as far as it can go.
It's probably too easy to mention Julia Noulin-Mérat's set: an apartment so nondescript it barely exists, until someone has to sit on the hilariously small couch. Charles Forster's black-light tricks, offering a glimpse of the world in the tunnels beneath the city's sidewalks, offer the kind of cheap thrills that have impressed at many a high school dance.
It's that laziness that defines the production, indifferently directed by Benjamin Kamine. For a show that runs only 75 minutes, "The Man Under" contains a surprising amount of filler: dream sequences with dreary and unilluminating monologues, three-minute scenes that stagnate. When Martin calls Jennifer to his apartment to win her over, he loses his nerve and resorts to small talk. "Is that all?" Jennifer asks incredulously, her time wasted. It's one of the few moments when it's easy to commiserate.
Presented by Athena Theatre at 59E59 Theaters, 59 E. 59th St., NYC. Jan. 30–Feb. 17. (212) 279-4200, www.ticketcentral.com, or www.59e59.org. Casting by Judy Bowman.
Critic's Score: F