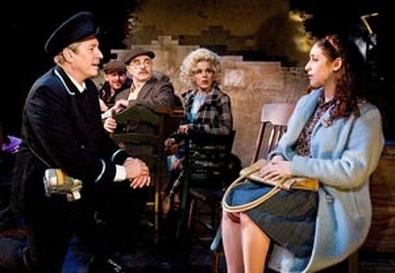 "A Man of No Importance" and the Gallery Players are a good fit. The 2002 Terrence McNally
–
Stephen Flaherty
–
Lynn Ahrens musical, based on the 1994 film of the same name starring Albert Finney, is a small, unglamorous character study with a large cast, set in a grimy, workaday 1960s Dublin. The Gallery Players operate in a smallish, unglamorous Brooklyn basement space and are known for bringing out the best in musicals of a certain size—which they certainly do with this one. But the shortcomings evident in the musical's original Lincoln Center run—excessive sentimentality, not-always-logical character behavior, a way-too-leisurely first act—haven't vanished.
The Players have found a spectacular Alfie Byrne in Charlie Owen. He's every inch the shy, self-unexamined bus conductor clinging to art, in the form of community theater, like a life raft, who forms an emotional kinship with Oscar Wilde that will both devastate his everyday existence and lead to necessary self-discovery. Alfie is so repressed that the authors don't actually give him much to play until Act 2—he's too busy covering. But when Owen's Alfie looks at his workmate Robbie Faye (Eric Morris, powerful of voice and at ease in his own handsome skin), you see the feelings that McNally et al. are burying beneath the surface. Owen knows subtext, and he's restrained, dignified, and ultimately quite moving.
Much of Act 1 dwells on aimless detail about Alfie's fellow amateur actors. But under Hans Friedrichs' resourceful direction, which includes John Doyle's device of actors playing instruments, something that works wonderfully well here, they're all beautifully cast and in some cases—Greg Horton's scheming butcher, John Weigand's wistful widower—outstanding.
Act 2 is vastly better written, and if all the material were on the level of "Confession," in which Robbie gives voice to all the anguish that Alfie can't bring himself to confess to his priest, this would be a great musical. But the authors are busy slamming away unsubtly at Catholic hypocrisy and building character arcs that don't always add up. Once all the revelations about Alfie are out, his sister, Lily (an excellent Renee Claire Bergeron), posits in soliloquy, "You must have known I'd love you all the same." Well, no dear, you've been such an ignorant, judgmental twit for most of the running time that that's not necessarily a safe assumption.
Musical director Julianne Merrill's orchestra of six (plus actor-musicians) sounds terrific, Christine O'Grady's musical staging is lively and appropriately Gaelic, and Sarah Cogan's costumes exude 1960s unattractiveness without turning it into a cheap joke (no applause, though, for Jon Jordan's awful wigs).
The actors' unmiked Irish accents are all perfectly secure, and they play with great conviction and affection for the material. But it's modest material, not really strong enough to support McNally's themes of guilt, redemption, and self-acceptance. As well done as this "A Man of No Importance" is—and that's very well indeed—it's undercut by Alfie not being a man of much importance.
Presented by and at the Gallery Players, 199 14th St., Brooklyn, N.Y. Jan. 28–Feb. 19. Thu and Fri., 8 p.m.; Sat., 2 and 8 p.m.; Sun., 3 p.m. (No performance Sat., Feb. 4, 2 p.m.) (212) 352-3101, (866) 811-4111, www.theatermania.com, or www.galleryplayers.com.