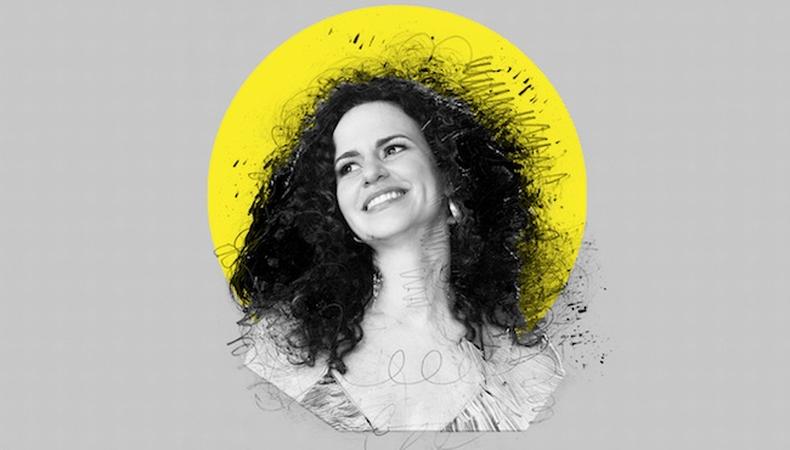 In Lin-Manuel Miranda's "Hamilton," Angelica Schuyler is the role of a lifetime. For Mandy Gonzalez, it's just the latest in a series of such roles. Returning to the Richard Rodgers Theatre after co-starring in the original Broadway cast of Miranda's "In the Heights," and to Broadway for the first time since leading "Wicked," Gonzalez is experiencing the kind of full-circle moment most performers dream of. (She's also up the street from "Hello, Dolly!" star Bette Midler, who helped launch her career!)
How has playing Angelica in 'Hamilton' changed your identity as an actor?
This is my first show coming back since I did "Wicked." In the interim, I did a lot of concerts and also had a child. So my life changed completely. The ambition never changed, the wanting to be onstage. But the sacrifice and the way I looked at life and the world changed when I had a child. I've changed. There's a beauty in that, and this feeling of gratitude.
How do you tackle Angelica's big number, "Satisfied," every show?
It's such an incredible song. When I first heard them do it at the Public, I thought, Oh, my gosh, it's a play in one song. As an actor, you dream about having this kind of material to work with. Lin-Manuel wrote the story there, you just have to be honest and open, be the vessel that it goes through. You dream about doing that kind of work. I'd grown up listening to Sondheim and wished for those kinds of roles. And here I am doing it twice with the same writer, with Lin-Manuel. He's such an incredible storyteller, and that's why it affects so many people. And sometimes being honest is the hardest thing. Letting go is the hardest thing, but it's so necessary with this material. With any material, I think. You can't fake it, it's there in the writing. If you're faking it, ["Hamilton" director] Tommy Kail is going to let you know!
READ: Renée Elise Goldsberry on How to Audition for 'Hamilton'
What advice would you give your younger self?
I would offer my younger self encouragement, because I've always had ambition and a very strong work ethic, and I would give myself a pat on the back to keep going. Sometimes, when you're out in New York and you're hitting the pavement, you're going on auditions, there are so many emotions that come up. Rejection is hard; it's not easy for anybody. [I'd] just give myself a pat on the back and say, "Keep going, you're doing great. You're going to fall a little bit. But you're going to get back up."
Have you ever used Backstage in the past?
Backstage is the reason I got my first job in New York! After I was done with high school [in California] I got a job as a backup singer for Bette Midler. We came to New York and she put us up for a week in the Plaza Hotel. I didn't have a job, I didn't have an agent. So I bought Backstage every week and would go to every single call. Most of them were super crowded, and most I didn't get. But I did an open call for a show called "Eli's Comin'," directed by Diane Paulus.... Then I got a callback and got that job. And I've never looked back! So I thank Backstage and I encourage students I meet with that are just out of college or kids that are just starting, they say, "What can I do? I'm not getting any auditions," and I say, "Are you looking at Backstage?"
How did you get your Equity and/or SAG-AFTRA card?
"Eli's Coming." I was non-Equity and had to join in order to become Equity. It was Off-Broadway, and because I had been SAG for a while, living in L.A. Because I did a lot of little different jobs as a kid—Kids Incorporated, Star Search, all those things—I was almost there, I had all those points. With "Eli's Coming," they allowed me to join and I was so proud to be a member.
What was your most memorable New York survival job?
I did coat check at a Thai restaurant. It was wintertime and I could make really good tips! I did hostessing at the front desk, but that only paid an hourly wage. I never made it to being a waiter, but I was really good at greeting people, taking their coats, remembering what their coats looked like, and giving them back.
READ: Moving to NYC: The Industry Players You Need to Know
As a child actor, what were your first headshots like?
When I was a kid, I did these headshots with Kids Incorporated. This was a time when you had to, like, do stuff in your headshot. So in one I'm eating pizza. In this other one I'm scooping ice cream, in another one I'm roller skating. As a kid I felt those were the best headshots of my life because it was so much fun. Now looking at it, I just kind of looked crazy.
When was your last audition?
Two weeks ago! Auditioning never stops. One of my dearest friends, Priscilla Lopez, I'll see her and she'll say, "I'm going to this audition." Oh, that's just a Tony Award winner going to an audition. That's part of being an actor and an artist. It keeps your chops up. I'm not somebody who loves auditioning, but I love being able to create in a room, the live theater aspect in the room. Anything could happen. There's a part of auditioning that I love because it's so immediate, and everything is heightened because everybody wants the job. There's something about that that feeds you, feeds your energy. It's nice to not audition, but I think sometimes people miss it in some ways because they miss that energy. You have to get into a zone, like an athlete. You're waiting in line and figuring out what your zone is and staying focused for two or three hours before you go in—that teaches you so much.
I like seeing people at the audition I haven't seen in a while and I like showing them where I am now. It lets them see you in a different light. Some casting agents you see maybe once every five years, or two years, and you change a lot in that time. So it's important for them to see how much you've grown.
Did you ever have a go-to audition song?
I used to sing "Rock Steady," Aretha Franklin. My first audition in New York was for Bernie Telsey; that song got me through every phase [of callbacks] so that I got to meet Telsey. That changed my life. A lot of the accompanists would say, "There's the girl with 'Rock Steady!' " As I've grown and auditioned for more legit musicals, I have a whole different repertoire. But in the end "Rock Steady" wins, hands down.
Do you have an audition horror story?
Of course! My worst audition horror story was when I didn't meet with an accompanist before. I was told to go in for a country music audition. I got one of my favorite country songs, "Crazy" by Willie Nelson, but I knew it sung by Patsy Cline. So when the accompanist started, it turns out I didn't check—because I got the material at the library, I didn't have a lot of money because I was working Off-Broadway, so I got it for 10 cents a sheet—and it was in Willie Nelson's key. So I stopped the accompanist and said, "Excuse me, I think you're playing it wrong." He was like, "No, that's the key." And we just kind of looked at each other. I went and proceeded to sing "Crazy" up the octave. It did sound a little crazy! The people I was auditioning for just said, "Oh. Thank you, Mandy."
Check out Backstage's Broadway audition listings!