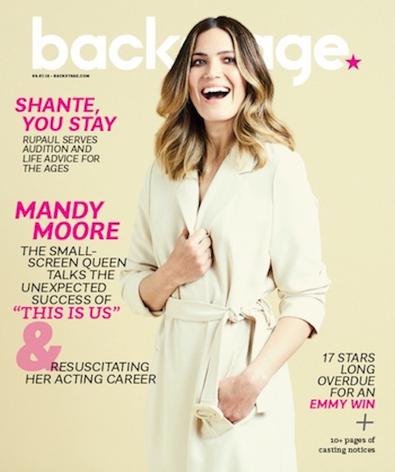 Mandy Moore is running late. Maybe it's the New York City traffic. Or the rainy, early April weather. Or the fact that she's only a few hours out from a weekslong trip to Tanzania, where she summited Mount Kilimanjaro. Whatever the reason, she only has 40 minutes before she needs to turn around—again—for (another) plane headed to Los Angeles, where her whirlwind continues.
Moore doesn't seem at all fazed by any of it when she does appear out of the drizzle. She hustles her way to the table, nonplussed by the dozens of eyes that immediately recognize her. The hostess, who feared a Manhattan lunchtime rush and threatened to commandeer the large, semiprivate table, is near-speechless at the sight of her. And for good reason. The woman of the hour—maybe even the year—has arrived.
And it truly has been a year for Moore. Her hit show "This Is Us" returned last September following a tremendous first season. By all accounts—Moore's included—not one person involved with the show had any idea it would take off the way it did. "None of us knew what we were embarking on," she says. (Season 1 averaged 14.76 million viewers per episode; received 10 Emmy nominations, a Golden Globe nomination for best television series, and a Screen Actors Guild Award win for best ensemble in a drama series; and saw Moore and several of her cast members earn myriad accolades and noms.)
Apologizing profusely as she slides into the booth, you'd never guess this 34-year-old woman has been in show business for the better part of 20 years. Sure, she toured internationally with *NSYNC and the Backstreet Boys when she was 15, starred in a millennial cinematic touchstone ("A Walk to Remember"), and now leads the ensemble of one of the biggest shows on television, but it still seems like she kind of can't believe it.
While family dramas are commonplace in prime time, when Pittsburgh-based Jack (Milo Ventimiglia) and Rebecca (Moore) Pearson and their three children started their Tuesday night run on NBC, the response was fervent. There was something about the time-jumping (we've followed the Pearson clan from the day the kids were born in 1980 through to present day), diverse-yet-nuclear, tear-jerking series that immediately put "This Is Us" into a different class than its predecessors and contemporaries.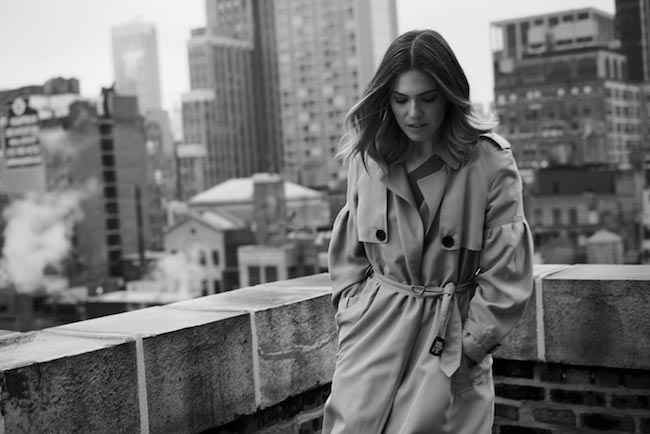 Styling by Cristina Ehrlich
"I know that this is the opportunity of a lifetime," Moore says of her role as the Pearson matriarch. "I feel so lucky"—especially since Moore confesses she was about six months from turning her focus away from acting when she read the "This Is Us" script.
The tale of the now-megastar who was close to giving up acting before landing the role that changed her life is about as old as Hollywood itself. But what sets Moore apart is that she had been a megastar for years, producing hit records, starring in films like 2001's "The Princess Diaries," and voicing Disney heroines ("Tangled") before the slump hit.
In the span of three years, Moore filmed a number of pilots, but none were picked up. Despite the cachet her already established name should have provided, nothing was happening.
"It's impossible not to take it personally; it just is. It's pretty defeating in every sense. I don't want to sound like some spoiled actor, because I understand that I was lucky enough to even land a job in a pilot that ended up getting filmed, but it definitely knocks you down a couple of pegs.
"It was several years of not being able to find my footing and feeling as if maybe my time [had] come and gone.... I was just this open wound, going through personal shit and trying to reconcile my professional life. It just felt like the machine had come to a screeching halt and I didn't know how to start it back up again."
Dejected, Moore came to terms with the fact that she was "lucky to have had any semblance of [an acting] career" and that maybe it was time to transition to something else. (School? Go back to music? Become a travel writer?)
And then Dan Fogelman entered the picture.
As the creator, executive producer, and writer of "This Is Us," it was Fogelman's script that changed everything for Moore, and Fogelman's eye that recognized the nuanced, capable-of-playing-a-dramatic-lead actor Moore had become.
With early film credits that read more like the YA section of a bookstore than those of a "serious actor," Moore knew her résumé left a lot to the imagination when it came to her ability to play Rebecca, a "woman who has lost a child and lost the love of her life and has grandkids." She doesn't regret those first roles, but she recognizes that they were the film equivalent of the music she was making at the time: bubblegum pop.
"[Those] were the opportunities that presented themselves," she says of roles like mean teen girl ("The Princess Diaries"), sick teen girl ("A Walk to Remember"), and frustrated teen girl with a crush ("Chasing Liberty"). "Those were the projects someone my age could audition for."
Even before Rebecca entered the picture, Moore and her team were working on distancing her as much as possible from the singer first, actor second reputation so many of her early aughts musical peers had fallen victim to. The previous three years of failed pilots added fuel to the fire, too, as they decided to reject "traditional pilot season with network television" in favor of "something more out of the box on cable or Hulu or Amazon."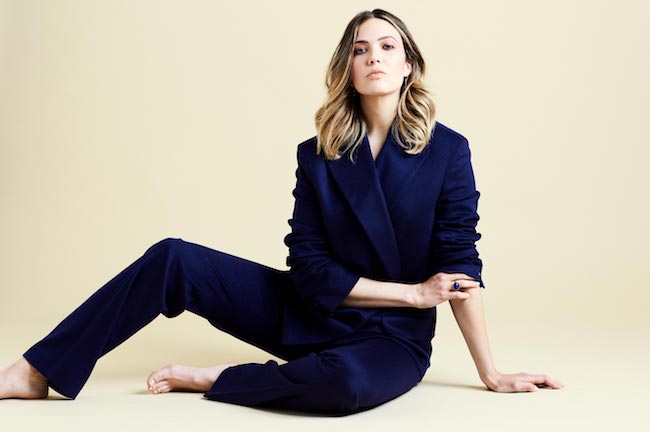 "We were all on the same page. And then, lo and behold, two weeks later I get this untitled Dan Fogelman script at NBC and I was like, 'What? Isn't this the epitome of everything we talked about not focusing on?' "
Yes, it was a network show that she auditioned for against stiff competition; it filmed a pilot before officially being picked up; and her character is so different from her past roles—and her own life experience—that it would have been easy for Moore to dismiss it as outside her range as an actor.
But, as Moore puts it, "All it takes is that one job. It takes one person's belief in you to say, 'Yeah, I think I can do that thing,' whether or not it's something you've ever done before.
"[Fogelman] saw something in me that I felt like I was yearning to show people. That there was more depth there. That I'm an adult now. That I'm a woman. That I have a lot of life to infuse into this art and these stories and this character. And I just couldn't get that traction anywhere before Dan was like, 'Yeah, you're Rebecca.' That was all it took to single-handedly turn my whole world around."
Though she admits the weight of a character like Rebecca was daunting at first, after two seasons and 36 episodes, "it's like slipping on a jacket."
Whether she's playing prekids Rebecca, newly widowed Rebecca, or grandmother Rebecca, Moore welcomes the challenges—and opportunities—that come with telling the story of a "fallible" woman, one who's a bit of a television anomaly. "I love that she's human," Moore says, her face set in protective determination. "I love that she makes unpopular choices."
The anomalous nature of the character makes perfect sense in Moore's hands. She may not be a wife or mother or grandmother, but she knows pain and loss and uncertainty and joy. And despite growing up in the spotlight, she certainly knows disappointment. Most of all, she knows how to wait for the things that matter.

---
Good Things Come
Moore may have landed her dream role, but for all the actors out there still searching for theirs, she has some advice: "It will come. I believe that everybody has that opportunity, I do. And it may feel different for each of us, but I think that it's recognizable when it does hit. It could be a play, it could be a film. It doesn't necessarily have to come in the form of a television series—it could be just one moment of being onstage that's, like, perfect. And that's the carrot that dangles in front of you that keeps you going, that you're constantly striving to find again."
Check out Backstage's TV audition listings!
Photographed in NYC by Stephanie Diani on April 3; stylist: Cristina Ehrlich, hair: Peter Butler using ghd/TraceyMattingly.com, makeup: Matin for ChapStick/TraceyMattingly.com, nails by Elle using Tom Ford Nail Lacquer/TraceyMattingly.com