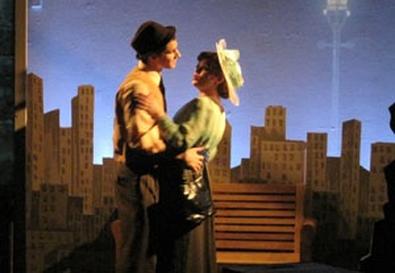 Adapting a novel, especially a sweeping one, for the stage must be a daunting task. Playwright Martin M. Zuckerman has attempted to distill
John Dos Passos
' 1925 tome into a conventional two-act, two-and-a-half-hour play. Alas, the results are barely even mixed. Dos Passos took the title for his epic, about some 150 characters in New York City in the early 20th century, from a short-line railroad that ran into the city from what were then the wilds of New Jersey. (The metaphor of travel from and to nowhere would have been irresistible.) In reducing Dos Passos' major characters to three and his minor characters to 11, Zuckerman loses the period's mass of melting-pot movement, most of the crucial social context, and even his remaining characters' backstories.
Oh, we get a few clues about where we are in time and place. Period songs such as "Take Me Back to New York Town," "East Side, West Side," and "45 Minutes From Broadway," on seemingly authentic old-time recordings, abetted by the live singing of additional songs, help somewhat. So do the realistic women's costumes by A. Christina Giannini. (The men's wardrobe, apart from the odd pair of suspenders, not so much.) We hear that Taft is about to become the U.S. president in 1908, then that
Christy Mathewson
is pitching for the New York Giants, World War I is raging, and Prohibition is in force—not that the last stops any of these people from drinking. Apart from the hard drinking and a bit of talk about attending a Giants game, the playwright fails to relate the larger events to his less-than-interesting characters. Minimal scenery and a small stage don't help matters, nor does director John W. Cooper, who recently took over from the deposed previous director.
The acting company of 13 appears to be mostly young and relatively inexperienced, but the two semiromantic leads are appealing:
Nick Fesette
, as an idealistic journalist-turned-novelist (a Dos Passos stand-in), and
Casandera M.J. Lollar
, as an ambitious actor and serial adulterer. Brad Coolidge exudes a suitably oily undertone in the third lead, as a womanizing, self-made, ambulance-chasing lawyer who rises to become the district attorney for Manhattan. In minor roles, John L. Payne nails the Irish Tammany Hall ward heeler, and Kelley Dorney has some touching moments as his beleaguered younger wife. Mark A. Keeton provides needed comic relief as a sexually ambiguous cross-dressing performer with a Southern drawl.

Presented by Turtle Shell Productions at the Turtle Shell Theater, 300 W. 43rd St., NYC. July 17–Aug. 1. Schedule varies. (212) 352-3101, (866) 811-4111, www.theatremania.com, or www.turtleshellproductions.com.