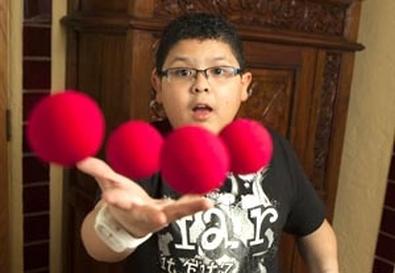 By all accounts,
Rico Rodriguez
is an average 12-year-old. He engages in battles with Nerf Blasters guns. He's excited to spend time with his new puppy, an English bulldog named Action. He's fascinated by magic and has taught himself several tricks—a few of which he shows off, and it's no exaggeration to say he's as good as some professional magicians this reporter has seen.
But what separates Rodriguez from many of his peers is the hilarious, heartfelt performance he delivers every week as wise-beyond-his-years Manny Delgado on ABC's Emmy-winning comedy "Modern Family." Manny is the beloved only son of Gloria (Sofia Vergara), a hot-tempered Colombian beauty married to the considerably older Jay (Ed O'Neill), and while Manny is very much a child, he conveys a mature spirit. He sips espresso, favors a burgundy dinner jacket, and often dispenses philosophy to adults about love and marriage.
At the same time, he's terrified of butterflies. These contradictions have made Rodriguez a breakout star on a show full of scene-stealers, recently earning him a Screen Actors Guild Award for his work in the show's ensemble. It has also earned him quite a following: At last year's Los Angeles opening of "In the Heights," it seemed everyone wanted their picture taken with Rodriguez, who was mobbed by admirers during intermission.
Spend a few minutes with Rodriguez, and you'll come to appreciate his acting ability even more, as it becomes readily apparent he's not really like his character. "I'm nothing like Manny," Rodriguez insists. "Sometimes Manny says things, and I'm like, 'I would never say that!' But that's what's cool about the part—to play something so different from me." Pressed for any similarities, Rodriguez admits, "We have some things in common. We both have nieces. And I like a little bit of classical music every now and then. But stuff like writing love notes and poetry—I don't do any of that."
But Christopher Lloyd, an executive producer and co-creator (with Steve Levitan) of "Modern Family," sees a few similarities between creator and character. "I think Rico shares Manny's intelligence. But, much more, I think he shares Manny's zest for life," says Lloyd. "He is enthusiastic and curious and eager to share his thoughts and experiences, and it's a wonderful spirit to have on set." Lloyd cites a recent location shoot where a game was created in the parking lot involving cracks in the sidewalk and a small pebble. "No, not the most complex game ever," Lloyd notes. "But the enjoyment he took in playing that game, in being the first people to ever play that game, said a lot about the sunniness that is at the heart of both Manny and Rico."
And Rodriguez holds great affection for his role. Asked if he would be friends with Manny in real life, he only takes a moment to think it over. "I probably would," he admits. "He could probably help me out with the ladies—he's such a ladies' man!"
True West
Rodriguez was born in College Station, Texas, the youngest of four children to Roy and Diane Rodriguez. His elder sister, Raini, first expressed an interest in performing. She attended the
IMTA
(International Modeling and Talent Association) convention in L.A., where she met manager Susan Osser. After a visit to L.A., the family eventually decided to make the move for Raini's career. Diane moved with Raini and Rico to L.A., while Roy stayed in Texas. Recalls Rodriguez, "My mom told my dad, 'We're going to try it out for a year, and if we don't like it, we're coming back home.' That was six years ago."
According to Rodriguez, Raini began working fairly quickly, booking guest appearances on shows like "Huff" and "The Suite Life of Zack and Cody." He enthuses, "She's a great actress." But Rodriguez says he didn't have acting aspirations and was instead painfully shy. "I wouldn't talk to anybody, and I would hide behind my mom," he recalls. But after visiting his sister on set, he began to change his mind. When he was 6, he broke the news to his mother.
"When I told my mom I wanted to be an actor, she wanted me to be sure, because I change my mind a lot," Rodriguez reveals. "One day I want to be a NASCAR driver, one day I want to be an astronaut. But I actually stuck with this." Osser had already expressed an interest in representing him, but first Rodriguez enrolled in classes at
Helen Anzalone Studios
. While there, he played improv games and took commercial and then theatrical classes. He praises Anzalone for her guidance. "I had a mumbling problem when I started out, because I get excited and talk really fast," he notes. "She really helped me to slow down."
After about six months, he felt ready for his first audition—except he didn't realize he would have to go into the room alone. "I wanted my mom to go in the room with me," says the self-proclaimed "mama's boy" with a laugh. "She was like, 'Rico, you're supposed to go in and do things by yourself.' I was like, 'What?' Nobody had told me that. But I went in and I enjoyed it, and from then on I've stuck to it." Rodriguez started out with an impressive success rate. "Fun fact: I didn't book that first job," he says, "but I booked the next three." Those second, third, and fourth auditions were for Round Table Pizza, Time Warner Cable, and an episode of "Corey in the House." From that point on, he says, "I was keeping busy. I did shows like 'ER,' 'My Name Is Earl,' 'Nip/Tuck.' And then I went out for 'Modern Family.' "
According to Jeff Greenberg, the casting director for "Modern Family," the role of Manny was one of the most difficult to fill. "I think he was originally described as 'a 40-year-old trapped in a 12-year-old body,' " Greenberg recalls. "It's a very sophisticated role for a kid, and Rico was one of 190 kids I saw, and one of eight that I brought to producers." Because Vergara was already cast as Manny's mother, the role was specifically Latino. But other than that, says Greenberg, the physicality of the character was left fairly open. Greenberg was quickly impressed by Rodriguez, noting, "He was just very real and funny, and he has a great look. He says these sophisticated lines with that innocent face, and it's beyond hilarious." Still, it wasn't an easy process; Greenberg estimates Rodriguez went through six auditions for the role.
The first time Lloyd met Rodriguez, the actor definitely made an impression. "Rico's first audition was the scene in the pilot where Manny goes off to conquer his current romantic interest: the impossible dream Brenda Feldman," Lloyd recalls. "The scene ended with him literally dashing off-camera. Since this took place in my office, Rico dashed off—directly into my lap. I remember really loving his commitment to that moment, his sweetness and his innocence in literally crashing into me time and again as we read the scene. He seemed like a boy who had a natural talent—but not a polished, Hollywood talent—and that was very winning."
On the way home from his final network test, Rodriguez got the call saying he had booked the role of Manny. Once he got over the initial shock, he planned how to tell his sister, who had helped him prepare for the auditions and knew how badly he wanted the part. "I had a bottle of water with me and I splashed some under my eyes so it looked like I was crying," Rodriguez says with a mischievous grin. "And my sister asked how it went. 'Not so good. I just don't know what I did wrong. I thought I did pretty good. Oh, and Raini, one other thing.' 'What?' 'I booked it!' " Rodriguez laughs. "She was like, 'Oooh, you! But, yay!' "
Rodriguez says every member of his family supports one another 100 percent, and there's no competition between him and Raini. "She's great. She's the bread in my grilled cheese sandwich," he says. "She's the bread, the pan, the butter, everything that goes into making grilled cheese. I'm the cheese that makes it just a little bit better."
Ready, Set, Go!
According to Rodriguez, the cast of "Modern Family" is truly a family. Though he didn't meet Vergara and O'Neill until he was cast, he says he felt comfortable with them immediately—maybe because he wasn't overly familiar with their work. Fortunately, his father was. "My dad said, 'Guess who you're going to be working with?' " Rodriguez recalls. "When he said Ed O'Neill, I didn't know who that was. So then he started singing, 'Love and marriage, love and marriage….' I still didn't get it." When he first met O'Neill and told him this, "He laughed," Rodriguez says. "He understood I was just a little kid—how would I know 'Married… With Children'?"
Rodriguez does three hours of school a day while on set, sharing a teacher with co-stars Nolan Gould and Ariel Winter. "We're all in different grades, but our teacher, Miss Sharon, knows everything," he says. "We keep her busy." He has also had to learn certain skills—such as fencing—for storylines. But the hardest thing he has had to master? "Drinking espresso, because it's such a tiny cup," he says. "And I'm not a fan of coffee. Most of the time, its chocolate milk or Coke or Mountain Dew."
Asked if he plans to continue acting for the rest of his life, he quickly responds, "Yes, I do. I'm not going to quit anytime soon." However, he can also envision a career behind the scenes. "I'm really good at editing on Windows Moviemaker. Maybe I can be an editor, director, producer, writer—even sound and camera interest me. I'm always asking questions, every day. I could wire myself by now."
For the immediate future, Rodriguez is looking forward to heading back home to see his family and "eat as much Texas food as I can" when "Modern Family" wraps production this week. He's teaching himself more magic tricks from instructional DVDs and is excited about presenting at the 43rd Annual Awards of the Academy of Magical Arts in April. He hopes to do some movies down the road and hopes for a long, healthy run on "Modern Family."
But whatever his future holds, Rodriguez says he'll always follow the advice his parents gave him: "My mom and dad always told me, 'Do your best. Don't expect to put in 50 percent and get 100 percent back. You need to put in 110 percent and you'll get 110 percent back.' They always tell me that, to this day. And it's true: You have to put your best effort in. Fortunately for me, 'Modern Family' has been my best effort. I really wanted it, and I work for it, and right now I am living the dream."
OUTTAKES
– In addition to Susan Osser, is represented by the agency Clear Talent Group
– Had roles in the films "Epic Movie," "Opposite Day," and "Babysitters Beware"
– Says he has gotten used to attention from strangers who recognize him. "At first it was weird that people knew who I was. But it's nice—they really enjoy my character and I enjoy playing him, so it works out."