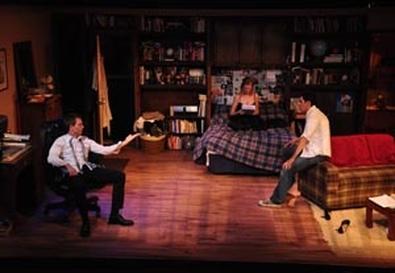 The key plot device in Paul Grellong's 2005 Off-Broadway play vaguely recalls Ira Levin's sprightly thriller "Deathtrap," but similarities end there. In "Manuscript," the power struggles surrounding an unpublished book take too long to be revealed, and when this central conflict finally comes to light, the dramatic stakes lack urgency, making the labyrinth of plot reversals more wearisome than amusing. Furthermore, the play's literati dopeheads indulge in pseudo-sophisticated banter that further distances these morally challenged Ivy League elitists from us. Against the odds, three game actors and director Brianna Lee Johnson elicit scattered laughs from this ponderous dark comedy.
Set in modern-day Brooklyn, the play begins as aspiring novelist David (Adam Shapiro) and his pal, Chris (Patrick J. Adams), await the arrival of Chris' girlfriend, Elizabeth (Katharine Brandt), a successful writer, at David's apartment. We receive hints that there's more than meets the eye behind this meeting; before long, it becomes evident that comely co-ed Elizabeth and the ambitious David had a high school fling, but their relationship cooled after she committed a nefarious act. Who among these three characters is now doing what to whom, and why, become the pertinent questions.
Sifting through Grellong's Rubik's Cube narrative might be more fun if gaping credibility gaps—particularly those surrounding a dead writer and his unpublished book—didn't exacerbate the already abundant story contrivances. The actors carry on valiantly, but Grellong's arch dialogue too often sabotages their efforts at believable conversation. Nonetheless, Brandt has fun unpeeling her character's myriad layers—sweet, smart, smarmy, supercilious—in due course. Shapiro's hard-driving wannabe scribe is intermittently amusing. In the most subtle role, Adams capably serves as straight man, occasionally surprising us by landing a boffo zinger.
Matt Maenpaa's set design is skillfully rendered. The reviewed performance wasn't helped by a clueless viewer who insisted on subjecting the audience to her loud oohs and ahas at each plot twist, and obnoxiously verbalizing her reactions to certain lines, as if she were home watching the boob tube.
Presented by Tall Blonde Productions and Elephant Stageworks at the Elephant Theatre, 6322 Santa Monica Blvd
.,
Hollywood
.
Aug. 28
–
Oct. 3. Thu
.–
Sat
.,
8 p
.
m
. (
323
)
960-5774. www
.
plays411
.
com/manuscript
.