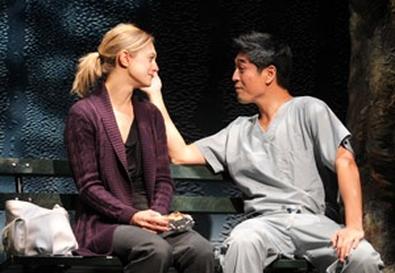 A hit at the 2011 Humana Festival of New American Plays at the Actors Theatre of Louisville this past April, Jordan Harrison's "Maple and Vine" makes its New York debut at Playwrights Horizons and is as funny and trenchant as when I saw it in Kentucky. There have been a few cast changes, and director Anne Kauffman has refitted her sharp, rapidly paced production, designed for ATL's in-the-round mainstage, for this proscenium house, with the aide of a flexible set by Alexander Dodge and versatile lighting by David Weiner. Harrison employs a somewhat high-concept premise, but he uses it to deliver a wickedly satiric and sympathetic portrait of 21st-century angst and the desire to escape into the past.

Katha and Ryu, a harried modern couple, are recovering from a miscarriage and want to ditch their high-pressure jobs as editor and plastic surgeon. After a chance encounter with a man dressed in a suit from the Eisenhower era, they decide to forsake cell phones, cappuccino machines, and the Internet to move into a community of 1950s re-enactors run by a cultish organization called the Society for Dynamic Obsolescence. But everything isn't all Cheese Whiz and crackers when Ryu's Asian background causes problems and they uncover secrets behind the façade of their Ozzie-and-Harriet neighbors.

The basic plot is somewhat gimmicky, but, just as Katha and Ryu find comfort and order within an artificial construct, the playwright finds insightful and witty observations by employing a restraining template. Harrison makes the telling point that when it's relatively easy to get whatever you want—food delivery at all hours, an active and satisfying career—you don't really want anything. But the characters tend to bring their own problems with them despite the simplistic 1950s lifestyle they've chosen. Katha, now called Kathy in her new June Cleaver world, has nightmares about her old life, while the idyllic marriage of Dean and Ellen, the neighbors and chief recruiters for the community, begins to show cracks. Harrison unravels the plot twists in unexpected ways that will leave you disturbed and thinking about your own place in this digital, push-button age.

Marin Ireland, one of the New York stage's hottest young actors, endows Katha with a frenetic energy and desperate hunger for contentment. Like a young Geraldine Page, she documents the transformation from harried executive to placid housewife with tiny, revelatory gestures and fleeting, intense expressions. It's a multilevel performance, with Ireland playing Katha as both her contemporary self and her 1950s incarnation, sometimes simultaneously.

Peter Kim, who played Ryu at ATL, doesn't give as flashy a turn, but he subtly conveys his character's slow acceptance of the new environment. Jeanine Serralles, another veteran of the Louisville production, is hilariously chipper and controlling as Ellen, especially when explaining her retro lifestyle. When her world collapses toward the play's end, she's effectively heartbreaking. Trent Dawson's Dean is a witty parody of a plastic pitchman, as well as the tortured soul underneath. Pedro Pascal convincingly portrays Roger, Ryu's factory foreman, who has an unexpected connection with Dean. This character is like a two-sided razor, cutting himself and those close to him, and Pascal makes him particularly sharp. In addition, he and Serralles delightfully double as a pair of Katha's ditsy publishing subordinates.

The two time periods are faithfully re-created by Dodge's detailed sets and Ilona Somogyi's sly costumes.

Presented by and at Playwrights Horizons, 416 W. 42nd St., NYC. Dec. 7–23. Tue., 7 p.m.; Wed.–Fri., 8 p.m.; Sat., 2:30 and 8 p.m.; Sun., 2:30 and 7:30 p.m.; Sun., 7:30 p.m. (Additional performance Mon., Dec. 19, 7 p.m.) (212) 279-4200 or www.ticketcentral.com. Casting by Alaine Alldaffer.