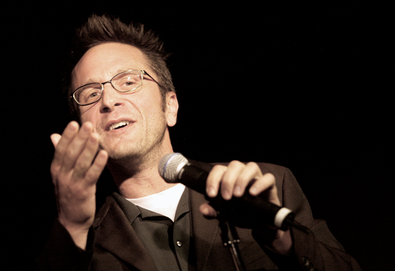 A project born out of desperation, made in his garage, and distributed for free unexpectedly earned Maron the biggest audiences of his comedy career—and helped define a new medium called podcasting. By exorcising his own demons during hundreds of probing "WTF" interviews with fellow comedians, he's connected with millions of listeners while showing his peers the potential of podcasts.
"My quest has always been to be as true to myself as possible and authentic in what I put out into the world, and podcasting enables that," Maron says. "We are not really burdened by an executive structure or censorship, or beholden to advertisers or selling drinks in a comedy club. So the possibility for growth, not only in terms of my popularity but also my creativity, is immeasurable."
Thanks to the success of "WTF," Maron books more gigs, sells more tickets, landed a book deal, and even has a series coming to IFC this year. Comedians such as Pete Holmes ("You Made It Weird") have been inspired to follow his lead and create their own podcasts to build an audience.
"I'm completely surprised and excited by what's happened with the medium, and certainly what's happened in my own career," Maron says. "It's not just this weird, desperate thing I was doing to see what happened. It's happening."