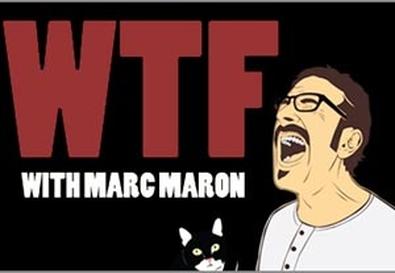 "Two years ago, I planned on killing myself in my garage. Now, I'm in my garage doing the best work I've ever done."

This is how viewers are introduced to comedian and podcast host Marc Maron in his new independent comedy pilot, which premiered Tuesday night in New York City as part of the New York Television Festival's Opening Night Comedy Extravaganza. Presented with the working title "Maron," the show opens with Maron speaking directly to the camera, sharing his neuroses with someone we assume is his therapist. But no, he's just trying to connect with his cat's veterinarian.

That type of straightforward, confessional comedy has been Maron's trademark for more than two decades as a standup comic. Today he reaches hundreds of thousands of listeners as the host of "WTF With Marc Maron," a popular podcast—recorded in the garage of his home near L.A. that he calls "the cat ranch"—in which he engages comedians such as Robin Williams, Maria Bamford, Garry Shandling, Louis C.K., and more than 200 others in long-form conversations.

"When I was going to a meeting at Fox" to pitch the pilot, Maron revealed in a Q&A with the audience following the screening, "we were walking through the parking lot and Louis was driving out. He was just alone in his car, and he was like, 'Hey, what's going on?' I said, 'I'm meeting with Fox. We did a pilot presentation.' He goes, 'Really?' And I said, 'Yeah, it's called 'Louie' also."

The NYTVF screening was the first time that the public, or Maron himself, had seen the finished pilot.

"I was excited to see me," Maron said of his on-screen performance. "There were moments that I was embarrassed for me, because of the vulnerability that I was putting forth, but I think that's a good thing. If I'm embarrassing me because I'm looking at myself going, 'Holy fuck! You're so raw and weird,' I think we've accomplished something."

Listeners of "WTF" will recognize many of its themes and relationships in the TV presentation, which turns Maron's comedic voice into a narrative about comedy and life that involves fights with his girlfriend, a strained interaction with his father, and his duties hosting the podcast.

"I thought it was a show about second chances," said co-writer Duncan Birmingham, who was already a fan of Maron's comedy before joining the project. He added, "All of a sudden I got to be a real hardcore Marc Maron nerd. It was kind of like writing Marc Maron fan fiction."


---
---


The pilot was made on a small budget with executive producers Denis Leary and Jim Serpico's production company, Apostle ("Rescue Me"), at Maron's house. Past podcast participant Ken Jeong appeared as Maron's guest in the episode.

"Ken was hilarious," Maron said, "because he was like, 'I've always wanted to play myself!' He was really excited about playing himself, and he was ecstatic to meet Ed Asner." Asner was cast as Maron's father, who has appeared on "WTF" a few times and whose bipolar disorder has been referenced repeatedly by Maron.

"I had to make Ed Asner coffee on that set," Maron said. "True story. He was sitting in the living room, just sitting there waiting for something to be set up. I said, 'Do you want coffee?,' and he goes, 'You gonna make me coffee?' I said, 'Yes, Ed, I'll make you coffee.' 'All right, I'll have coffee.' It was a great moment."

Later, Maron quipped, "My dad's probably a little more erratic than Ed Asner. There was a consistency to Ed Asner that was appealing. There was no risk of Ed Asner crying and saying, 'I don't want to live anymore.' So we decided to go with Ed Asner."

The cast also features comics Seth Morris, W. Kamau Bell, and Sean Patton, with Upright Citizen Brigade's Angela Trimbur as Maron's girlfriend. Although he and the other actors worked from a script, much of the dialogue was improvised within the framework of the plot.

"There was an immediacy to all the scenes," Maron said. "That's just the way I work. I'm not a classically trained actor—I know it's hard to tell—so when I was doing it, I was definitely in it, and it would seem new every time."

Sitting in the mostly supportive and enthusiastic crowd was comedian Robert Kelly, who asked Maron the final question of the night:

"How do you feel now," Kelly asked, "from being at the point where you were going to commit suicide, you were going to kill yourself, at the lowest point of your career, where you had fame and then it all went away and you were a fucking nobody—now, to be here, have your podcast and all these people here laughing hysterically with you?"

"Well, Robert, I'm trying to enjoy it," Maron said. "I'm extremely grateful. But this was very nerve-racking for me, because I've never experienced this. I've put my podcast out there, I can usually watch myself doing standup, but I've never had the experience of working with a bunch of people, acting in a situation like this, and handling all of that without freaking out. So this was a new experience. I was nervous, but I'm happy things are going better. I feel better. Is that all right?"

The New York Television Festival runs Sept. 20-24 in New York City. For more info, visit www.nytvf.com.