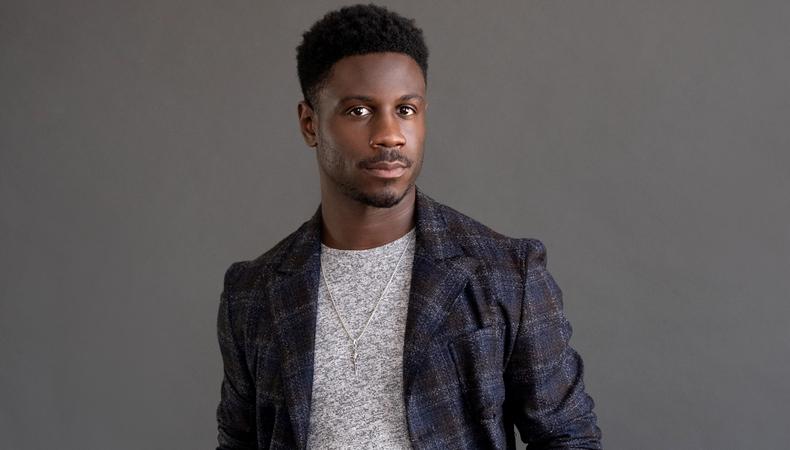 The following Career Dispatch essay was written by actor Marchánt Davis, who can currently be seen in Broadway's "The Great Society" and starring in Chris Morris' "The Day Shall Come" opposite Anna Kendrick and Danielle Brooks.
Flashback to summer of 2012: We're in the U.K. It's my first time ever leaving the U.S. and my first time ever on a plane. Conveniently, British Airways had just lost my luggage. I was scared; I was excited—but most importantly, I was about to go on a journey that I would never forget. This was when I realized I wanted to pursue acting for real.
I was there to take a master class with the one and only Fiona Shaw. We met in a rehearsal hall around noon, and I remember on that first day my stomach sinking to the floor and the need to go to the bathroom because I felt I was going to throw up. I watched as two phenomenal actors worked side-by-side with Shaw's insight and guidance. Neither one of them were perfect; they were still students, but they were relentless in their pursuit towards cracking the scene open. I, however, was not prepared to do the same. I prepped a piece for the day, but in the moment before I had to present, I couldn't muster up the courage to get up. So I sat on it. I thought that maybe if the room got quiet enough, I would jump up—but I didn't. I realized in that moment I didn't have the tools to allow me to work in the way that I wanted. So I watched on, waiting while I followed a bunch of actors who were better than me. Or rather, actors who had more confidence than I did. They knew that what they had to offer was valuable.
What that summer abroad illuminated for me was the importance of confidence. So often actors are told no. We either don't get the job, callback, or sometimes we're not even allotted time in the room to audition. We're constantly faced with rejection. And so the voice of insecurity starts playing itself in our heads. It becomes the DJ Khaled of everything we do—popping up in the most unexpected places. So much so that if we're not careful, we could talk ourselves out of even trying in the first place.
Now, as a young working actor, gifted with opportunities to show what I've learned over the years, I am finding that there are tools I've acquired that have enabled me to find the confidence needed to jump into moments of insecurity. One special tool I've found beneficial is surrounding myself with people who are in my corner. People who lift me when I need to be lifted, laugh when I'm taking things too seriously, and encourage me when I'm too low to encourage myself. Having a support group is truly is a game-changer.
Fast forward to present day: After returning to London last month for the premiere of my film, "The Day Shall Come," there are a few lessons I was able to implement this time around. For one, I didn't check my bag this time (thank God!), and I also came to realize and appreciate how this work can unexpectedly bring you full-circle. I was back where it all began; where I first thought I could do this for real; where I learned to be louder than my fear and faster than my worry.
That doesn't mean that insecurities don't still show themselves (DJ Khaled ain't going nowhere), but I found the tools to help me work through whatever comes my way.
What advice would you tell YOUR younger self? Get more Career Dispatches right here!