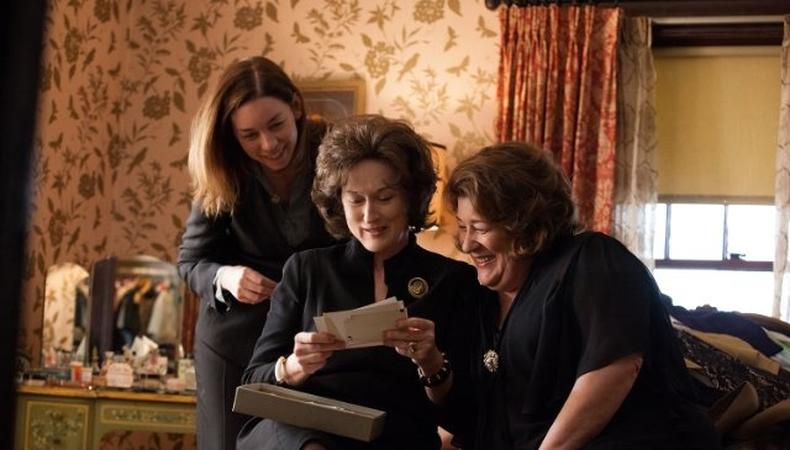 Margo Martindale saw "August: Osage County" on Broadway before anyone else did.
"My daughter's best friend growing up who lived in our building was the understudy for Jean. So we went to the dress rehearsal and I was blown away," she remembers.
She went back to see the play again when her daughter's friend, Molly Ranson, took over the role, and when news of the film adaptation came out, Martindale really wanted the part of Mattie Fae Aiken, which earned Rondi Reed a Tony Award.
But despite her Emmy win for "Justified" and her long resume, she had to audition like any actor. And quite frankly, she wasn't sure the audition went well initially.
"I thought I was great in the audition, but I didn't get the feeling from them that I wanted," she says. "But come to find out, that's sort of their personality. [Director John Wells] is a very kind, wonderful man. But he didn't go terrific! He didn't give me what I wanted!"
However, the people behind the table weren't just looking for fantastic actors, they were looking for performers who could believably be a family. Also, Oscar-winner Chris Cooper had already been cast as Charles Aiken, and they needed to know how Martindale would feel acting opposite him as his wife. Well, she could have told him that. Cooper and Martindale worked together at Actors Theatre of Louisville in the early '80s.
So did her background in theater help her approach this material? "I approach everything like I'm approaching a play," she explains. "It helps in every way possible."
Another thing that helped Martindale get into character was her East Texan roots. She grew up in Jacksonville, Texas and she was familiar with the type of people who populate that area of the country, particularly in terms of accents.
"I remember John Wells sending me things about accents. He sent them to us all. He gave us each a back story. He did wonderful work for an ensemble. He sent tapes of the people there," she says. "I went, 'I don't need this!' "
Even though she felt akin to Mattie Fae, Martindale really cherished delving into the roots of her character and forming the familial connections in the story. Mattie Fae spends most of her time chastising her son Little Charles (Benedict Cumberbatch) and being a loud force of nature, but in a final scene between her and Barbara (Julia Roberts), Martindale finds the sympathy and understanding in this complicated character.
"I love the complexity of the layers of secrets, and just the layers of human behavior that all comes out on top with this loud force of nature," she explains. "What is underneath all of that is what interests me. That's what you look for. Complexity. Insanity. She's not insane but I like that. That's what's fun to play."