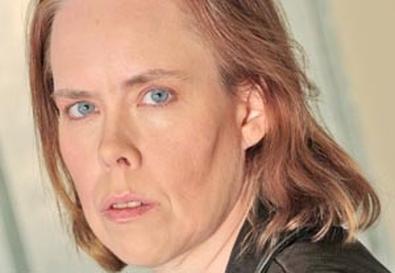 To those outside the acting world, the work of an actor seems to be entirely what's done on stage or in front of the camera. But a big part of the work is in auditioning and submitting. Maria Olsen has embraced this aspect of her acting career. Even though she has an agent who has been finding her enough work to make any actor feel busy, she still logs on to Back Stage and submits herself to the smaller projects her agent might miss. "Every single day I look through Back Stage," Olsen says. "My agent obviously will look at the higher, full big-budget projects. But I look at the smaller projects because I believe in doing as much work as you possibly can, making connections, getting yourself out there. They're never going to submit me for a short film. But I will."
That's how she came across the notice for the horror short "Curtain," which ran in the paper the week of Nov. 18, and submitted herself for the role of the horrible creature haunting a bathtub. The role called for a much older woman, but Olsen knew horror was her specialty, so she submitted and caught the eye of writer-director Dennis Widmyer at once. "Originally we saw the character as an old lady," he explains. "Then when I saw Maria, she to me had more of a demonic look, and that was actually when we changed the role. That was when we said why don't we change it around and change it to what she brings to it, and I had the idea of making it a succubus instead of a ghost. And then I kind of fell in love with that. Maria brought so much to the project when she came in and auditioned for us that it just wouldn't have made sense to keep the role the way it was."
Olsen's commitment to hard work shone through on the set as well, where she had to spend hours in the makeup chair. Widmyer remembers, "She went through four hours of makeup every day, getting the makeup put on, then around two hours, if not more, getting it off. But she was just a total pro. Everyone had to really rise to her level. And no matter how much a person might complain about what they were put through in the film, all they had to do was look at Maria and what she was doing every day." But Olsen credits the crew, and particularly makeup artists Ryk Fortuna and Erin Dell'amore. "I worked with such wonderful people," Olsen says. "The makeup people, Ryk and Erin, they were fantastically amazing people. I was sitting there for eight hours, in the makeup chair, and that's either going to be excruciatingly horrible or it's going to be fantastic. And it was just fantastic to work with them. Everyone was great; we were working in this cramped bathroom, 5 foot by 10 foot or something like that, and you'd think we'd kill each other, but no, everyone has such a wonderful shoot."
Olsen has been working steadily in film since moving to Los Angeles from South Africa in 2005, where she worked mainly on the stage. "I realized I had to learn how to audition for camera, for different genres like film and TV and sitcoms and commercials and that. So I took a whole bunch of on-camera audition classes at Act Now, which is a networking company in Sherman Oaks, and I also took on-camera classes with my manager's partner Karen Armstrong. I have an extensive theater background, and theater is very different from film. So it is great to come back to an on-camera class every so often and see how you're coming across on camera, and if there are any of those theater mannerisms creeping back, well, kill them." Her most exciting moment since entering film was being cast in a supporting role in Chris Columbus' "Percy Jackson & the Olympians: The Lightning Thief." "To work with people like Chris Columbus and Pierce Brosnan, in a movie with Uma Thurman, was a wonderful experience—totally a career highlight," says Olsen. With constant work coming in, including three features planned for later this year, hers is a career clearly headed for many more highlights.
Has Back Stage helped you get cast in the past year? We'd love to tell your story. Be in the weekly column by emailing [email protected] for New York or [email protected] for Los Angeles with "I Got the Part" in the subject line.