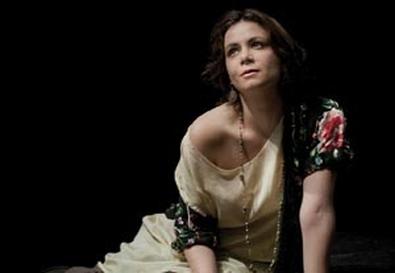 Though she speaks in Spanish and one has to listen through earphones to understand what she's saying, it is as clear as a desert morning that Zulema Clares is delivering a masterful performance in "Mariela en el Desierto (Mariela in the Desert)," a Repertorio Español production directed by Jerry Ruíz. Clares' subtly modulated portrayal of a mother who has repressed her own aspirations as an artist in order to support those of her husband allows us to feel the cost of burying dreams for the benefit of loved ones who don't appreciate the sacrifice. With tenderness peppered by bursts of passion and a wise but weary sense of humor, Clares breathes life into Karen Zacarias' moving but rather predicable "buried secret" play.
The actor plays Mariela, who lives in the desert with her husband, José, a semi-famous Mexican painter dying of diabetes, and his unmarried sister Oliva. To entice their daughter Blanca to return for a visit, Mariela sends a telegram stating that José is dead. Blanca soon arrives with her lover Adam, an American professor of art history, in tow. As scenes in the present and past intermingle, we learn the secret of why José slashed his most famous painting in a fit of rage. We also learn the full story behind the death of Mariela's son Carlos, who perished years ago in a fire.
Ruiz elicits rich performances from the entire cast and steers the action from the present to the past and back again with ease and clarity. As José, Alfredo Huereca finds a niche between machismo and self-pity where he is able to limn a fiercely proud man who knows he has behaved badly. María Helan gives Blanca a depth that belies her youth, and in roles that skirt caricature, Teresa Yenque (Oliva), John Concado (Adam), and José Joaquin Pérez (Carlos) find moments of individuality. Robert Weber Federico's simple set, an open playing area placed in front of a score of blank canvases, provides a touch of physical poetry.
While I understand that it's quixotic to think that English speakers will flock en masse to a play performed in Spanish, I do believe that more than a few theatergoers who are made aware of the varied theatrical menu that's available in this international city will take advantage of an opportunity to broaden their artistic diets. Those who do will find that Zulema Clares amply rewards their adventurousness.
Presented by and at Repertorio Español, 138 E. 27th St., NYC. Feb. 6–March 24. Schedule varies. (212) 225-9999 or www.repertorio.org.