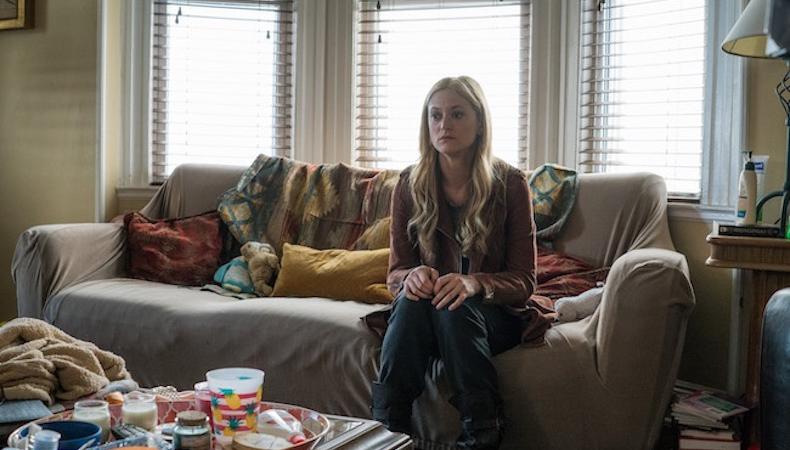 "Sneaky Pete" star Marin Ireland has a lot on her plate. Her role as Julia Bernhardt on Season 2 of the Amazon crime drama aside, Ireland has an impressive list of stage credits to her name, including a Tony-nominated turn in "Reasons to Be Pretty" and last year's one-person show "On the Exhale." This year, she's preparing to star as Alma Winemiller in the upcoming Off-Broadway revival of Tennessee Williams' "Summer and Smoke." Ireland stopped by Backstage HQ to share why she works as much as she does, how she balances life onstage and onscreen, and how she discovers each new character she takes on.
Keeping busy comes from years of practice.
"I tend to always say I'm just a workaholic, and I also feel like I hustled for so long to try to get anything anywhere that maybe it's just that actor thing, where saying no, especially to something that's good, is physically painful and also existentially terrifying because you're like, 'Well, if I say no then I'll never get anything ever again.' But if it's a good thing that comes your way and you actually have the time to do it, it does physically pain me not to do it. I'm very greedy in that way."
The stage and the screen aren't that different.
"Usually while I'm doing a play, by the end of the run I'll be like, 'Ooh, I really want to get back on a set.' And then, while I'm shooting the TV show, by the end of it I'm like, 'I'd really like to get back onstage.' They complement each other for me. As long as it's a good project, I don't think one is better than the other, objectively speaking. Projects are all so different. I really feel like I've been lucky enough to have experiences as a regular on a couple of shows where it really feels like a company to me, in the way that a play can feel like that."
It's important to be prepared for change.
"On a TV show, it feels a little to me like being in previews [in a play]. You're in your full thing, you're on set, this is about to be recorded for all of time, and then it's like, 'Oh, can you just say this line differently on this one take?' Or, 'We were going to do this take outside but it was raining, so we're going to do it in this laundromat.' So you have to kind of roll with it, and at the same time know that something you do today is going to be recorded."
But also, embrace surprises.
"Ideally, when I'm doing something for film or TV, I want there to be room for surprise as we go. Sometimes you don't even get a lot of rehearsal, if any rehearsal, and I enjoy that a lot. I end up [hoping] I get surprised by something in the moment, and that's what you're looking for onstage, too. For me, it's all about trying to find a way to stay less and less self-conscious, and whatever the preparation is to kind of sink in and remind me to stay present."

Let you and your character become one.
"A thing that I forget a lot, especially when I'm doing a play, in particular— after a few weeks of it, invariably whatever I think is going wrong with the process, I'll have some actor friends of mine who will remind me that that's not me, it's actually just the character. When we were doing 'Three Sisters,' I was playing Natasha, and I remember telling my friend, 'Everybody hates me, they all think I'm really stupid,' and they were like, 'I don't think they think that.' And it was the character. I feel like thinking about that often helps me in terms of whenever I feel particularly at sea in some way. If I really think about how I'm feeling in the process, sometimes I can actually [remember that] the way I'm feeling in this moment is actually what the character's going through."
Check out Backstage's theater audition listings!