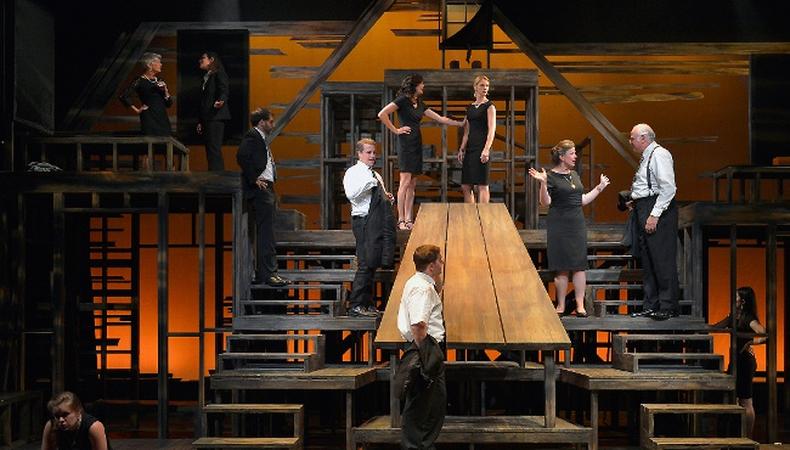 Say the words "Bay Area" and two words come to mind: Silicon Valley. Or maybe "Golden Gate." Now you can add another word to that: theater. Lots of theater. So much that an institution like the Marin Theatre Company doesn't need to look far to find talented, professional actors.
"We try to do as much casting locally as we possibly can," says Marin artistic director Jasson Minadakis. "We're lucky that we have a very diverse and deep pool of artists in the Bay Area."
Case in point: For the season's 50th anniversary opener, "August: Osage County" by Tracy Letts, seven of the 13 actors cast were from, or currently live in, Mill Valley, where Marin Theatre is located. The theater lies a mere 13 miles north of San Francisco and programs six main-stage plays a year, plus three works for young audiences. For the 2016–17 season, Minadakis wanted to pay tribute to the theater's history, so he's bringing back some audience-favorite writers, including Letts and Matthew Lopez, whose show "The Whipping Man" is one of the most popular the theater has ever produced. Lopez returns this season with "The Legend of Georgia McBride" (June 8–July 2, 2017).
Browse our list of theaters to find your next stage home!
Another popular Marin playwright is Lauren Gunderson, who lives in San Francisco and is currently the resident writer at the theater. Her newest play, "Miss Bennet: Christmas at Pemberley," co-written with Marin's former director of new play development Margot Melcon, will premiere in time for the holidays, running Nov. 25–Dec. 18. "Miss Bennet" is the third Gunderson play that Marin has produced. When Marin produced her "A Short History of Nearly Everything" in 2008, "Hamilton" Tony winner and Bay Area native Daveed Diggs "was actually in the educational touring production," says Minadakis with a chuckle. "Isn't that crazy?"
Marin usually holds its casting call locally in January, sometimes holding additional auditions in Los Angeles, New York City, or Washington, D.C. Emphasis on sometimes. "As the smallest of the LORT theaters in the region, we really feel like it's our responsibility to provide the professional acting community here with an opportunity into the LORT community as often as possible," explains Minadakis, "and try to make sure that they are working as much as they can." That commitment to locally sourced talent is so great that Marin has an open-door policy for newcomers. "We invite any actors who are moving to the area to make sure they come by and introduce themselves to the casting directors and to me," he says.
READ: "Explaining the LORT Contract"
Another focus for Marin is diversity. This season features four writers of color on the main stage, including new plays by Nambi E. Kelley ("Native Son," Jan. 19–Feb. 12, 2017), Jiehae Park ("Peerless," March 9–April 2, 2017), and Rajiv Joseph ("Guards at the Taj," April 27–May 21, 2017). "The organization is committed to new American voices," Minadakis says, "and it would be disingenuous to say you are producing the best new American voices if you weren't producing a lot of minority voices."
And through a mix of racially prescribed roles and nontraditional casting, there have been more actors of color on Marin's stages lately than white actors. As Minadakis points out, that diversity isn't effortless: "It does take an entire organization that's committed to it."
Want to hit the big stage? Check out our theater audition listings!