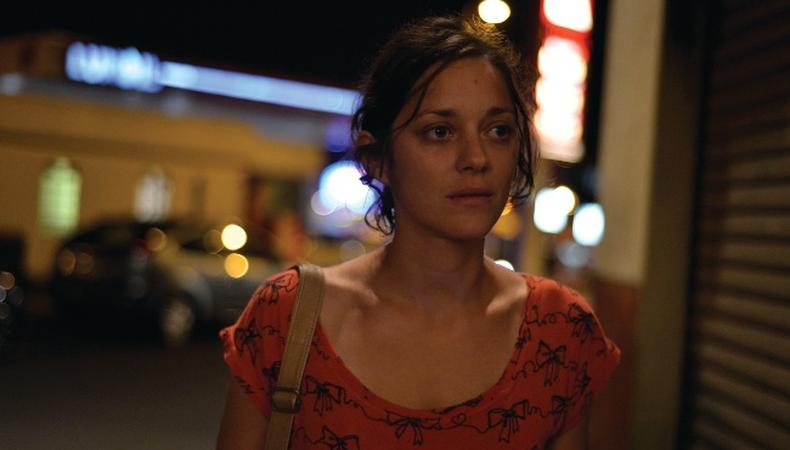 To play Sandra, a middle-class mother battling depression, Marion Cotillard used a plethora of tools in her acting arsenal. First, it helps to have experienced a degree of the same kind of despair herself. "I came very close once," says the actor, before smiling modestly. "But I have arms. I'm a pretty good fighter."
Cotillard's performance in the Belgian film "Deux jours, une nuit" ("Two Days, One Night") showcases that same fighting spirit, but with a submissive, delicate restraint rarely seen from the acclaimed actor. After taking time off from the local solar panel factory due to a nervous breakdown, Sandra learns company management has offered employees a bonus if they agree to let her go. With dogged encouragement from her husband, Sandra spends her weekend tracking down her co-workers, convincing them to forego the raise and trying not to let depression engulf her completely.
"I came close enough to understand what it is to lose the purpose of being here, the taste of everything," says Cotillard. Personal experience was the first step toward unlocking what seemed to her a sorrowfully complex role. "I really needed to understand this depression, how it affected her family and the people she loved." She acknowledges the enigmatic nature of the condition for those not enmeshed in it; there exists a social stigma against Sandra's behavior that makes her depths difficult to convey. "We have a lot of judgments when it comes to depression," she points out. "It's kind of mysterious."
It's a challenge Cotillard embraced partly because of the artists involved. "I didn't even think I could work with the Dardenne brothers," she says of the famed Belgian writer-directors. "For me they were unreachable." Among the Dardennes' unorthodox methods was a month of theaterlike rehearsals leading up to filming. For an immersive actor such as Cotillard, improvising with her co-stars in scenes often written specifically for rehearsals had a substantial impact on her inner construction of Sandra.
"While we rehearsed I did personal work, inventing her backstory," Cotillard says. By writing out what happened prior to the beginning of the film, creating an entire past based on the script's clues and nuances discovered in rehearsal, Sandra's layers came to the surface. "I wrote her life before. I wrote scenes I would use later when I needed some support to be able to burst into tears out of nowhere. I needed to build a structure of stories that I could use when I needed to reach this or that emotion."
"Two Days, One Night" marks the first time Cotillard tried crafting an extended backstory—"The technique comes with the project," she explains—because past roles have not required filling in the blanks to this extent. Her award-winning portrayal of Edith Piaf in "La Vie en Rose" began with researching the singer's well-documented life; for "Rust and Bone," in which she played a woman who loses her legs to an orca whale, a lack of personal detail enhanced the character's mysteriousness. Cotillard says from the moment she started working with the Dardennes, unearthing Sandra became the mission. "Reading the script, I didn't know anything about her. I needed to know who she is."
The thoroughness with which Cotillard understands Sandra enables her to exist wholly in character during this weekend of quiet heartbreaks and modest triumphs. The camera can simply follow the actor around, charting every step in her arc, until the film's conclusion, which finds Sandra on an uplifting note that feels as earned as it is miraculous. When asked how aspiring movie stars can achieve that level of immersion, Cotillard keeps it simple: "Work, work, work. Experience makes the doors open."
Inspired by this post? Check out our film audition listings!