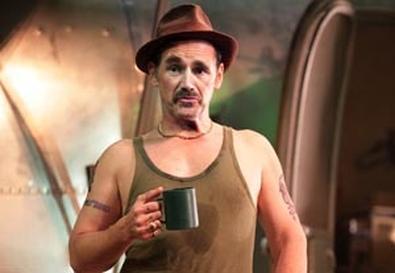 Mark Rylance is a player. As an actor, that is. "He has this playfulness that I've never ever seen," says reader James Fauvell. "You're watching, and you have no idea what he's going to do next." Rylance, who won a 2008 Tony Award for his Broadway debut in "Boeing-Boeing," took the stage in two tour de force roles this past season. Both performances received more votes from our readers than any other, so we're awarding Rylance a double honor.
First, in the revival of David Hirson's "La Bête," Rylance became the titular "beast," Valere, a pretentious street clown. The actor captivated audiences with a 30-plus-minute monologue in which Valere expounds on his own brilliance while spewing melon, burping, and making a shambles of his host's home. "It was the funniest thing I've ever seen," remarks reader Spencer Irwin. "Seeing 'La Bête' was the first time I'd ever felt something close to a religious experience."
In Jez Butterworth's "Jerusalem," for which Rylance won a second Tony, he becomes the uncouth rebel Johnny "Rooster" Byron, who is just as crude and egotistical as Valere but a totally different character, one whose objectives are sensual rather than artistic. "Just how markedly different they were blew my mind a little bit," says Irwin. Though the play brims with British themes and phrases, U.K.-born actor Ailsa Prideaux-Mooney thinks Rylance's performance is universal. "I was just a complete wreck by the end of it," the Back Stage reader recalls. "It's been a really long time since I've been moved like that by theater. It's something to aspire to as an actor."
---
READ THE BACK STAGE REVIEW OF 'LA BETE'
READ THE BACK STAGE REVIEW OF 'JERUSALEM'
---

Runners-Up:
- Brian Bedford, "The Importance of Being Earnest," Broadway
- Al Pacino, "The Merchant of Venice," Broadway
- Victor Williams, "A Small Fire," Playwrights Horizons
- The cast of "Balm in Gilead," T. Schreiber Studio