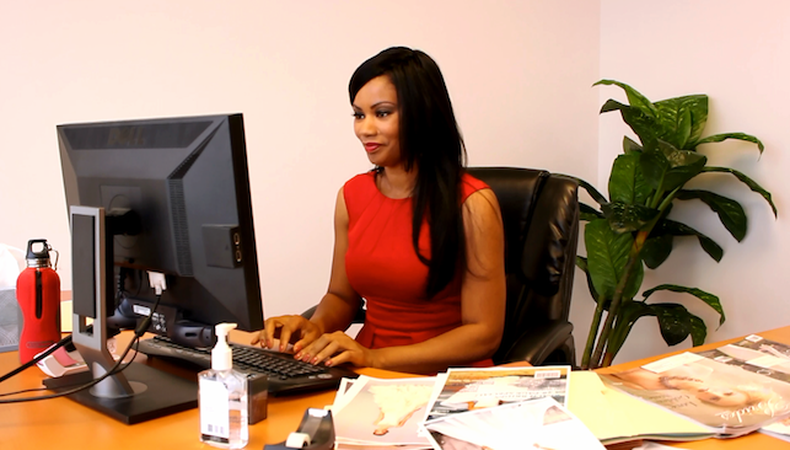 Pentené Monique never had to go through the hellfire of online dating. She met her husband on set seven years ago and their relationship blossomed shortly after. Still, Monique was drawn to dating as the subject of her latest Web series, "Dating Savannah Love."
The comedy, which is crowdfunding its second season, chronicles the dating adventures of a single career woman approaching 30 who works as an editor at a bridal magazine. Having no time to meet guys in real life and pressured by her family and friends to settle down, Savannah adopts the screen name "Savannah Love" and sets out to find the man of her dreams online.
Monique co-created and executive produced the series with her husband Brandon Kyle, who also wrote and directed. Like most independent TV producers, the couple had to carve out time for the project. Between caring for their 4-year-old son and Kyle's full-time gig at UCLA, the dating world might seem a long way off for the couple. But they both felt the Web series was worth shooting because it's such a hot topic.
"I've never done the online dating thing," Monique said. "But I thought that it was kind of interesting and has a very current twist. A lot more women [today] are more career focused and it seems that a lot of people, because they have busy lives, that's where they start dating."
Based on their experience casting other projects including the indie feature "Cable Man," a Web series called "Not by Choice," a few reality TV pilots, and a couple of PSAs, Monique and Kyle knew the type of performer they wanted in each role. "They had to walk into the room and show us from the jump that they were made for the role," said Kyle. The entire casting process was completed in under four hours.
The series was shot in Century City, Studio City, Sherman Oaks, Encino, Culver City and other locations around Los Angeles. Principal photography for the first season's 10 episodes took 14 days. Each episode runs about 10 minutes.
The budget for the first season was around $5,000 and was completely funded by the couple's production company, Name Brand Films, which they founded together with Dwaynitta Parker, an associate producer. Based on positive feedback, they recently launched a crowdfunding campaign to help produce a second season of "Dating Savannah Love."
"We sat down and pretty much outlined the second season, where we really want the show to go, really developing the characters and taking the show to another level by adding more drama and different types of situations," said Kyle.
The crowdfunding campaign runs through the first week of September. If the couple meets their goal, they'll be one step closer to devoting themselves full time to Name Brand Films.
Like this story? See more of our Now Streaming articles here!