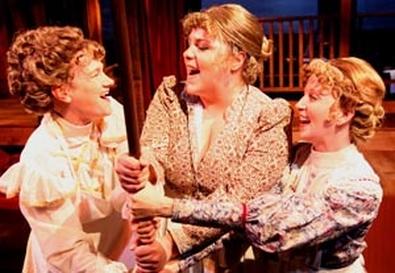 A musical focusing on the women behind the gunslingers who shot it out at the O.K. Corral in Tombstone, Ariz., could be a fascinating one. Viewing the essentially masculine milieu of the Old West through a feminist lens might provide a startling perspective on how life was really lived in those lawless days. Too bad "I Married Wyatt Earp" is not such an insightful or original show. Presented at 59E59 Theaters as part of its Americas Off Broadway series, the tuner does take some creative risks—the cast is all female, with a few briefly playing male roles—but the staging and scripting choices are unimaginative.

We open in 1944 Hollywood with Josie Earp—the "I" of the title—about to visit the set of the classic Western "My Darling Clementine," in which director John Ford plans to tell a sanitized Tinseltown version of the events leading up to the gunfight that defined her late husband's legend. As she is preparing to give Ford her side of the story, Josie receives a visit from her estranged sister-in-law, Allie, whose spouse, Virgil, was also at the shootout and who has her own view of the past. Josie's and Allie's lives in Tombstone from 1879 to 1881 are revealed in flashback, concentrating on the women of the town: former prostitutes working to build respectable homes and businesses, performers touring the territories, and a professional gambler. Each is defined by her relationship with a husband or lover, yet the women strive to create their own identity within the sexist restrictions of the period.

It's an intriguing theme, but the book by Thomas Edward West and Sheilah Rae fails to fully exploit the story's possibilities, settling for melodrama and two-dimensional characters. In addition, there isn't a strong enough reason for the tale to be retold, as Josie and Allie were both present for the events and offer little new insight or information to each other. Occasionally, one of the two women will say "I never knew that," as if to justify the recapitulation. Michele Brourman's music has some spark and wit but is largely familiar. Rae's lyrics are predictable and generalized: "I would take all the strain/The emotional drain/Call me insane/But then, I gotta say/I'd do it all again," runs a typical flat ballad. Director Cara Reichel and choreographer Joe Barros are hemmed in by Ann Bartek's two-level set, which transforms the small upstairs stage at 59E59 into an even tighter space. With 11 actors and five musicians in such a limited playing area, much of Reichel and Barros' work amounts to traffic management. At least they manage to keep the performers from running into each other or the audience.

The company does its level best to rise above the material. Carolyn Mignini and Heather Mac Rae give the older Josie and Allie sturdy frontier spines, and Mishaela Faucher and Stephanie Palumbo do the same for the characters' younger selves. Anastasia Barzee is moving as the drug-addicted Mattie, Wyatt Earp's first wife, whom he leaves for Josie. Ariela Morgenstern makes for a gutsy Hungarian gambler. When her character, Kate, the mistress of Doc Holliday, sings to the other ladies of the treachery of men (once in each act), Morgenstern briefly provides the fire the rest of the show is lacking.

Presented by Prospect Theater Company and New York Theatre Barn as part of Americas Off Broadway at 59E59 Theaters, 59 E. 59th St., NYC. May 26–June 12. Tue.–Thu., 7:15 p.m.; Fri and Sat., 8:15 p.m.; Sun., 3:15 p.m. (212) 279-4200 or www.ticketcentral.com.