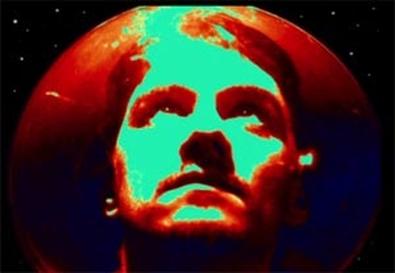 At first glance, James Allerdyce's strategically staged one-man mission to Mars might seem overladen with pop-culture references and undernourished with the inherent drama of a crash landing on the red planet. But don't make for the airlock yet; there's actually much more going on in this refreshingly succinct performance.
While Allerdyce's stranded captain waits for his air supply to run out, he desperately toggles invisible switches and reconfigures unseen whatsits (the actor is aided greatly by his precise interaction with the evocative sounds he designed with Jerry Morris). Equipped only with an office chair, the writer-director-performer effortlessly conjures up a believable spaceship failure, regrettable marital troubles, and more than a touch of David Bowie–inspired space madness.
Admittedly, a lot of this play's fun lies in the twist ending—probably too much—but Allerdyce has nonetheless put together an interesting treatise on how our imaginative ideas about space travel affect our escapist culture.
Presented by Framework Productions as part of the New York International Fringe Festivalat the Players Loft, 115 MacDougal St
.,
3rd floor, NYC
.
Aug. 15
–
29. Remaining performances
:
Thu
.,
Aug. 20, 3:30 p.m
.;
Sat
.,
Aug. 22, noon
;
Mon
.,
Aug. 24, 5 p.m
.;
Wed
.,
Aug. 26, 7 p.m
.;
Sat
.,
Aug. 29, 11 p.m
.(
866
)
468-7619 or www.fringenyc.org
.