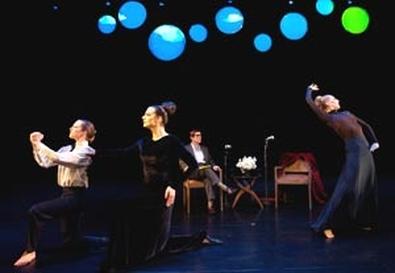 April 1 marks the 20th anniversary of the death of the venerated modern-dance genius Martha Graham. I can suggest no worthier or more enjoyable way of honoring her memory than by treating yourself to a ticket to "
[email protected]
1963 Interview," a delicious evening of talk and dance.
A re-creation of an interview with Graham conducted by dance critic Walter Terry at New York's 92nd Street Y on March 31, 1963, the show features famed Graham impersonator Richard Move in a stupendous portrayal of the oft-caricatured icon. While Move does an amazing job of replicating Graham's signature look—her severe hairdo, overdone makeup, erect posture, and thoughtful gestures—it is his spot-on imitation of her voice, with its gentle, breathy melodiousness, that makes his performance so eerily authentic.
Based on a recently discovered audio recording of the interview, the show not only informs those unfamiliar with Graham's work but also offers aficionados the chance to "hear" Graham describe and analyze her technique and choreography in words they may have never heard before.
Despite its serious content, the show's overriding tone is one of affectionate, satirical comedy. What makes Move's mimicry so brilliant is how, with carefully calibrated exaggeration, he turns the dark, egotistical Graham into a funny, alluring character whose work we grow eager to embrace and respect.
While Move's tour de force performance is the centerpiece, much of the evening's humor derives from the masterful comic actor Lisa Kron, who, in keeping with the proceedings' fun, gender-bending spirit, is cast as Terry. Kron captures Terry's irritating high-pitched voice unerringly and is hilarious in her posing of Terry's long-winded questions.
She is most amusing, however, when she is listening to Graham: nodding knowingly, looking out to us with a pleased grin when something "profound" is said, producing nonverbal sounds of affirmation, and reaching over to smell her guest's drink when Graham's focus seems to wander. (Graham suffered notoriously from alcoholism during her later years.)
Embellishing the production is the impassioned dancing of Catherine Cabeen and Katherine Crockett, who from time to time appear in spots of light to illustrate points of the discussion by performing adapted segments of choreography from Graham's classic works.
Presented by and at Dance Theater Workshop, 219 W. 19th St., NYC. March 30–April 2. Wed.–Sat., 7:30 p.m. (212) 924-0077 or www.dancetheaterworkshop.org.