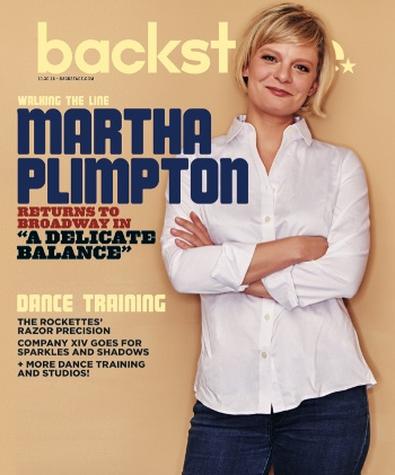 "All auditions are humiliating, stressful, frightening, embarrassing, anxiety-making, and demoralizing. So start at that base level and everything's cake from there," says Martha Plimpton. She pauses. "Obviously I can speak with authority on the subject."
Plimpton is sitting in her dressing room at the Golden Theatre at the (very early) beginning of what would prove to be a very long day. She and the rest of the cast and crew of "A Delicate Balance," including Tony winners Glenn Close, John Lithgow, and Lindsay Duncan, are about to embark on their third day of tech.
As it happens, Plimpton wasn't required to audition for this particular job; producer Scott Rudin and director Pam MacKinnon offered her the role of Julia, the much-divorced daughter of Agnes and Tobias (Close and Lithgow, respectively) at the heart of Albee's sharp comedy of manners.
"I've seen Martha onstage a number of times and knew she's such a powerhouse as an actor," says MacKinnon, who won a Tony for helming another Edward Albee revival, the 2012 "Who's Afraid of Virginia Woolf?" "And she really struck me early on in thinking about casting for the role of Julia. Martha is really good at language, which is such an important part of any Albee play, and she also has interesting, wily comedic chops. She just struck me as the perfect offspring of Glenn Close and John Lithgow."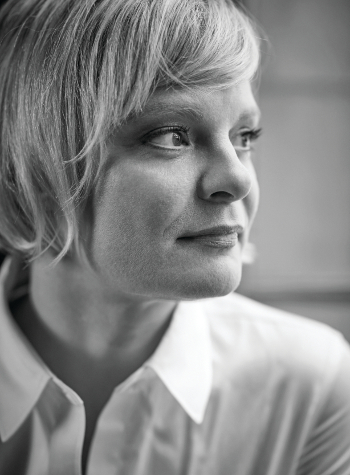 Those two, along with the rest of the cast and creative team, made saying yes an easy decision for Plimpton. "When I heard who else was doing it, I was like, 'Well, forget it! How could I say no?' " she recalls. "I hadn't been onstage in New York since 'Pal Joey' and I missed it so. Really missed it. And I thought, Well, you can't get a better invitation than this."
Or possibly a more daunting one. "A Delicate Balance" is the play that won Albee the Pulitzer denied to "Who's Afraid of Virginia Woolf?" and it's a technically demanding tightrope walk of tone. The play finds the home of middle-aged couple Agnes and Tobias invaded by their best friends and their very needy daughter, who has just left her fourth husband. While Agnes is one of the most technically difficult roles in the American canon ("terrifyingly articulate" as Plimpton says), Julia doesn't have the same intimidating speeches.
"There are some things that might be difficult to learn because they're difficult to understand," Plimpton says. "Edward Albee is a frighteningly intelligent person and addresses things in a complex way. He's no lightweight. So sometimes it's hard to learn something if you can't internalize its meaning because it escapes you for some reason."
But something MacKinnon said early in rehearsals provided Plimpton and the rest of the cast a key to Albee's dialogue. "She said to embrace the idea of scripted improv with this writing, which I think is really smart. Because when people are so great with language, the tendency is to presume that they know what they're saying ahead of time and come into the room planning to say it. But you can't really do that with this play in particular because some of the speeches are quite long [with] sentences that sort of flip around in on themselves. Which give you the impression of a person riffing, right?"
In many ways, Julia is the play's biggest interloper; Agnes and Tobias, their friends, and Agnes' alcoholic sister, Claire (Duncan), are all of a certain social strata and age and practice restraint when it comes to emotion, but Julia barges in with her needs and wants and desires on open display. "In a way, my character is a little bit different than the others because she's kind of a reactor," Plimpton says. "She's there reacting to things. We all are, but in her situation she really is completely powerless—or so it seems. She's the one who doesn't belong. She's the, 'Which one here is not like the other?' "
Petulant and almost aggressively whiny, Julia is the opposite of most of Plimpton's best-known characters, from Virginia Chance on "Raising Hope" and her Emmy-winning guest spot as Patti Nyholm on "The Good Wife" to her string of Tony-nominated performances on Broadway over the last decade, including "Top Girls," "The Coast of Utopia," and "Pal Joey," in which she delivered a peerless rendition of striptease send-up "Zip." All of which is kind of the point.
"I don't like to repeat things. Even if something is similar, there should still be some variation," Plimpton says. "And I don't like to be typecast. If I want to be typecast I can do that in a movie. In the theater, I don't have to be typecast, which is really nice, and I love that about the theater."
An apprenticeship in the theater is Plimpton's advice to young actors serious about working on their craft. "Don't go to Hollywood right away unless you're, like, ridiculously hot and only marginally talented," she says. "In which case, go straight to Hollywood and make all the money you can. Just take the money and run!"
But, as she points out, the theater offers lessons not afforded by film or TV, which foster a fatal form of navel-gazing. "You become very about your own thing and it's hard to be a good listener in scenes or be ensemble-minded," she says. "When you're working on a play you have to serve the play first, the director next, the other actors next. So I think it makes you more conscientious and more empathic to work in the theater as a young person."
Anyone not ensemble-minded would be doomed to flail in "A Delicate Balance," which rests upon the cast's comfort with one another. And in that respect, rehearsals have been wildly successful.
"This is gonna sound really cheesy, but you're gonna have to believe me because it's actually true—there's a significant lack of ego in the room," Plimpton says. "Which is really impressive, considering the accomplishments of each of these actors. So people are very open about talking about the play and also helping each other out when asked." She pauses before dryly adding, "I do think it's best to wait until asked. But luckily everyone asks each other for help."
Inspired by this post? Check out our theater audition listings!