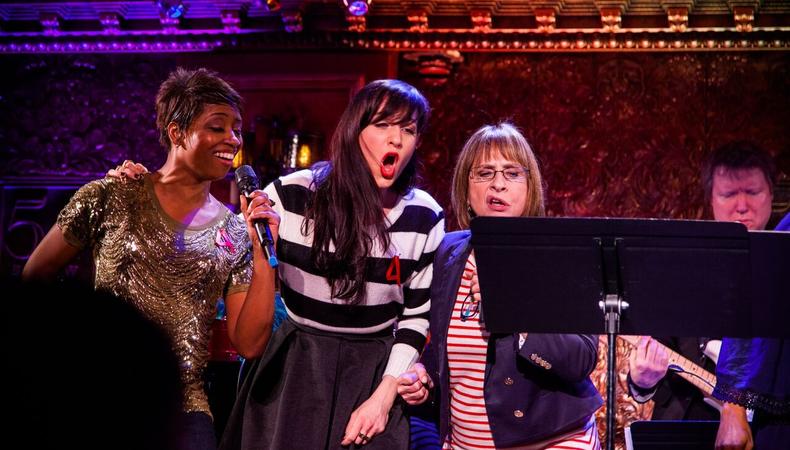 Reproductive rights advocacy organization A is For will for the second time bring together stars of stage and screen for "Broadway Acts for Women: A Star-Studded Night of Karaoke and Comedy" on May 1 in New York City. Led by Emmy-winning actor and activist Martha Plimpton, A is For has been advocating for women's reproductive rights and reducing social stigma associated with abortion since 2012.
"We're not afraid to use the word abortion," Plimpton told Backstage. "We're very, very focused on spreading an abortion-positive message and communicating the critical and necessary aspect of women's health care that it is. Without the right to control what you can do with your body, you really have no control over your own life." Abortion advocates find themselves at a critical juncture, she added, with states including Texas, Arizona, and Oklahoma introducing legislation limiting access to women's health services.
Last year's "Broadway Acts for Women" saw some of Broadway's best actors singing karaoke-style tunes selected by audience members bidding on various prizes. The second annual evening of music and comedy will be held at Feinstein's/54 Below and hosted by Cecily Strong of "Saturday Night Live." Joining the fun is an impressive roster of talent: Betty Buckley, Lena Hall, Jesse Tyler Ferguson, Orfeh, Lesli Margherita, Rebecca Naomi Jones, and Tituss Burgess.
"I'm really thrilled about the people performing," said Plimpton proudly. "We have kind of an amazing, mind-blowing lineup this year." All proceeds from the May 1 event will benefit three women's health organizations: Jane's Due Process, the Mississippi Reproductive Freedom Fund, and Physicians for Reproductive Health.
"I think one of the unique privileges of being an entertainer or performer is the ability to communicate with people in ways that reach their consciences and hearts," continued Plimpton, citing the fight for LGBTQ rights and AIDS research, a movement championed in particular by the New York theater community. In fact, LGBTQ issues and abortion advocacy are "inextricably linked. In many of these states, religious freedom laws are usually in tandem with abortion restrictions—almost without fail. I think we can take a lesson from that movement, from being unashamed in who we are and having made decisions right for us and our lives. It's about removing shame and stigma."
For tickets to the "Broadway Acts for Women" benefit, click here. To learn more about A is For and their mission to advance reproductive rights worldwide, visit aisfor.org.
Inspired by this post? Check out our audition listings!