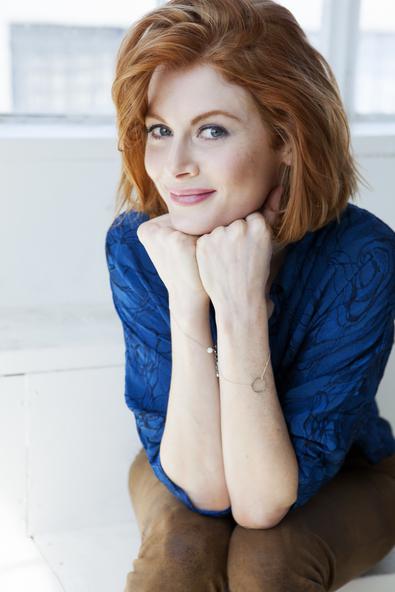 It's not just Brit actor Emily Beecham's looks that kill. As the Widow in AMC's postapocalyptic epic "Into the Badlands," she mastered mixed martial arts, making one hell of an entrance in her American debut.
On playing the Widow.
"The Badlands is run by barons, and she is one of the few female barons. [It's] a very ruthless, violent world. Guns are banned, so people fight with martial arts. She's an amazingly skilled martial arts fighter as well as a feminist figure. She fights and stands up for herself, and this aggravates a lot of the other barons who want to keep this system of the Badlands running the way it is. She rocks the boat."
On bringing a feminist to the screen.
"Women don't really have much of a voice in this world. It's largely a male-dominated environment, and the Widow has had to fight against that. She's a really exciting character and it's very relevant to today. Gender and sexual violence is touched upon in the show."
On working in America.
"I'm actually half-American, so I'm surprised I didn't come out sooner. [Coming here] was very natural. I really like it. They make a lot of bold projects here on television. The budgets here are a lot bigger. The scale of it—there's so much more potential. It looks a lot more filmic. You can do a lot of bold things, a lot of big productions."
On training for "Into the Badlands."
"We did a five-week martial arts training before the shoot. I booked the job about four months before we shot, so it was quite a long time in advance. We had a lot of time to prepare. I went to LAMDA, which is a drama school in London, and we did a lot of combat there. I was quite good at all that. I had done a lot of dance before and I'm quite flexible, so we had to be able to increase our flexibility and our muscle strength during the training. It's visually amazing, the fight choreography. It's very inventive."
On keeping her character grounded.
"[You have] to understand what it is that she wants and her context in the whole world—where she stands. One of our first questions when we first started was the social and economic situation of the whole world. How did we get here? What do we want? How has life changed? So that was the first challenge, just to make it real for myself and to understand what context everything was in and how my character felt and what her history was. She has quite a dark history. She's made a lot of sacrifices in her life to get to where she is."
Like this story? Read more of our Spotlight On interviews!