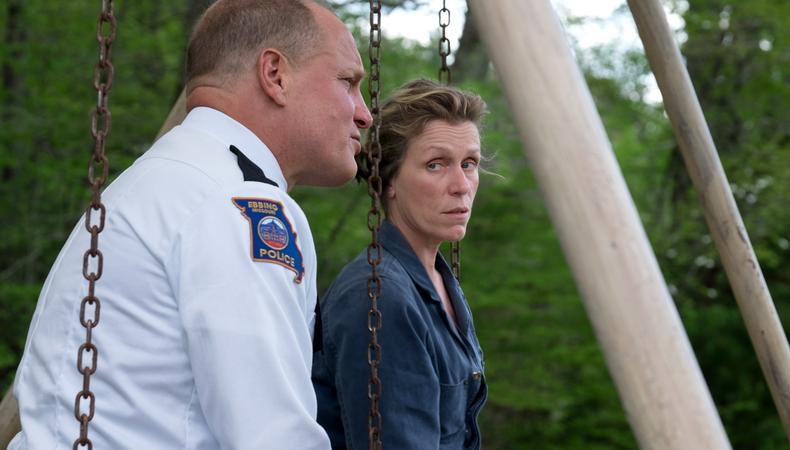 The following content has been sponsored by Fox Searchlight Pictures.
In a small Midwestern town, a mother searches for justice.
"Three Billboards Outside Ebbing, Missouri," the acclaimed new feature from Martin McDonagh, stars Academy Award winner Frances McDormand in what critics have called one of the finest performances of her celebrated career (and one that garnered a Golden Globe win for Best Actress in a Drama Motion Picture).
After months have gone by since her daughter's murder, McDormand's Mildred Hayes decides to challenge the apparent apathy of the town's law enforcement in a very public way.
Commissioning three billboards leading straight into the titular town, Mildred directs their messages to Ebbing's Police Chief, William Willoughby (Academy Award nominee Woody Harrelson). What begins as a mother's plea to avenge her daughter's death quickly escalates into a hard-fought battle between Mildred and the entirety of Ebbing's law enforcement unit, one complicated further when Willoughby's second-in-command Officer Dixon (a Golden Globe-winning Sam Rockwell) becomes involved.
With a cohesive ensemble that also includes Abbie Cornish ("W.E."), Lucas Hedges ("Manchester by the Sea"), Caleb Landry Jones ("Get Out"), Peter Dinklage ("Game of Thrones"), John Hawkes ("Deadwood"), Samara Weaving ("SMILF"), Clarke Peters ("The Wire"), and Željko Ivanek ("Damages"), "Three Billboards" has already racked up a slew of nominations and honors in this ongoing awards season, including a win for Best Drama Motion Picture at the 75th annual Golden Globes. It also garnered a leading four Screen Actors Guild nominations, and was selected as one of the year's top 10 best films by the American Film Institute.
The film, infused with pitch-black comedy, is the third from Academy Award winner McDonagh, who both wrote the drama and helmed as its singularly visionary director. McDonagh's "In Bruges" was Academy Award-nominated and BAFTA-winning for its screenplay.
Below go behind the scenes of "Three Billboards," back in theaters nationwide this weekend.