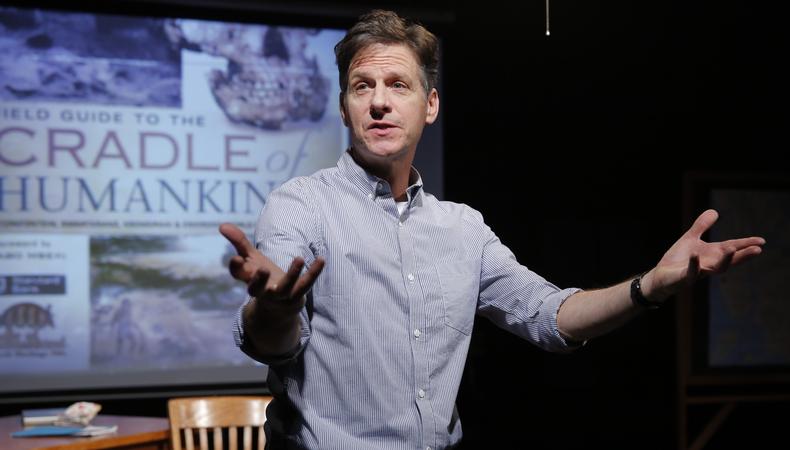 Spending 80 minutes with Martin Moran is like passing time in the classroom of life. Scenic designer Mark Wendland has even set up the stage at the Peter Jay Sharp Theater to look like the front of a lecture hall, complete with blackboard, projection screen, and every kind of light fixture you can imagine. As Moran enters he makes sure to ask if everyone in the back of the theater can hear him, then he begins the day's agenda. In Moran's "class" the teacher provides practical life lessons rather than the academic variety, and you just might end up learning more than you think.
"All the Rage" marks the actor's second one-man show, following "The Tricky Part," which concerned his struggle with having been sexually abused as an adolescent. "We're not going down that patch tonight," Moran assures the audience. He really wants to talk about a dream he had but instead proceeds to tell a story about his father's wife—"I never could say stepmother"—and progressively focuses on his relationship with a Chadian refugee named Siba. After years of doing musical theater—his credits include originating roles in "Titanic," "A Man of No Importance," and "Floyd Collins"—Moran is on a quest for a deeper meaning to his life. He applies to join Doctors Without Borders, but having rehearsed a troubled musical in previews is not a job skill suited for the Third World. After a chance encounter with an old friend on the subway, he ends up taking a position as a translator for refugees seeking asylum in the United States.
While the majority of "All the Rage" focuses on Moran's relationship with Siba, the show takes twists and turns at every corner, and he relates his tales in scattered asides. This ADD style of storytelling works for Moran's quirky and endearing sensibility, and it all does eventually come to a head in the end. Let's be honest. How hard is it to focus on one thing in a one-man show? The constant change of pace is very welcome.
Director Seth Barrish harnesses Moran's simultaneously heartwarming and hilarious personality as the performer broaches the topics of everything from torture to sexual abuse to death. There are even more than a few laughs, because, despite what the title suggests, life is not about getting angry for Moran. He didn't get angry with the man who abused him. Siba didn't get angry with the men who tortured him. The only people who got angry are the ones who are angry that Moran's not angry. "Nice is OK, but anger is awesome!" Moran exclaims.
However, like most New Yorkers, Moran does eventually get worked up. But his moment of outrage comes not at the man who took advantage of him as a child but at a speeding cab on the street. Sometimes our emotional outlets are not the ones we expect, and a sense of humor, not rage, is the best way to get through it all.
Presented by Piece by Piece Productions and Rising Phoenix Repertory, in association with the Barrow Group, at the Peter Jay Sharp Theater, 416 W. 42nd St., NYC. Jan. 30–Feb. 24. (212) 279-4200 or www.ticketcentral.com.
Critic's Score: A-