Nobody told Martin Short to get in the bathtub. But, well, there's one right there in the rooftop suite at the Beekman where we meet for this story's photo shoot; and if there's a funnier option available, Short is going to take it. That's the first thing you learn about the guy: At 73 years old, the "Only Murders in the Building" star remains extraordinary when it comes to finding the laugh, no matter how long he has to look for it.
"If it were up to me, I'd still be doing everything I'd ever done for one more take," he says, settling in to talk 11 stories above Manhattan. "As director Larry Kasdan once said to me: 'You never finish; they just make you stop one day.' "
We're meeting, specifically, to discuss his work on "Only Murders." He's only one day removed from wrapping Season 3 of the Hulu murder mystery series created by John Hoffman and Short's longtime friend and collaborator Steve Martin (who also stars).
But we end up discussing much more than that—because the second thing you learn about Short is that one of his favorite phrases in the English language is "I remember." He answers every question with a memory plucked from a career that's included winning a Tony and two Emmys, doing a memorable one-season stint on "Saturday Night Live," and collaborating with just about every big name that Hollywood has to offer.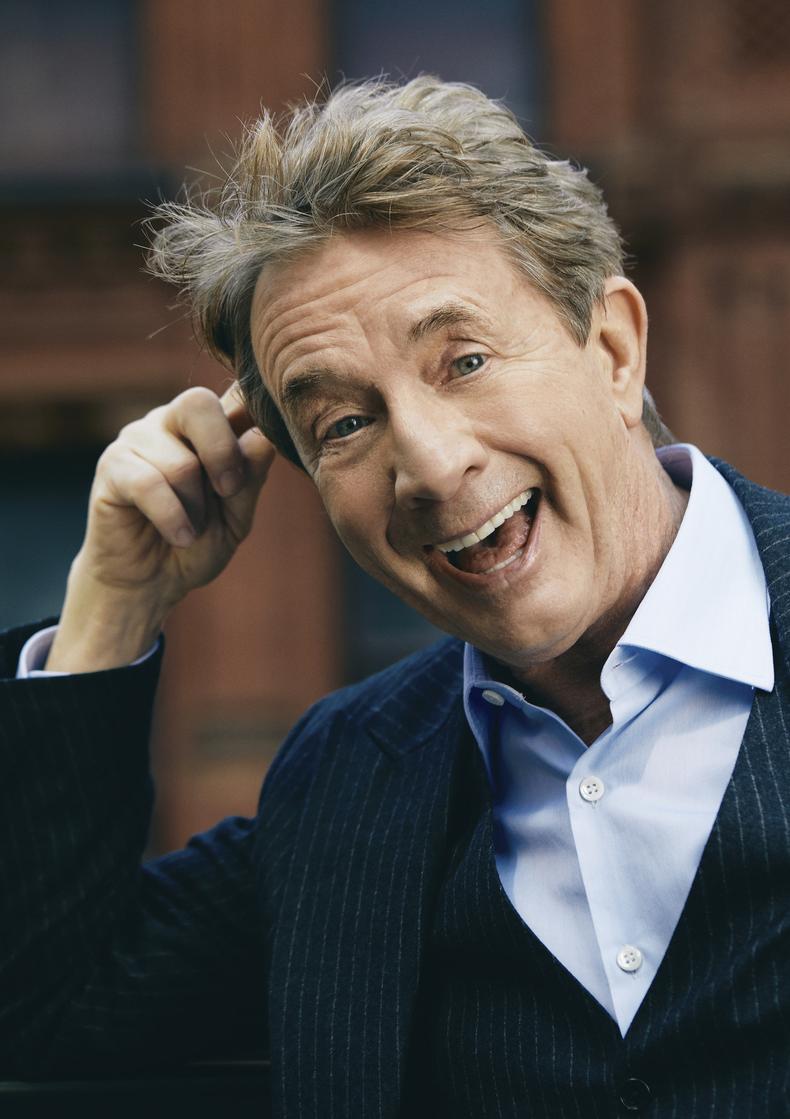 How does he feel about wrapping Season 3 of "Only Murders"? "I remember the first series I ever did was called 'The Associates,' [co-created by] James L. Brooks…. We thought we were going to be the biggest hit, and we were off after five shows."
What about his creative relationship with Hoffman? "John reminds me, in a weird way, of these…shows I did with Neil Simon in the '90s. Neil was so exact."
And what about his approach to comedy overall? "You know, a couple of summers ago, I did a series with Maya Rudolph and Kenan Thompson…" he begins.
Short is in the middle of another memory when his phone rings. "Hollywood!" he yells, picking up the call. It's two-time Emmy winner J.J. Abrams, just calling to catch up. Abrams is an old friend whom Short connected with through his even older friend Victor Garber. (The two actors met when they were both performing in the now-legendary 1972 Toronto production of "Godspell.")
"As director Larry Kasdan once said to me, 'You never finish; they just make you stop one day.' "
That's the third thing you learn about Short: When Vanity Fair named him "Hollywood's most beloved comedian" in 2012, it was less a term of endearment than a quantifiable fact; it's as if the industry at large voted to give him the title. There's no act or egoism to his name-dropping; sometimes, Hollywood really does just call to chat.
"It's been my gimmick my whole career: I make everyone on set love me," the actor says, flashing the impish grin that hasn't changed since his early days on "SCTV," the seminal Canadian sketch series that launched his career. Part of Short's amiability stems from his love of making people laugh—because as he puts it, "Out of joy comes comedy."
But there's another agenda at play, one that gets a bit closer to the truth of who he is as an artist: "If everyone loves you, [you can] weasel up and say, 'Can I have another take? Please?' " he explains. "And [the director will say,] 'Should we give one to Marty even though we're behind?' 'Sure!' "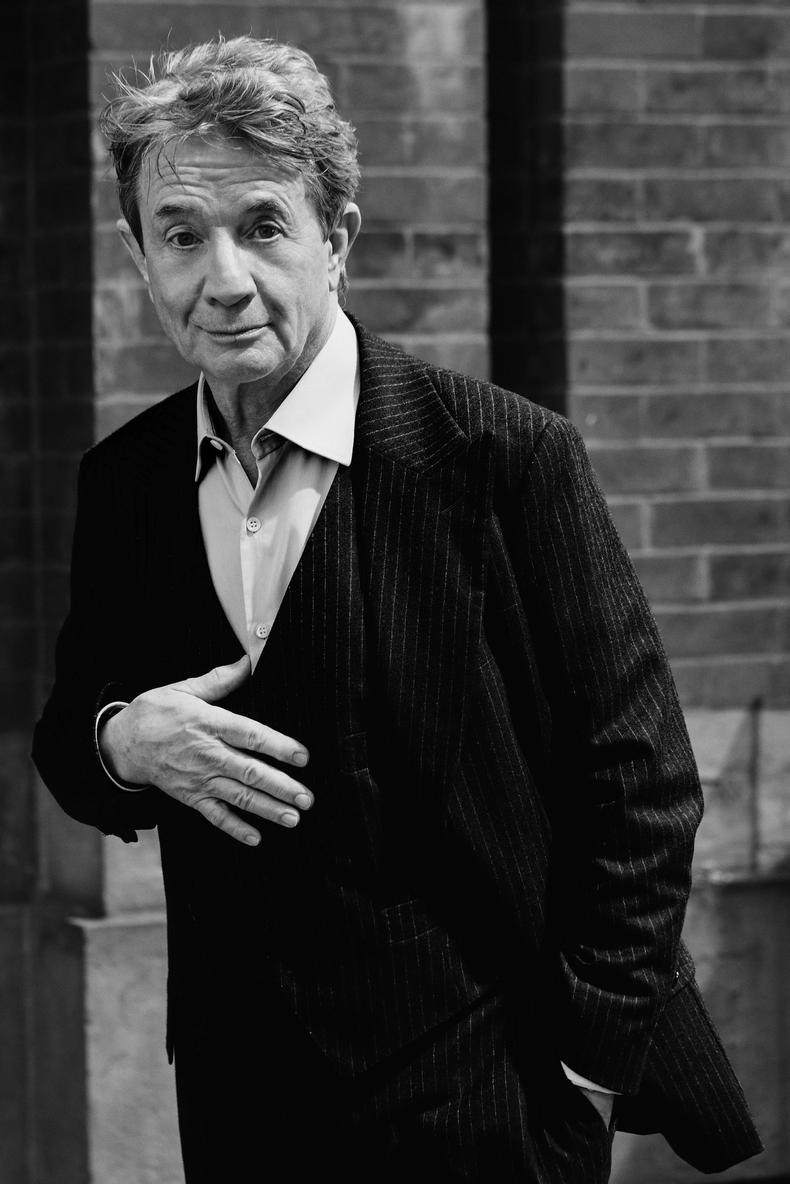 His desire to always do more goes all the way back to his "SCTV" days, sitting in a cramped office above the studio and learning to edit his own sketches on the fly. He would continue to hone these preparation skills in memorable appearances on "The Tonight Show With Johnny Carson" and "Late Night With David Letterman" in the '80s; Short recalls that he'd show up to set with a full 19 pages of material to fall back on. "Part of that is so if I go there and I'm a little off my game or if [the other guest or the host] is off their game, I can still say I did everything that I could do," he says.
To this day, he believes that "an actor's job is to give a tray of paints to the painter—as many colors and nuances and shades as you can." And, he adds with a wink, this rule still applies when "you know the director's not very good."
Naturally, he has a story at hand that illustrates this point. "I once worked with a young actor, years ago, who hated the director. He decided he wasn't going to give him much. I remember taking him to lunch and saying, 'You're insane. All that's going to happen is you'll be cut from this movie.' Your job is to toast yourself at the end of the day by saying, 'I did everything I can do.' "
"Especially in comedy, anyone who is convinced they know what [the answer] is—that arrogance doesn't often translate."
This approach, to be clear, also works when you do like the people you're working with, as is the case with "Only Murders." Short, Martin, and Selena Gomez star as a trio of New Yorkers who start a podcast dedicated to investigating a series of homicides in their Manhattan apartment complex. The series, which returns to Hulu on Aug. 8, is a testament to the alchemy of discovering what works—and what doesn't—when it comes to comedy.
Fans have known Short and Martin as a dynamic duo for decades, most notably for their roles in 1986's "The Three Amigos" and 1991's "Father of the Bride." But few would have guessed that adding Gomez to the mix would work, much less that it would bring new layers to Short and Martin's performances.
But three seasons and three Emmy wins (plus 15 nominations) later, Short struggles
to put into words what makes the trio's chemistry so dynamic. He knows that working with Martin makes him feel "very creatively safe." He also knows that Gomez is the "sweetest, loveliest person imaginable—a total pro," and that shooting on location with her garners roughly 10 times the amount of paparazzi attention as when he and Martin film alone.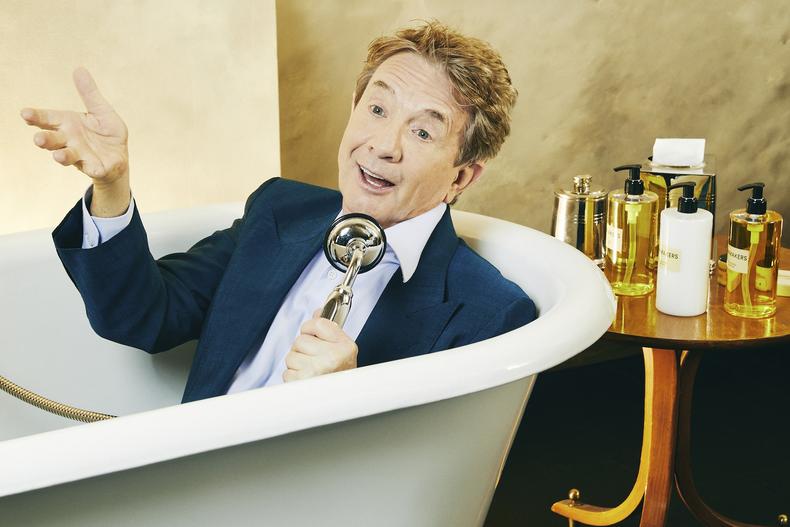 On the series, Short plays Oliver Putnam, an overly ambitious theater director. The actor understands his character down to the smallest details, because Oliver is a classic Short archetype: a man whose arrogance goes hand-in-hand with his affability. "Steve and I—it's the subtlest thing—we decided we're not going to say 'fuck' in front of Selena," the actor says. "We're older men, she's a young person, and there's something creepy about it. I don't think my character would say that."
When it comes to deciding which takes to use and which to leave on the cutting room floor, Short says it's a mystery. "John Hoffman once said to me, 'Sometimes I watch you, and you're like an 8-year-old figuring out how to get his birthday cake, but he doesn't know the best way to cut into it.' "
Short, on the other hand, describes his process as "very analytical." In beginning that story about Thompson and Rudolph, he was aiming to give two examples of "bizarre geniuses"—performers whose comedic instincts guarantee a perfect first take. "I'm not that good," he says. Instead, his method is to try out a delivery, then rush over to the writer, director, or whomever happens to be watching. "What do you think?" he'll ask. "Should we try it a little faster? What if I do it faster? Is that too big when I do that? OK, let me do it again.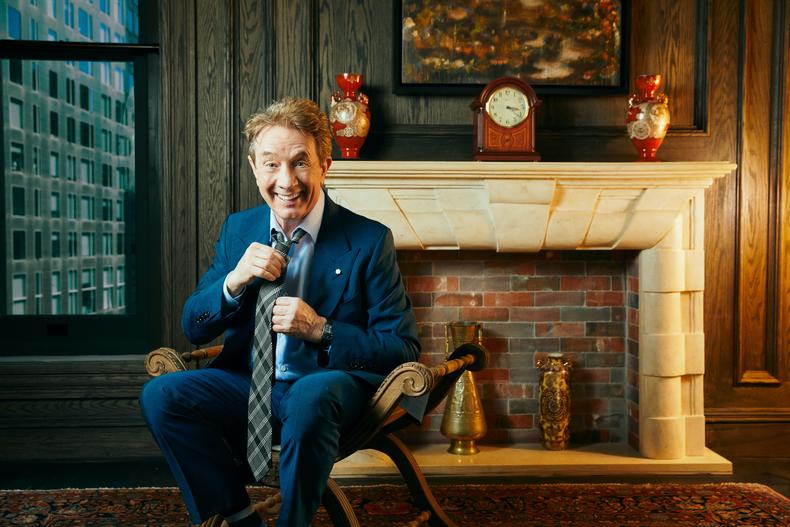 "Especially in comedy, anyone who is convinced they know what [the answer] is—that arrogance doesn't often translate."
Short is tight-lipped about the plot of "Only Murders" Season 3. "I'm not saying anything, you bastard," he tells me with a laugh. The actor still carries the sting from the time he casually mentioned that Shirley MacLaine had signed on for Season 2 well before Hulu was ready to make the news public.
What we do know is that the new installment, which premieres on Aug. 8, centers on the sudden onstage death of Broadway actor Ben Glenroy (Paul Rudd). Beyond describing this new whodunit as "more ambitious and exciting than any of [the previous ones]," Short only feels comfortable discussing "the Meryl Streep of it all."
In a March teaser, Hulu revealed that the 21-time Oscar nominee and three-time winner is joining the series in an undisclosed role. "Who's even made 21 movies?" Short says. He talks about acting opposite Streep in an awestruck tone usually reserved for watching a superhero lift a car over their head. One of his costars likened the experience to "working with a sorceress."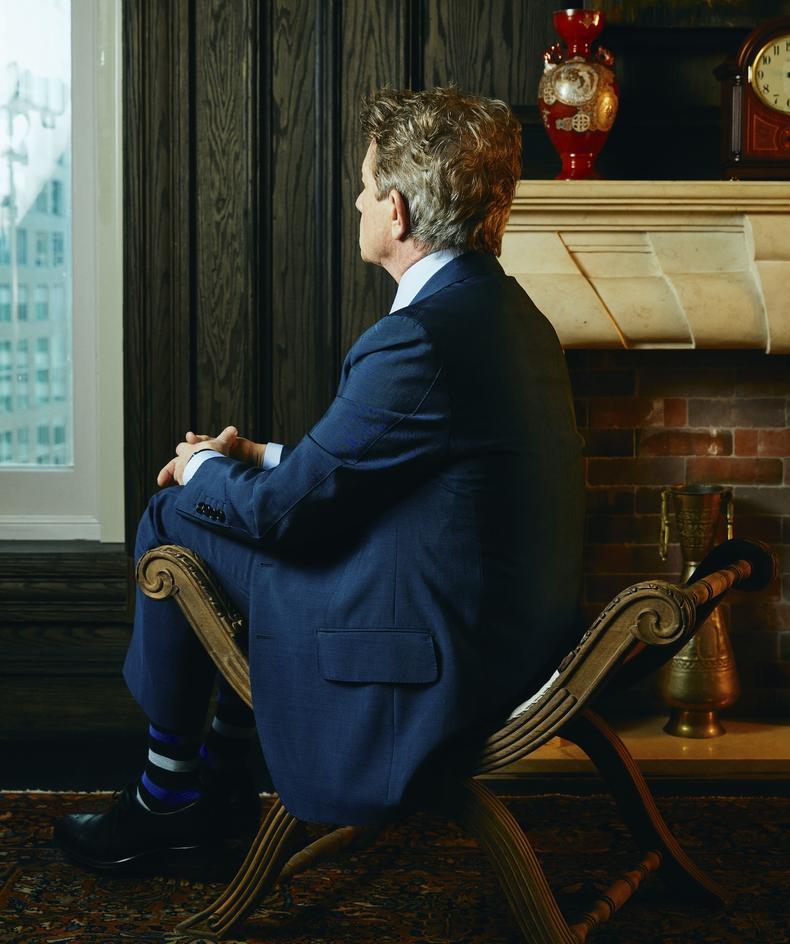 One day deep into production, Hoffman was calling for quiet on the set when Streep remarked, "Well, this could be pleasant." When the co-creator agreed that, yeah, it could be pleasant, Streep gave him a look. She wasn't making small talk—she was delivering her first line.
"She's so good that you don't even know when you've started," Short says. Still, he found a kindred spirit beneath all that Academy gold. Late one night after the two had filmed a long scene on the Staten Island Ferry, Streep turned to him and deadpanned, "I just want you to know that, sometimes, I can be quite good. And that was an example of it." Like him, she's an over-preparer who knows that "practice makes perfect" is a platitude for a reason. "Her process [involves bringing] full commitment to every rehearsal, and I understand that," Short says.
"As an actor, you have an opening night of a musical or a play, and people say, 'Oh, you were wonderful,' " he continues. "And you'll think, Come back in a couple of months when I'm actually really good. It's [all] about the more you can get a shot at it."
"If I went to dinner with the person who finds me boring, I would be so bored. It's just subjective."
Short pleads the Fifth when I propose that he himself has achieved a Streep-esque status in the comedy world. "Oh, I'm not aware of that," he says of the oft-tweeted opinion that he's the funniest person alive. "I am aware that comedy is very subjective. I'm not on social media; I pay no attention to it, because I think it's very damaging for actors to read about themselves."
But when it comes time for another late-night appearance, Short does his homework, rewatching past clips to cross off or rework jokes he's used before.
"You do get seduced by the comments, and invariably it will be: 'Oh, he's great; oh, he's the funniest guy; oh, we love him; oh, he's so funny,' " he says. "Then you go to the other ones: 'I hate this guy; he's bored me from Day 1; he's so full of himself.' Blah, blah, blah."
But Short knows one thing for sure: "If I went to dinner with the person who finds me boring, I would be so bored. It's just subjective."
The last thing to know about the actor is that he's very aware of what audiences expect from him. "Lorne Michaels once said to me, 'People go to the zoo, and they want the monkeys to flip around,' " he remembers. "'The monkeys have a right to be reflective. But if they're just sitting there, you'll go look at something else until you hear they're flipping around. You're a monkey.'"
I check to make sure Short sees this as a positive memory. "Oh, I'm happy to be a monkey," he says. "If I went out onstage and sang 'Moon River' or some sincere ballad, you'd be waiting for the sandbag to fall on my head."
This story originally appeared in the June 15 issue of Backstage Magazine.
Photographed by Stephanie Diani in The Beekman Penthouse in NYC on 4/21. Grooming by Erin Anderson. Cover designed by Ian Robinson.