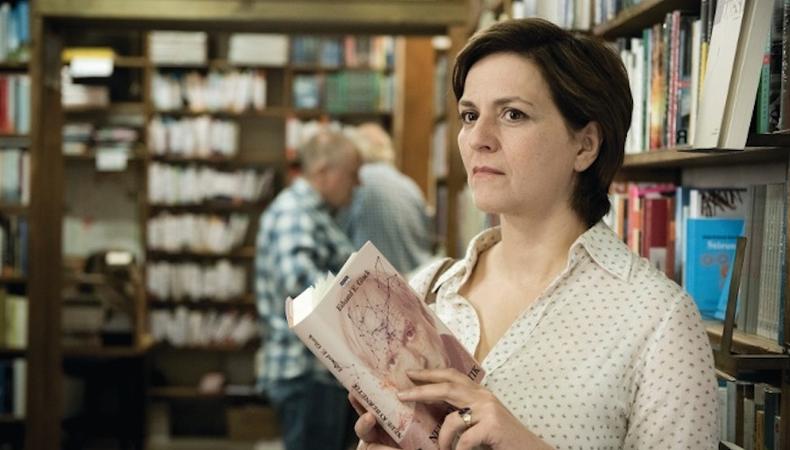 Backstage was honored to join German film star Martina Gedeck at the April 2 New York premiere of her latest feature, "Original Bliss," at German Films' Kino! Film Festival. While discussing director Sven Taddicken's provocative new drama, she offered insight on how she found her "pure character," Helene, a depressed victim of domestic violence who strikes up an affair with a neurologist-turned-self-help author with secrets of his own. Catch her three acting tips below.
Know what story you want to tell [as an actor].
"You should really be sure what story you want to tell. That sounds a little bit awkward, but with Helene here, I would say I wanted to tell the story of a woman who has been falling out of paradise and wants to get back in. That is a very clear storyline for my character. That is the first thing you have to really follow. Find out about it and be patient with the decisions that you take."
Be prepared to spend time with your lines.
"I pick the scene and I learn the lines, and I learn them and I speak them 200 times. I go to the day [of filming] with the lines, and I always have them with me. Even the most boring lines [become] like a mantra or like a prayer that you know, and that you always go over and over again. And then pictures come up, imagination starts to work. And there are things coming up that you would never be able to find out with your rational brain. All of this kind of imaginary work is so very important, and you cannot do it just by looking at the scene, in my opinion. [Some] say, 'Oh, that's easy, I'll just say those four lines, I can learn them in the makeup room and then I'll just say them!' I mean, that's another way of acting, and for some people it might work, but I find it less fulfilling."
In an audition, put energy into the character, not yourself.
"There are directors who feel more comfortable if they have [seen] how [a performance] would come out, so yes, I do sometimes audition still. [To prepare], I don't want to have the lines in front of me. If I read lines, I can't act. So I learn the lines and then I just jump in. I very much enjoy acting, so I always love it, even if it's an audition situation. I would be careful in the beginning and then see if the director says something or if he has a suggestion. I would also give myself enough breath and patience and just go with the lines—not with myself. I don't want to think about myself. I don't want to think about, 'How do I look? How do I feel?' I just want to be busy with what does the person or the character do? And what does the character think? Just be quiet and breathe and be there and know nothing can happen. I mean, they can say no, but that doesn't matter [in the moment]."
Ready for your next audition? Check out our film audition listings!