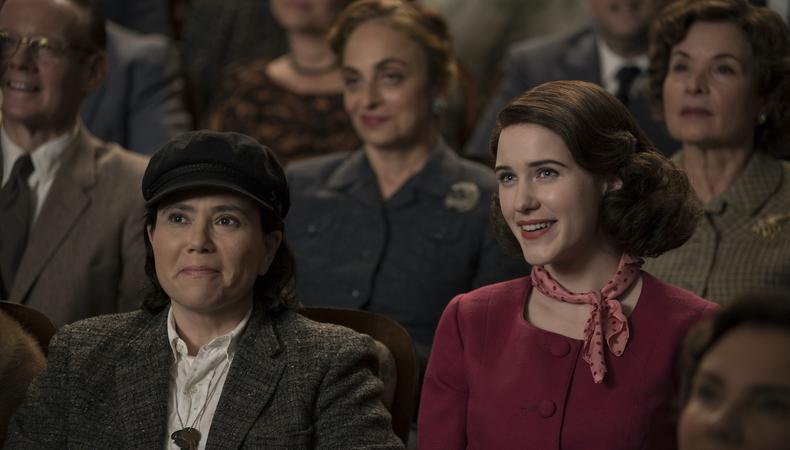 "When you have the kinds of great actors that we have, you have to service them," says Amy Sherman-Palladino, before her husband, Dan Palladino, cuts in. "They get cranky if they're not being serviced," he quips.
Together the duo created Amazon's "The Marvelous Mrs. Maisel," the follow-up to their beloved "Gilmore Girls" of the early aughts, and speak with some of the same trademarked timbre of their characters, so quick that you wonder when they come up for air.
Season 1 of the series, which follows Midge (Rachel Brosnahan), a 1950s housewife who accidentally stumbles into standup comedy, became the first-ever streaming comedy to win a best series Emmy Award. So the second season, now available for viewing in full, was naturally weighted with expectation.
"The first season was about the big explosion, so the second season had to be about the ripple effect," explains Sherman-Palladino. "As Midge dives deeper into this choice that she's made, how does it affect everyone around her? It meant that there was more we needed to deal with, and we needed to give the audience a wider palette."
That palette was mainly deployed in character development, which is the foremost consideration for a second—or any subsequent—season of television. "We try to think about what the characters would do, as opposed to superimposing actions on them," says Palladino. "It sounds a little ethereal, but our goal is always, from the many choices we can make about the stories, to have it seem inevitable that that was going to happen once you watch it."
That kind of character conviction is made much easier with equally committed actors, and "Maisel" brims with them. The ensemble, in addition to Brosnahan, includes Emmy winners Alex Borstein and Tony Shalhoub, plus other veteran performers, who each motivate the creative team to deliver material worthy of their skill.
"[Acting] is not a career you fuck around with," Sherman-Palladino insists. "They come to play, so that means we have to up our game."
"You learn a lot from the pilot, but you don't learn most of what you have to learn until you get into the series and you really see dynamics between actors," adds Palladino. "You learn a lot about them individually, you learn a lot about them in couples or in groups, and then your stories naturally go to those areas."
It isn't by coincidence that each actor seems more tailor-made to their character than even the show's to-die-for period costumes. In fact, it was an arduous casting process for each role, but none more so than the eponymous brassy broad.
"Like Lorelai Gilmore, Amy had once again written a character that was close to impossible to cast," Palladino says, before his wife agrees: "It's a talent of mine!" Ultimately, they were able to settle on Brosnahan through what were less like auditions and more like work sessions.
READ: Rachel Brosnahan: A New Chapter
"We were extremely intrigued because she didn't have any comedy on her résumé," Palladino recalls of Brosnahan, who, prior to "Maisel," was best known for "House of Cards." "To say, 'I'm going to play not just a comedic part but a comedian,' that takes a lot of hubris, which we like, and a lot of confidence. And that's how she came in."
The two creators are adamant that their casting process was vital to finding the right person for the job. In that vein, they propose the notion of auditioning as a mutual exploration rather than an assessment of talent.
"We will not offer it to anyone [without an audition]. We have to know that it's going to be a collaboration. It's setting someone up to fail if they're not in a good work environment," Sherman-Palladino says. "This is not an audition as in 'you're good, you're bad.' It's 'How are we going to take this journey together?' "