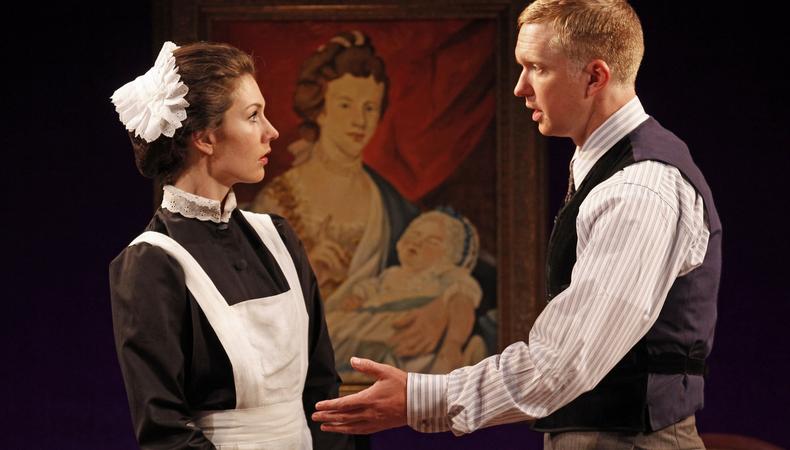 Mint Theater Company is giving the first New York revival of Allan Monkhouse's slyly subversive 1911 drawing-room comedy "Mary Broome," and the captivating result ranks right up there with the best of the troupe's offerings. Monkhouse draws a bead on the loosening of Victorian morality during England's Edwardian era, exposing its timidities, half-measures, and moral contradictions with understated wit.
The title character is "the best housemaid I ever had," says Mrs. Timbrell, the household's doyenne. Unfortunately, Mary has had a moment of weakness with her mistress' younger son, Leonard, and is now pregnant. Leonard—whose worldview of unceasing irony is the antithesis of that of his stuffy older brother, Edgar—is a wastrel, sponging off his very proper father for funds and fancying himself a writer, though he can't earn a cent for his pains. But Leonard also has very freethinking views when it comes to issues of sex and class, views much too advanced for his relatives and to a certain extent for Mary as well. His father, thundering with righteous wrath, insists that he do the right thing and marry the girl or be banished from the family. Neither Mary nor Leonard is on board at first, but Monkhouse brings them to plausible acceptance with originality. The rest of the play charts the path of the latest offshoot of the Timbrell clan.
Under Jonathan Bank's nuanced direction, Janie Brookshire leads the faultless 11-person cast as a memorable Mary, light but tough, dispassionate yet caring, conventional and transgressive. Brookshire excels at limning Mary's rock-solid sense of class and is especially effective in the final act displaying a soul of steely resolve. As Leonard, Roderick Hill nimbly keeps us off-balance, unsure of whether to like or despise the fellow, ably mixing the character's bottomless self-absorption with a keen perception of human nature and a genuine affection for the girl he has wronged.
Kristin Griffith shines as Mrs. Timbrell, carefully charting this subservient wife's journey from cowed conventionality to the liberation of the complicated woman she's been repressing. As her husband, Graeme Malcolm skillfully skirts cliché, engendering sympathy for a man who has been told all his life that he knows best and implacably believes it. Malcolm makes Mr. Timbrell's closing glimmer of insight almost savage and sharply moving.
In smaller roles, Peter Cormican and Jill Tanner are a terrific set of contrasts as Mary's working-class parents and upper-class married friends of the Timbrells, and Patricia Kilgarrif is entirely wonderful as Mary and Leonard's nervous but sympathetic landlady. The handsome production—sets by Roger Hanna, costumes by Martha Hally, lights by Nicole Pearce—is given a welcome touch of surrealist commentary through Hanna's inventive use of the Timbrell family portraits.
Monkhouse was not so far ahead of his time that his play flopped. On the contrary, though controversial, "Mary Broome" was quite the West End hit. Its specifics may have dated, but not its insights: The Timbrells today could be a staunchly Evangelical family dealing with a gay child. Some things about human psychology are eternal, it seems.
Presented by and at Mint Theater Company,311 W. 43rd St., 3rd floor, NYC. Sept. 10–Oct. 28. Tue.–Thu., 7 p.m.; Fri. and Sat., 8 p.m.; Sat. and Sun., 2 p.m. (Additional performances Wed., Sept. 19 and Oct. 10, 2 p.m.) (212) 352-3101, (866) 811-4111, www.theatermania.com, or www.minttheater.org. Casting by Amy Schecter.
Critic's Score: A