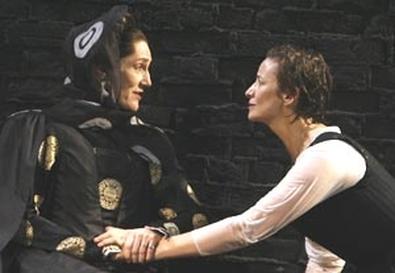 Though the first few rounds are a trifle sluggish, the Donmar Warehouse production of Friedrich Schiller's
Mary Stuart
builds into a thrilling bout between battling royalty. As adapted by Peter Oswald and directed with a contemporary angle by Phyllida Lloyd, this 18th-century chestnut set in the 16th century has the look and feel of the 21st. The male characters are decked out in drab modern business suits, and the religious conflicts between England and Scotland come across as remarkably similar to tensions between Israel and the Arab countries or between Sunnis and Shiites. Oswald's use of words such as
negotiations
and
terror
give the play a relevant sting.
The production also balances the scales between the two regal combatants. In Schiller's romantic version of history, Mary, Queen of Scots is an openhearted victim of her passions and a martyr to her Catholic faith, while her rival, Elizabeth of England, is a duplicitous politician. Lloyd, whose credits include the stage and screen versions of
Mamma Mia!
and several operas, eschews this sentimental reading with a tough, flinty staging in which both queens are flawed, complex rulers yearning equally for power and love. Repeating their London performances, Janet McTeer as Mary and Harriet Walter as Elizabeth match each other blow for blow, and it's nearly impossible to declare a victor. McTeer is like a vial of dangerous chemicals, ready to explode at any moment. Walter hides her emotions more deeply under Elizabeth's well-maintained mask of diplomacy, but when they emerge, look out.
The British stars are supported by a sterling company recast for this American incarnation. Nicholas Woodeson resembles Dick Cheney as Burleigh, Elizabeth's closest advisor, and he's as chillingly nasty as the former vice president. John Benjamin Hickey exudes charm and cunning as Leicester, who has affections for both monarchs. Maria Tucci is a pillar of iron as Hannah, Mary's loyal nurse. Robert Stanton nearly steals the final scenes as a nervous messenger desperately attempting to avoid being trapped in court intrigues. Michael Countryman skillfully conveys the dilemma of Sir Amias Paulet, who is loyal to the British throne but sympathetic to Mary's plight. Chandler Williams makes a roguishly attractive and scary Mortimer, Mary's would-be rescuer. Brian Murray is a solid presence as Shrewsbury.
The first act is difficult to get through, with tons of exposition and Anthony Ward's black-and-gray sets and costumes providing little visual distraction. But the second act opens with a storm -- literally. The highly anticipated meeting between the imprisoned but defiant Mary and the triumphant yet insecure Elizabeth begins in an onstage downpour. It's a stunning stage effect and sets up the central conflict brilliantly: Mary sensuously rejoices in the rain, running freely with arms outstretched, while Elizabeth cowers under an umbrella, surrounded by her courtiers. From there,
Mary Stuart
delivers several dramatic roundhouses and scores a knockout.
Presented by Arielle Tepper Madover, Debra Black, Neal Street Productions/Matthew Byam Shaw, Scott M. Delman, Barbara Whitman, Jean Doumanian/Ruth Hendel, David Binder/CarlWend Productions/Spring Sirkin, Daryl Roth/James L. Nederlander/Chase Mishkin at the Broadhurst Theatre, 235 W. 45th St., NYC. April 19-Aug. 16. Tue., 7 p.m.; Wed.-Sat., 8 p.m.; Wed. and Sat., 2 p.m.; Sun., 3 p.m. (212) 239-6200, (800) 432-7250, or www.telecharge.com. U.S. casting by Daniel Swee; U.K. casting by Anne McNulty.