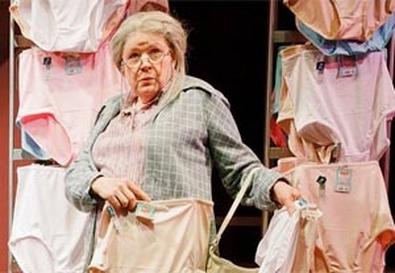 Veteran actor Marylouise Burke is working now more than ever. "I was always a character actress, even when I was an ingénue," she says, laughing. "But as you age, people know what to do with you, and you're not quite as dependent on maintaining leading-lady beauty." Burke has worked steadily for the past 20 years, and the last 10 have proved especially fruitful, she says.
Roles in the films "Sideways," "A Prairie Home Companion," and "Series 7: The Contenders" and a recurring part on HBO's "Hung" number among her many credits. Currently, she is featured in "Rx," an Off-Broadway satire by Kate Fodor about job dissatisfaction and the difficulties of love in our overmedicated society. Burke's character is a dimwitted but compassionate and street-smart lady who buys oversize panties and helps the play's benighted heroine (played by Marin Hinkle) to see what's valuable in life.
"She's an elderly woman with limited resources, but her spirit is so feisty," says Burke. "She's intelligent beyond her education. And I love that she's not written with condescension."
Burke is drawn to quirky characters in projects that may or may not be commercial. Indeed, she's tackled roles she didn't initially understand but found intriguing. Off-Broadway plays and independent films often appeal to her. When she's offered TV and movie stints, practical considerations come into play, she says frankly, noting she's relatively new to mainstream films.
A Rent-Stabilized Apartment
Burke grew up in Steelton, Pa., a small mill town near Harrisburg. By the time she was 12 she wanted to act, but she kept her dream to herself for fear of her family's disapproval. At Lebanon Valley College in Annville, Pa., she majored in English and went on to earn her M.A. in English literature at the University of Wisconsin. Though she performed in college productions and loved it, acting professionally remained on a back burner. "I was still trying to pretend I was realistic," she recalls. Following graduation she had a conventional life as a copy editor, a research assistant at the University of Massachusetts, and briefly as a wife. When the marriage ended, she relocated to New York to try her luck onstage.
"I was 32, and at that point I just wanted more opportunities to act," she says. "I didn't have the confidence to think I'd get paid for it. I didn't think of it as a career. Still, I was fortunate. It was the mid-'70s, and there was lots of theater in downtown fourth-floor walkups. It was mostly experimental and without pay."
That was her launching pad, and she is grateful for the opportunity. Today big names are sought for even the more marginalized shows, making it that much more difficult for the newbie, she says. Living in New York City was also a whole lot cheaper then. "I got a rent-stabilized apartment in 1977, and that has made my life as an actor possible," she explains.
Nonetheless, Burke needed a day gig to pay the bills, and she worked as a clerk, a word processor, and an all-round secretary. "I was a very good secretary," she notes. Evenings were spent attending acting classes, and when the opportunity presented itself, she'd take a leave from her job to perform in regional theaters. Burke describes her method as a combination of intuition and language. The words either speak to her or they don't, and if they ring a bell, she instinctively wants to say them. Much of her process is almost unconscious.
"Thirty years ago, a young actor asked me how I had come up with a particular walk for a character I was playing," Burke remembers. "I didn't know I was doing a special walk. I said, 'That's just the way she walks.' I then realized I was walking differently."
One of the more revelatory performances Burke saw was Carol Teitel playing the wife in an Off-Broadway production of "The Entertainer." Burke was struck by how the actor's emotions turned on a dime and seemingly without effort. "Leaps like that could be made, and it was so right for the character," says Burke, sounding impressed even in retrospect. "I said, 'Wow. This is interesting.' The transitions were seamless and breathtaking. This was an actress who trusted her character and choices. It was a lesson in human behavior on the stage."
The performance also spurred Burke on during a particularly dry period. The turning point was starring as the speech-challenged stroke victim Gertie in David Lindsay-Abaire's "Fuddy Meers," for which she won a Drama Desk Award. "That was in 1999, and it was my first visible role in New York," she says. "It opened doors. My agent was able to get me seen for things that I never would have been seen for before."
She mentions with pleasure the chance to play a 16-year-old when she was 62 in "Kimberly Akimbo" three characters, one of whom spoke Spanish, in a Steppenwolf production of "A Parallelogram" and a nice Catholic nurse who becomes a serial killer in "Series 7." "It was so much fun," Burke remarks. "Each day I was taught how to handle a different kind of gun. I also had to learn to say the rosary. I'm not Catholic."
A change that comes with success is greater comfort at auditions. At this stage of her career, she enjoys them, excluding those for musicals. If Burke clicks with a character, "it's neat for me to go in there and run it past people who have even more knowledge about the character." She adds, "I didn't always feel that."
If Burke had her druthers, she'd play the addicted and tormented Mary Tyrone in "Long Day's Journey Into Night," though she suspects that's a fantasy.
Looking back she speculates she might have been too hard on herself early on. "But given who I was and where I was, I couldn't do it differently. I had to take false steps and go through hard times to come out to where I am now. I can't imagine living without acting. It's not easy, and I don't disrespect anyone who steps out of it after a certain point. Having a family and a house is cool. It's not a betrayal. But if you're going to be an actor, it has to be more than a passing interest. You must have a passion. You must be crazy. Someone said to me, 'I respect you.' I said, 'There's nothing to respect. I'm crazy!"
"Rx" will play through March 3 at Primary Stages at 59E59 Theaters, 59 E. 59th St., N.Y. (212) 279-4200 or www.primarystages.org.