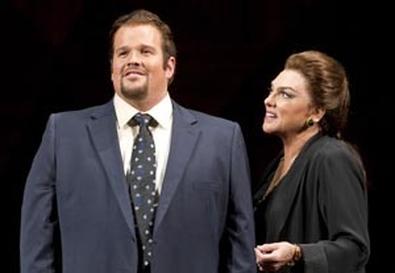 Manhattan Theatre Club has imported this production of "Master Class" from the Kennedy Center's 2010 tribute to playwright Terrence McNally, where it was a sizeable hit. Spruced up with some recasting and featuring an improved turn from star Tyne Daly, the show should repeat its D.C. success.
The simple setup, which has legendary opera singer Maria Callas conducting a class for music students, was suggested by Callas' experiences teaching in the early 1970s at Manhattan's Juilliard School. Retired from performing, she is intent upon passing on what she can to the next generation. As Callas pontificates, reminisces, intimidates, cajoles, and lectures both the students and the audience, McNally paints a fascinating character portrait while also examining the nature and purpose of art and those making it.
In D.C., Daly and director Stephen Wadsworth seemed to have decided to de-emphasize the diva in Callas in favor of a more empathetic approach to the character. But after reading several interviews with Daly in which she says that because she lacks such qualities as Callas' glamour and hauteur ("Have you noticed I play blue-collar a lot?" the actor asked Playbill.com's Harry Haun), she resisted McNally's entreaties to do the role, it now seems that the star just needed time to find her footing. That she has done triumphantly, integrating a cutting edge into her performance without sacrificing a submerged warmth that makes Daly's Callas fascinatingly unique in the pantheon of memorable performances in the role by the likes of Faye Dunaway, Dixie Carter, Patti LuPone, and, of course, the Tony-winning and utterly sublime original, Zoe Caldwell. Daly is now working at the absolute top of her game, and it's inspiring to watch this superb actor stretching herself instead of playing it safe.
Carryovers from D.C. include Clinton Brandhagen's amusingly unimpressed stagehand and Jeremy Cohen's sweetly puppyish accompanist. Also back is the excellent Alexandra Silber as soprano Sophie De Palma, a young singer who hasn't counted on being required to act. Silber distills an enticingly original character out of Sophie's at first eager, then increasingly bewildered and desperate interactions with her teacher. When Sophie suddenly gets the approval she has given up on receiving, Silber's rendering of her not knowing what to do with it is touching and true.
New to the company are Metropolitan Opera tenor Garrett Sorenson, in his dramatic stage debut, as student Anthony Candolino, and Broadway and West End vet Sierra Boggess as student soprano Sharon Graham. Sorenson sings the hell out of an aria from "Tosca," but what's most impressive is his acting. He beautifully captures Tony's protective bravado, then is completely convincing when that bravado must instantly crumble, making Tony's plea to Callas to help him become a better singer quietly moving. Boggess is an intriguing choice for Sharon, a role created by a formidable Audra McDonald. You never believed Callas' pronouncement that McDonald's Sharon would not be up to the great diva roles such as Norma or Lady Macbeth. It made the star seem jealous and spiteful. The more self-effacing Boggess, who had to learn how to sing opera for the part, does a more than respectable job with Lady Macbeth's passionate letter aria, but Boggess makes it clear that the role is not in Sharon's persona. Thus Sharon's stinging denunciation of Callas' verdict, which Boggess handles with great skill, is instead a troubling example of the harsh truths necessary in the making of a great artist, and we admire the diva for having the guts to say it even as it saddens us.
Daly still seems occasionally uncomfortable in Wadsworth's rather effortful staging of McNally's two long interior monologues for Callas, in which her thoughts drift off to people and events in her past. But it's a minor quibble about a performance filled with invention and intelligence. Just watch what Daly does in her final moment on stage, which involves an orange. That's magic. Brava, diva!
Presented by Manhattan Theatre Club, by special arrangement with Max Cooper, Maberry Theatricals, Marks-Moore-Turnbull Group, and Ted Snowdon, at the Samuel J. Friedman Theatre, 261 W. 47th St., NYC. July 7–Sept. 4. Tue., 7 p.m.; Wed.–Sat., 8 p.m.; Wed., Sat., and Sun., 2 p.m. (Additional performance Sun., July 10, 7 p.m.) (212) 239-7200, (800) 432-7250, or www.telecharge.com. Casting by Nancy Piccione. Original casting by Laura Stanczyk.