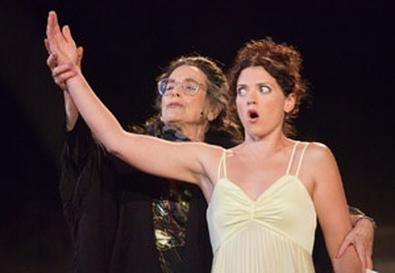 Ellen Geer has mastered wide-ranging roles during her decades as artistic director and frequent actor at this charming hillside venue. Yet, in her portrayal of Maria Callas (1923–77) during the retirement years of the egocentric Greek opera diva, the term "chameleon" has never seemed a more apt summation of Geer's talents. Inhabiting this challenging role physically, emotionally, and intellectually, Geer gives us a riveting portrait of a great artist trying to cling to her prestige and pride following crushing personal disappointments and a too-brief career, while discipline and perfection in performance remained foremost among Callas' values.
Terrence McNally's biographical drama is infused with the richness of detail of a solo play, yet it's skillfully crafted to incorporate other characters who allow us to see the former superstar, warts and all, through their eager young eyes. Setting his play in 1971 at an unspecified university, McNally ponders what the master classes Callas taught at Juilliard might have been like. We in the Theatricum audience become the students attending her session, as a musical accompanist (the amusing Cody T. Gilette) takes his place on stage, and three aspirants perform, subject to Callas' ruthless scrutiny.
The bitchy Callas immediately exerts her authority by berating the auditorium staff, then sets about skewering the students' efforts, though she allows plenty of time for drifting off into memories about past glories. In two lengthy monologues, rueful reflections take over, as Callas recalls her own moments of greatness performing the arias being sung, and the cruelty of her chauvinistic former lover, multibillionaire Aristotle Onassis. Under Heidi Helen Davis' sublime direction, Geer commands our attention, delivering McNally's zingers with precision and panache and finding great pathos in the character, grounding the portrayal with utter credibility in vocal and physical details.
Among the three master-class students, tenor Andreas Beckett, who sings magnificently, is a stellar presence in his memorable vignette as the preening stud muffin Tony—whom Callas refers to as "he of the tight pants"—becoming an unexpected catalyst, the first character to put a dent in Callas' emotional armor. Elizabeth Tobias is uproarious as the nervous and ungainly soprano Sophie, likewise singing superbly. Sweet-voiced soprano Meaghan Boeing is formidable as the surprisingly gutsy Sharon.

Presented by and at the Will Geer Theatricum Botanicum, 1419 Topanga Canyon Blvd., Topanga. July 3–Sept. 25. Repertory schedule. (310) 455-3723. www.theatricum.com.