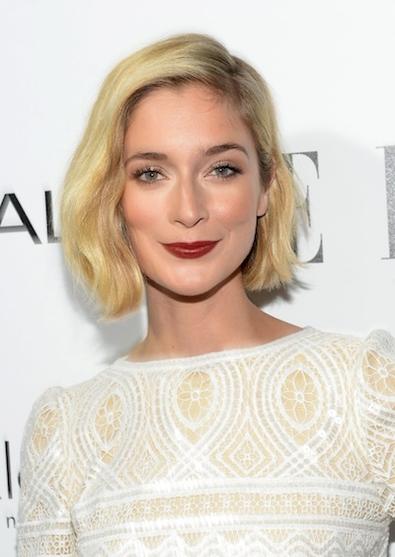 On the fifth episode of Showtime's hit series "Masters of Sex," Libby Masters (Caitlin FitzGerald) lays in a hospital bed, wondering if her unborn baby will survive her recent pregnancy troubles. Libby's husband Bill Masters (Michael Sheen), a gynecologist and fertility specialist, is in head-down work mode, so focused on following medical protocol that he's forgotten to notice his wife's need for emotional support. Through frustration, fear, sadness, and tears, Libby finally manages the courage to ask her husband for the truth about her condition—one way or the other.
It's a powerful moment for Libby, whose struggle to both conceive a child and find her own voice in her marriage has been an ongoing theme this season. But it's exactly the sort of moment in which FitzGerald shines. A dynamic actor, FitzGerald draws you into each one of her scenes with a blend of vulnerability and strength that makes Libby one of the most compelling characters on the show.
It's even more exciting to know that FitzGerald wasn't originally cast to play Libby. "I had an initial audition with producers and a callback with the director, and really felt confident that this was my part," she says of the audition process. "And then they passed on me." Of course, producers came back around and offered the role to her. "It was a little torturous, but I said yes immediately," she says. "During pilot season, there are a few scripts that are in a different class than all the rest, and ["Masters of Sex"] was one of them. I just had to be a part of it."
"Masters of Sex" airs on Sunday nights at 10 p.m. on Showtime. On the heels of the show's second season pickup, Backstage sat down with FitzGerald, who's also had standout roles in "It's Complicated," "Gossip Girl," and Edward Burns' "Newlyweds," to discuss what she's learned from her time on and off screen.
Make your characters original and relatable.
Libby Masters could have been a typical '50s era housewife, but playing Libby into everyone's conventions didn't appeal to FitzGerald. "I was invested in making Libby different," she says. "And the writers and producers promised they cared about making her as dimensional as possible." The key to creating a unique character meant Libby needed to be "smart and complicated and challenged with adversity." But she also needed to be someone every woman could relate to. "When I first took the part, I thought 'Man, what do I possibly have in common with a '50s housewife?' " says FitzGerald. "But fortunately, I've found a lot of relevance in her story. There's this fairy tale that says if you meet the right guy and you do a really good job of being his wife then you'll be happy and fulfilled. In Libby's case, that's not true. And a lot of women today are invested in that. So I can relate those similarities back to them."
But does playing a character based on a real person limit the creative process for an actor? "You want to be as respectful as possible," FitzGerald explains. "Yet you have to fill in the pieces. Elizabeth Masters was Bill's wife and had fertility issues, but other than that and a few more facts we reveal later on in the season, not much is known about her. So you have to create that persona. I tried to think about the women I knew who lived through the '50s and some of their characteristics. In some ways, my grandma is Libby. She's kind of a patchwork of many different women."
Embrace the unknown.
"I'm kind of a control freak," FitzGerald admits. "I like to be really prepared." Preparation for an actor can be very different depending on which medium one's working in. "In a play, you know where you start and end and all the stops you have to do, but in television, you can't construct this carefully planned out arc for your character," she says. "You often get a script and you're shooting it two days later, and you don't know what's going to happen next. It's one of the harder things that I've done." As challenging as that may be, FitzGerald's learned to embrace the benefits to her craft it brings. "You're forced to be authentic in the moment that's written. You can't get overly precious—just let it unfold. It's truer to life. Because when do we really know what our path in life?" Of course, it helps knowing that the writers have an overall plan you don't know about. "You have to trust they've thought out your arc and are guiding you along that journey," says FitzGerald.
There's no time like the present.
While studying acting at New York University's Tisch School of the Arts, at the Stella Adler Studio of Acting, FitzGerald spent a lot of time in technique class "taking copious notes and having no idea what the teacher was talking about." But there was a moment she had onstage, while playing Maggie in "Cat on a Hot Tin Roof," where everything sort of fell into place and made sense. "It was like a synthesis of everything I'd been learning in this perfect little experience. Which isn't to say I still didn't have a ton of work to do—and still don't. But I just remember being like, 'Oh, that's how you do it.'" To get back to those moments, FitzGerald works towards being fully available in the work. "You never stop thinking about technique, but really, the reason we're actors is because of the sheer joy of those few moments you get every now and again where you're totally present," she says. "The rest is just struggle and misery."
Be patient and do the work.
FitzGerald knew she wanted to be an actor at the age of six. "I did a play for school, and I knew my lines and everyone else's lines. I was sort of doing a one-woman show with 17 other kindergarteners," she remembers. "It was that immediate." And despite some great roles early on in her career, FitzGerald reminds herself the path to success takes time. "It's a marathon, not a sprint," she says. "And that's such an important thing because a lot of young actors think if we're not immediately brilliant, we're not supposed to be doing it." That goes for those who think having natural-born talent is enough. "The notion of overnight stardom is really dangerous," she says. "For almost every person who has success in this business, there are years and years of hard work to get there. To have longevity, you really have to train and you really have to work."