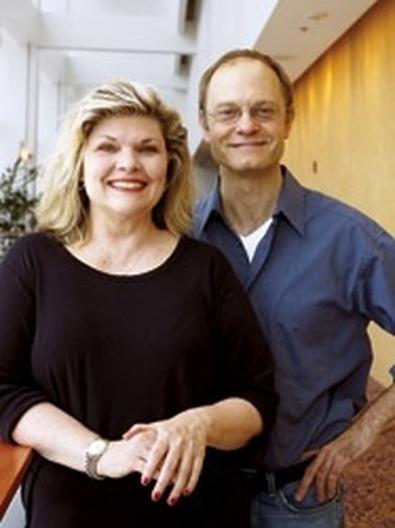 The first time David Hyde Pierce and Debra Monk worked together was a reading in the late 1980s of a play by their mutual friend Christopher Durang. It was a parody of The Glass Menagerie: Pierce played the Laura role (rechristened Laurence and collecting glass swizzle sticks instead of horses), and Monk played his mother. At the time, Pierce was making his name as a stage actor in New York, appearing in the Brooklyn Academy of Music production of The Cherry Orchard. Monk was an established Broadway presence, having earned a Tony nomination for co-writing Pump Boys and Dinettes--a work she created for herself to star in because, in her words, "No one would hire me."
Throughout the next two decades the pair would occasionally collaborate at readings and benefits, while their careers continued to thrive. Pierce, of course, eventually created the indelible Niles Crane on the sitcom Frasier, winning four Emmy Awards in the process, while appearing in films that ran the gamut from Nixon to Wet Hot American Summer. Monk won her own Emmy, playing the long-suffering ex-wife of Dennis Franz's Andy Sipowicz on NYPD Blue, and scored a best featured actress Tony Award for the play Redwood Curtain in 1993.
Now the two are pairing up for the first time on a full-scale production: the new musical Curtains, currently in previews and opening Aug. 12 at the Ahmanson Theatre in Los Angeles. Shows don't come more pedigreed than this: It is one of the last collaborations between John Kander and Fred Ebb, the legendary duo behind such seminal musicals as Cabaret and Chicago before Ebb's passing in 2004. The original book was penned by the late Peter Stone, one of the only writers to win a Tony, Emmy, and Academy Award. Taking over for Stone on book and composing additional lyrics is Rupert Holmes, the only person to win Tonys for book, music, and lyrics for the same show: his musical whodunit The Mystery of Edwin Drood. And then there's the cast, headed by Pierce, who despite a long stage career only recently made his Broadway musical debut, in Mike Nichols' Spamalot, and Monk, who previously appeared in the Kander and Ebb musicals Steel Pier and Chicago (playing Mama Morton).
Expectations are undeniably high, and the process of bringing Curtains to the stage has been long and arduous. But the show is a fizzy delight, honoring yet poking fun at the genre with a story centering on a 1950s Broadway-bound musical and the theatre-loving Boston detective (Pierce) brought in to solve the murder of its leading lady. The character bears a passing resemblance to Pierce's Spamalot knight, who was also obsessed with music and Broadway. When it's pointed out that he's cornered the market on characters yearning to do musical theatre, Pierce simply explains, "I guess it's because secretly I've always wanted to do a musical on Broadway. So I don't have to act."
Back Stage: How did you come to be involved with Curtains?
Debra Monk: I've been involved with it since 2001. It's because of [director] Scott Ellis, who was friends with John Kander and Fred Ebb. We all did Steel Pier together and were friends. Kander and Ebb had written Curtains with Peter Stone a long time ago; Mike Nichols was supposed to direct it at one point, Tommy Tune was supposed to direct it at one point, and it never happened. It kind of sat around, and finally Scott said, "What about this show?" They decided to do a reading of it, and I did the first reading. It's evolved and changed so much, partly because of the untimely and sad death of Peter Stone, the original book writer, and the very sad loss of Fred Ebb. So sad, and yet we have this great gift of Rupert Holmes.
David Hyde Pierce: I came on board relatively late in the process, but also because of Scott Ellis. Scott directed many Frasier episodes, and in the last season of Frasier he came to me and said, "We have this project I'd like you to do." Spamalot came along, and I went to do that, but fortunately Curtains sort of got delayed. So while I was working on Spamalot, we did two workshops of Curtains. I took this role, first of all because Scott asked, but second because it was a great script, and third but mainly because it was a chance to work with Kander, which is not something anyone would turn down. It's been even more fun than I ever could have imagined.
Back Stage: Debra is a Kander and Ebb veteran at this point. What is it about their work that keeps you coming back?
Monk: They're truly two of the most gifted writers and two of the nicest people in show business. The song "Show People" epitomizes who they are. This is so much a valentine to show business and how much they loved it. Freddy would have loved this show. One of the main reasons I really want this to work is because he was such a brilliant man, so well-read politically, and yet he could write the basest joke. He was a great teacher; they both are. The way they would coach me—it was a master class to have John Kander tell you how to sing a phrase. Their experience goes back to George Abbott and Fosse. It's a real gift. Every moment I've had with them has been a great lesson and so much fun.
Back Stage: That sense of fun seems to translate on the stage.
Pierce: It's a really good group of people. You can tell watching it how talented they are. But also, there are no assholes. It's a really nice, loving, supporting group. We really do love coming to work with them.
Monk: And we've had to work so hard from day one that you have to be like that. Otherwise, I don't think we would have made it through.
Back Stage: Is that a rare experience, to have such a great ensemble?
Pierce: I'm three for three, if you include Spamalot and Frasier. I've had three amazing groups of people I've worked with.
Monk: I've been very lucky, too, but I think it is rare. I don't think it always is a situation like this. We've really lucked out.
Back Stage: You both have such impeccable timing, and it's on full display in this show. I'm wondering how you developed that, if it was something you can learn or if it comes naturally.
Pierce: I think it's a musical thing; I've always thought there's some connection between having some kind of sense of music, because timing is literally knowing when to do something or when not to do something. Also, it's because we're both so damn old. We've been at this for a while, and we've learned from people, and we've experienced it ourselves.
Monk: I just love watching those old comedians on The Steve Allen Show. I grew up adoring those guys. But David is the master of it.
Pierce: Someone like Bob Newhart, who I watched all the time as a kid, timing is what his humor is. It's all timing.
Monk: Our generation got to watch those people all the time, and I was always drawn to that. Also we've gotten to work with great directors and teachers over the years.
Pierce: You get it from osmosis. I did a show with Uta Hagen, and you don't immediately think, "Oh, yes, the hysterically funny mistress of comedy Uta Hagen." In fact she's very funny, and she has a sense of timing that is so grounded in reality. She didn't do "joke timing." She knew how to get a laugh, but it was with softened edges so that it didn't feel like "ba-dump-bump." Part of good timing is not letting the audience know you're doing a joke.
Monk: There's also just playing it so for real and trusting that. You have to play the reality of the situation. And, like he said, we're so fucking old.
Pierce: She means fucking mature.
Back Stage: You both have very active film and TV careers. Do you have any preference in mediums?
Monk: Well, I like doing all of it, to tell you the truth. David's had a chance to do a TV show, and I'm different. I would love the opportunity to do a series. I really try to choose the projects that come to me that I want to do. This is what's come to me. And no matter what comes to me in the future, theatre will always be a part of it.
Pierce: It's not so much necessarily the medium; it's usually the nature of the project. It's not that we wanted to go back to the theatre per se; it's that we loved this project, these people, this piece. And that's why we're doing it.
Monk: And that's why it's fun. It doesn't always happen that way. Believe me, we're lucky. We've gotten to do things that we've loved that have been successful.
Back Stage: Is there anything you don't like about doing live theatre?
Monk: It's hard work. When you're doing eight shows a week, even when it's a great show and a hit and you love everybody and all the things are working, it's a hard job. It's physically demanding to do those eight shows a week. But given that, once you step onstage, there's nothing like it. It's thrilling.
Pierce: Musicals are relatively new to me—and the physical demands of doing one, and the joke that one day off a week is when you recuperate, especially as you get into the run, because you just get progressively more tired and sore and things start to fall off you.
Monk: And he doesn't leave the stage for most of the show.
Pierce: Well, I was thinking about that, and I so wanted to be full of self-pity, but I realized everyone is working their butts off. The ensemble on this show, if they are not on the stage, it's because they're being assaulted offstage by dressers in a quick change, and then they come right back and do this amazingly beautiful, tough choreography. It's a workout for everyone.
Monk: But when you get out there, you forget how tired you are. It really does magical things to you.
Pierce: That stuff challenges you, it reminds you this is not easy. To say, "I've done this seven times this week, I'm going to do it again, and they're going to think it's the first time we've ever done it in our lives," that's a great goal.
Back Stage: What was the best advice you received when you started in this business?
Monk: I was advised when I got into this by my teacher in college, "You are not ready to go to New York. You really need to get your master's [degree] because you need more training and you may not make it." The story there is that I was trained. When I came to New York, I was trained, and I needed that. So that when I was finally ready to work—it took me awhile—I had a real basis of training. The other thing was: I just decided to stick with it as long as it was fun for me to do. I was with people sometimes who were so negative about it all and hated it, and the whole process was so demoralizing. I thought, "If this ever gets to that point for me, I'm getting out." Luckily I was able to find work, to be with people who helped me to learn and work and continue to grow, and I continued to have a good time and enjoy myself. If you don't have a passion to do this, it's really, really hard. I was able to hold on to my passion, and I still have that, and my training, which is still ongoing.
Pierce: I had the exact same philosophy, though I had different advice coming to New York. I was going to go to drama school because I'd studied acting at Yale in college. Edward Herrmann, who I'd worked with at Williamstown, said to me, "Why don't you go to New York and see if you even want to do this professionally before you spend any more time and money training?" So I went to New York, and in some ways I wasn't ready. There was a lot of training I really should have had, and you can go back and read the reviews and see that that's true. But the thing we have in common is that I also said to myself, "Well, I will stick with this as long as the pleasure outweighs the pain." And that's what I'm doing. I think the passion is such a good point. You have to do it because you really want to do it. It's insane to go into it for the money.
Monk: Or because you think you'll be a star.
Pierce: And also, frankly, if you want to go into it for those reasons, we don't want you. Just speaking personally. I want to work with people who love this and get this and understand. Like Debra, any time I spend with her makes me so happy.
Monk: We have such a good time. He's the loveliest man in the world.
With additional reporting from Nicole Porter.