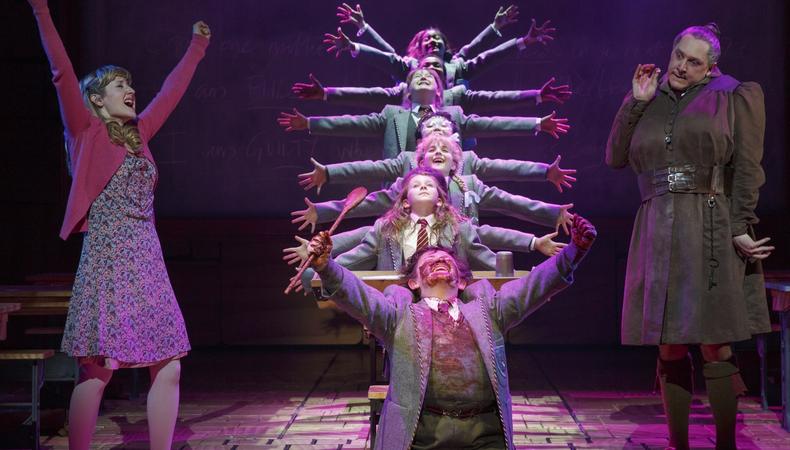 The Royal Shakespeare Company's musical adaptation of Roald Dahl's "Matilda" rushes at you from the stage of the Shubert Theatre—often literally—with the relentlessness of a high-speed rail train. Director Matthew Warchus' meticulously calculated production offers coup after coup de théâtre as it tells Dahl's fantastical tale of a 5-year-old girl who's a genius, the idiot family that mistreats her, the sadistic headmistress who terrorizes her, and the loving teacher who comes to her aid. The show is strenuously entertaining, as dark as it is funny, and just a tad cold.
Matilda Wormwood lives unhappily with a slack-jawed older brother and twin boobs for parents, a crooked used-car-salesman father and a tango-competition-obsessed mother, who bemoan the fact that their daughter is always reading. But Matilda's not just consuming picture books; she's busy going through Dickens, Dostoevsky, and more, guided at first by the Caribbean-flavored local librarian, Mrs. Phelps, and then by Matilda's first schoolteacher, the young and lovely Miss Honey. Her arch nemesis is Agatha Trunchbull, the school's abusive leader, who calls children "maggots" and believes that only punishment can teach a child. Matilda, who has a strong sense of fairness ("It's not right," she keeps saying), responds to the situation by deciding to bring the Trunchbull down. Can she? Yes, but only after she discovers her magical powers.
Dennis Kelly's smart book hews closely to Dahl's voice while finessing the novel's episodic nature through the device of having Matilda tell Mrs. Phelps a wildly imaginative story about a childless couple of performers that she keeps adding to each time she visits the library. The tale is unconsciously influenced by events in the girl's life and eventually knits everything together wonderfully. Tim Minchin's oddball, single-idea songs are more problematic. His pleasant music takes a backseat to overstuffed lyrics, which are poorly structured and so full of wide-ranging imperfect rhymes that their content is rendered unclear and the jokes too often don't land.
What distinguishes "Matilda" is its immersive physical production and staging. Rob Howell's endlessly inventive set dominated by children's blocks morphs hither and yon with dexterity and style, while his witty costumes provide just the right amount of comment. Hugh Vanstone's slashing lighting combines with Simon Baker's flexible sound and Peter Darling's caffeinated choreography, which contains echoes of Bill T. Jones' work on "Spring Awakening," to reinforce the operatic heights of emotion to which kids can rise. Paul Kieve, who gets a credit for "illusion," pulls off some nifty legerdemain.
Four girls alternate in the title role; I saw the excellent Milly Shapiro, whose clear singing, focused gravity, and unadorned simplicity of feeling allowed her to carry the show ably on small but sturdy shoulders. Bertie Carvel repeats his award-winning London performance as Trunchbull and again steals the proceedings. Completely convincing as a woman who was once a hammer-throwing champion, Carvel nails the part's biting, throwaway humor and monstrous narcissism, creating a memorably grotesque comic caricature. Gabriel Ebert and Lesli Margherita are a hoot as the crass Wormwoods; Karen Aldridge is a warm, delightful presence as Mrs. Phelps; and Lauren Ward charts Miss Honey's journey from insecurity to confidence with sly understatement.
"Matilda the Musical" resembles nothing so much as a highly sophisticated machine. It's built to dazzle, and it does.
Presented by the Royal Shakespeare Company and the Dodgers at the Shubert Theatre, 225 W. 44th St., NYC. Opened April 11 for an open run. (212) 239-6200, (800) 447-7400, or www.telecharge.com. Casting by Jim Carnahan and Nora Brennan.
Critic's Score: B