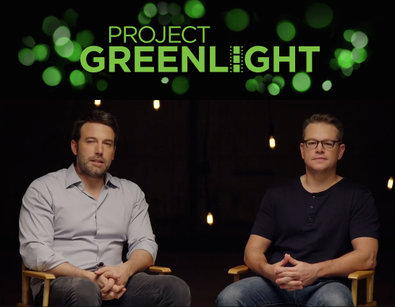 HBO's Project Greenlight, which is produced in part by Matt Damon and Ben Affleck, opened its submissions window Thursday.
"We're looking to identify an incredibly talented first-time director," Damon said in the announcement video. "We'll mentor and guide you through the process of making this film."
The unscripted series, which has returned to HBO for its fourth season, begins with a digital competition.
Applicants are invited to submit a one-to-three minute video through Facebook by Aug. 8. The top 200 selected by peer judges are then invited to submit a two-minute biographical video by Sept. 3.
The top 20 directors selected then have their videos posted on Facebook, where a public vote will take place Sept. 15-26. The winner of the public vote joins nine other finalists in a fourth round of the competition where they'll be asked to film a scene from a script provided to them. A winner will then be selected by a a panel of industry judges.
The show follows the winner from pre-production and casting through principal photography and post-production. Throughout the process, "the fledging director must learn to cope with pressure from the studio and producers, surviving on-set politics and leading a veteran cast and crew, while trying to deliver a viable movie – on schedule and on budget," according to the series website.
SAG-AFTRA members are eligible to apply this season. More details are available here.